Shaquille O'Neal Said Ben Simmons Is 'Not That Good' Even Though He Previously Compared Simmons to Jason Kidd and Magic Johnson
Shaquille O'Neal is among those who have criticized Philadelphia 76ers point guard Ben Simmons for his handling of what has been an endless trade saga. However, Shaq's most recent criticisms might come as a result of his lofty standards.
O'Neal recently stated he doesn't believe that Simmons is the kind of player who can dictate his current situation and threaten a holdout. But The Diesel is also the one who previously compared the mercurial Sixers star to two of the greatest point guards in NBA history.
Shaquille O'Neal said Ben Simmons is "not that good" on his podcast
Shaquille O'Neal and Charles Barkley scrutinized Ben Simmons during an episode of The Big Podcast With Shaq earlier this month.
Barkley led off by saying he was "disappointed" in Simmons, adding that he feels the star guard is stubborn about his shooting abilities (or lack thereof) and stating the Sixers aren't asking much of Simmons. Shaq took things one step further.
O'Neal went after the 2016 No. 1 overall pick, stating that Simmons does not have the merits to carry himself in this fashion.
Shaq said he's tired of seeing Simmons' Instagram workout videos and claimed the 25-year-old was "terrified" during Game 6 of the Eastern Conference semifinals. O'Neal finished by subliminally telling Simmons, "If you don't like it, you do what you got to do. But you ain't that damn good."
As Superman likes to say, he has "G14 classification." His criticisms are widely shared by plenty of former players and insiders around the NBA.
Still, it's worth pointing out that Shaq himself compared Simmons to some of the best guards ever to grace the hardwood.
O'Neal likened Simmons to Jason Kidd and Magic Johnson
Shaquille O'Neal might not think very highly of Simmons at present, but it wasn't long ago that he equated the three-time All-Star's skillset to guys who were most definitely "that good."
Shaq said in February that Simmons reminded him of Jason Kidd and Magic Johnson, two guys who could stuff the stat sheet and possessed tremendous court vision. O'Neal didn't necessarily suggest that Simmons' ceiling is akin to Kidd or Magic, but the mere inclusion of his name alongside those two NBA legends is still noteworthy.
Some basketball fans might be taken aback by such comparisons and — like The Diesel said more recently — feel that Simmons doesn't deserve to be mentioned in the same breath as J-Kidd or Magic. In context, however, the three players are indeed quite similar.
Will Simmons validate Shaq's previous comparisons?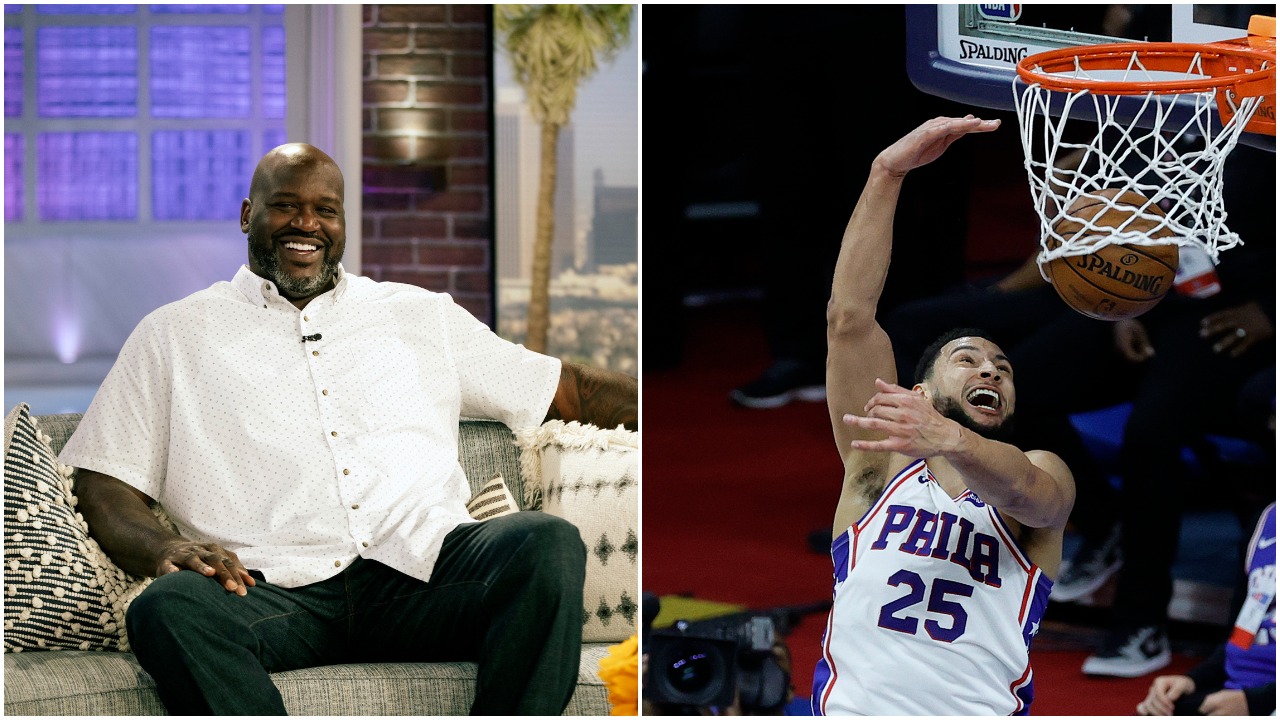 Shaq said the best players embrace the grind and work on their weaknesses over time. That's something both Jason Kidd and Magic Johnson did later in their careers.
Like Ben Simmons, neither Kidd nor Johnson was the best shooter early on. Johnson shot just 19.2% from beyond the arc on 0.5 attempts per contest in his nine seasons in the NBA. But his three-point percentage jumped to 31.4% during the 1988-89 campaign, when his attempts also rose to 2.4 per game. Magic was an even better shooter the following season, making 38.4% of his triples on 3.5 attempts per contest.
Kidd experienced a similar evolution. He shot 33.3% on 3.9 attempts per game during his first 13 seasons in the NBA. But he shot 37.8% on 4.5 attempts over his final six seasons.
Of course, point guards weren't necessarily required to be strong perimeter shooters in Johnson's and Kidd's respective eras. Things have changed quite a bit. Most teams must have sweet-shooting guards to be successful and contend for an NBA championship.
Will Simmons improve as a shooter? If he does, then he will validate Shaq's comparisons to Jason Kidd and Magic Johnson. But if he doesn't, as O'Neal said, he'll only be "pretty good" for the remainder of his career, rather than "great."
Stats courtesy of Basketball Reference.
RELATED: Former NBA All-Star Says Ben Simmons' Jumper Is Just Fine: 'I Honestly Don't Think Nothing's Wrong With It'