Shaquille O'Neal Blasts an Eastern Conference Team's Summer Revamp: 'Ain't Going to Win a Championship With That Team'
The Chicago Bulls were aggressive during free agency. A sign-and-trade with the New Orleans Pelicans brought in Lonzo Ball. Another signature-and-swap yielded DeMar DeRozan from the San Antonio Spurs. The Bulls made an offer the Los Angeles Lakers could refuse to land Alex Caruso. That comes on the heels of a big swing at the trade deadline last season for two-time All-Star Nikola Vučević. While some analysts see the start of something big for second-year coach Billy Donovan, don't count Inside the NBA star Shaquille O'Neal among those.
The centerpiece of Chicago's plans is young star Zach LaVine, who made his first All-Star appearance last season while tossing in a career-high 27.4 points per game while improving his 3-point shooting to an elite 41.9%. But the Bulls surrendered veteran leader Thaddeus Young to the Spurs and sent role players Tomáš Satoranský and Garrett Temple to the Pelicans.
The Chicago Bulls have work to do with LaVine
If Zach LaVine is the hub of the plans for the Chicago Bulls, there's a $105 million elephant in the room. LaVine is entering the final year of the four-year, $78 million contract he signed in July 2018 to stay with the Bulls.
Because he fell short of an All-NBA selection last season, LaVine doesn't fit the criteria for a designated player extension (or, as the world knows it, a supermax). A max extension for the two-time former Slam Dunk champion is $105 million for four years. During Team USA's run to a gold medal at the 2020 Tokyo Olympics, he said that he wants what he's earned, per ESPN.
"I just want my respect; that's the main thing. I outplayed my contract. I've been very loyal to Chicago; I like Chicago. I just want my respect. If that's now or later, it's something we've got to work out internally."

Zach LaVine
But a $105 million extension would be an underpay for LaVine, who has emerged as one of the NBA's dynamic scorers. So while the Bulls have pieces such as Ball and DeRozan in place, the plan hinges on LaVine's uncertain status. He's got no incentive to sign now. Chicago has no guarantee they can hold onto him next summer, even with Bird rights.
Beyond that, Shaquille O'Neal questions the logic of the team's construction.
Shaquille O'Neal isn't crazy about the moves made by the Chicago Bulls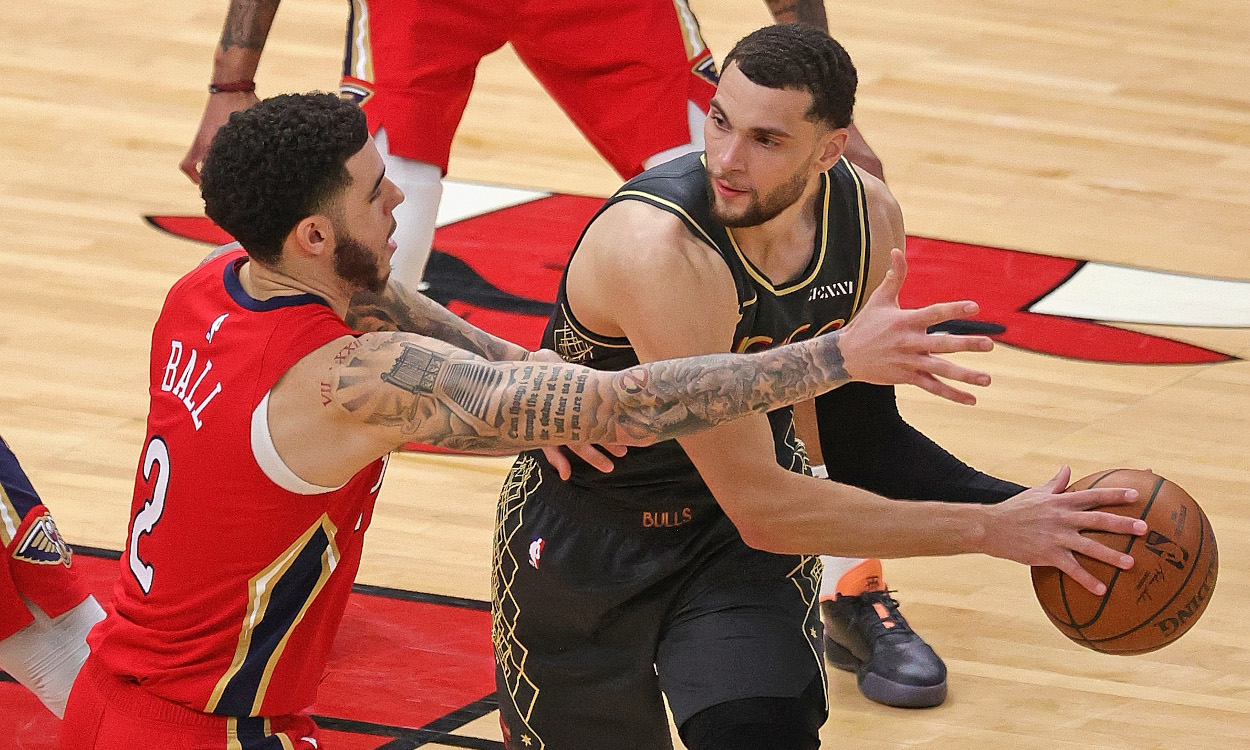 In a recent interview with Adam Campbell of Complex, Shaquille O'Neal was not bullish on the Chicago Bulls' chances of moving up the NBA hierarchy. Asked if Chicago's roster made sense to him, O'Neal didn't hesitate to question the moves the Bulls made.
"They're going to try and do the Golden State thing. Four smalls, try to spread it out, shoot, run, Zach LaVine shoots 3s, Lonzo gets everyone involved, so it's going to be an experiment. So hopefully the experiment does pretty good, but you ain't going to win a championship with that team."

Shaquille O'Neal
LaVine is an excellent 3-point shooter and has increased his accuracy from deep in each of the last three seasons. With the Pelicans, Ball became a new shooter, hitting 37.6% on 7.2 attempts per game in two years with New Orleans after a shaky 31.5% showing in two seasons as a Laker.
But DeRozan isn't a shooter. Not even a little bit. Last season, the four-time All-Star shot 25.7% from long range and is a career 28.8% marksman from deep. At age 32, it's not out of the question for the leopard to change his spots. But betting the farm on it is not advisable.
O'Neal is right about the master plan. This offseason, Chicago shed plenty of size, dealing backup center Daniel Theis and erstwhile stretch-4 Lauri Markkanen in separate sign-and-trades. That places a lot of weight on 30-somethings DeRozan and Vučević.
To be fair, Shaquille O'Neal isn't a small-ball guy
After Giannis Antetokounmpo led the Milwaukee Bucks to the NBA championship, Shaquille O'Neal was vocal in his support. He thanked the two-time NBA MVP for bringing back what Shaq called "olde school bully basketball."
The Golden State Warriors drew up the blueprint for winning titles from the perimeter. The Chicago Bulls are banking on Ball and LaVine turning into their versions of Stephen Curry and Klay Thompson. Good luck with that.
Vučević is a legitimate stretch big. He canned 40% from long range last season, 38.8 percent after leaving the Orlando Magic. But because DeRozan can't create spacing, a lot of pressure will land on second-year forward Patrick Williams. Williams started 71 games a season ago and hit 39.1% from deep on 1.9 tries a game.
That's asking a lot of a 20-year-old in a win-now environment. Shaquille O'Neal might be right; the Chicago Bulls should be entertaining and competitive. Just not contenders.
Statistics courtesy of Basketball Reference and Stathead.