Shaquille O'Neal Blasts Lakers' Critics: 'Show Me a Young Team That Dominate'
Shaquille O'Neal recently agreed with the assessment by new Los Angeles Lakers forward Carmelo Anthony that this season is championship or bust for 'Melo and the decrepit roster assembled by general manager LeBron James Rob Pelinka. But the four-time NBA champion also likes LA's chances to get Anthony his elusive ring.
O'Neal played on three title teams with the Lakers and added a fourth ring with the Miami Heat in 2006. Those teams leaned heavily on veteran role players. The LA title teams had Robert Horry, Glen Rice, Ron Harper, A.C. Green, Brian Shaw, Rick Fox, and Horace Grant playing significant roles after age 30. Miami in 2006 had Jason Williams, Gary Payton, Alonzo Mourning, and Shaq himself doing damage in the postseason well after their expiration dates. Is the experience that vital to winning a title?
Veterans provide stability to NBA championship teams, even if they're not the stars
Last season, the Milwaukee Bucks broke through to win their first NBA championship in 50 years by leaning on experienced players in pivotal roles. P.J. Tucker and Brook Lopez each were on the wrong side of 30 during the title run. The Lakers won a ring in 2020 led by 35-year-old LeBron James, with support from oldsters Danny Green, Rajon Rondo, and Dwight Howard.
The last time an NBA champion was without a player older than 30 in a significant role was 17 years ago when the upstart Detroit Pistons stunned the Lakers in the 2004 NBA Finals. But it wasn't like the team was full of guys on rookie contracts. Starters Ben Wallace and Rasheed Wallace were in their age-29 seasons, and Chauncey Billups was 27. Only Richard Hamilton (25) and Tayshaun Prince (23) were 25 or younger on a roster that did not go deep during the playoff run.
Having experience on the roster can be a calming influence in the tense atmosphere of the playoffs. Even if a player doesn't have a ring (such as Tucker and Lopez for Milwaukee last season), they've seen enough to be able to help the younger stars stay in the moment.
That's something Shaquille O'Neal thinks will work to the Lakers' advantage in 2021–22.
Shaquille O'Neal favors the Lakers and Brooklyn Nets because of their age, not despite it
When discussing the NBA's leading contenders during a recent appearance on ESPN's First Take, Shaquille O'Neal brushed off criticism of the oddsmakers' favorites — the Lakers and Brooklyn Nets — because both teams have older rosters. Instead, O'Neal says that's why they have an advantage.
"A lot of people always talk about age. But show me a young team that dominate. Listen, young teams always make noise, but when they get to the playoffs, what do you always say? 'Oh, they don't have enough experience.'

"The Brooklyn Nets and the Lakers have the most experience when it comes to age. I'm not worried about all that young talk."

Shaquille O'Neal
The numbers back up some of what O'Neal is saying, but the Lakers are pushing the experience envelope to its breaking point. Their roster currently has five players (Anthony, James, Trevor Ariza, Howard, and Rondo) entering age-35 or older seasons. Another three, Wayne Ellington, DeAndre Jordan, and Russell Westbrook are in their age-33 or 34 seasons.
The Lakers are going to test the thickness of the line between experienced and over the hill.
Shaquille O'Neal isn't wrong about the Nets, either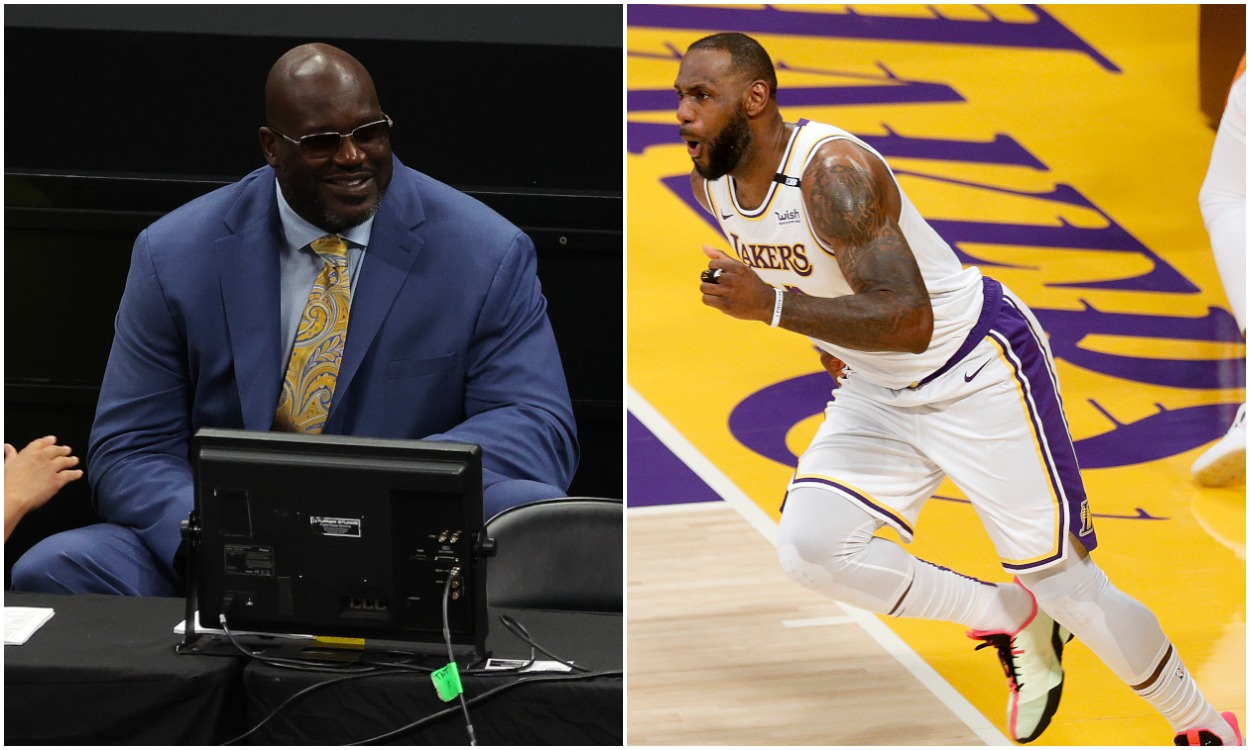 While the Nets may not have the volume of older veterans the Lakers are carrying on their roster, they still have some high-mileage cars on the lot. Paul Millsap and LaMarcus Aldridge are entering their age-36 seasons. James Johnson is 34, while Patty Mills and Kevin Durant are hitting the age-33 mark.
Throw in age-32s of James Harden and Blake Griffin, and there is some wisdom to be found on the other side of the Brooklyn Bridge, as well.
But Shaquille O'Neal is correct that championships go to teams that have earned their stripes throughout most of NBA history. The changes in the Eastern Conference hierarchy in the 1980s and 1990s are a textbook illustration of that. The Boston Celtics ruled the East until the Detroit Pistons compiled playoff lessons to take the crown. Soon afterward, here came Michael Jordan and the Chicago Bulls to claim the throne.
Still, there is some logic to the argument that the Lakers may have too much of a good thing. It's not a long step to go from wizened veterans leading their clubs into battle and opening the Purple-and-Golden Years Home for Shuffleboard and Bingo. Time will tell which side of the fence the Lakers wind up occupying.
Statistics courtesy of Basketball Reference.
RELATED: Magic Johnson Uses 1 Tweet to Stick up for LeBron James but Also Put Kevin Durant, Giannis Antetokounmpo, and Other NBA Stars in Their Place