Shaquille O'Neal Charged at a Longtime Teammate After Being Criticized For Not Boxing Out: 'He Twisted Me Up Kind of Like a Pretzel'
Shaquille O'Neal and Brian Shaw have a storied history. Shaw came to the Orlando Magic just as Shaq was blossoming into one of the best centers in the NBA. He rejoined The Diesel in Los Angeles at the turn of the century, when O'Neal had established himself as the best player in the entire league.
Having played with the Big Aristotle for so long, Shaw felt a certain sense of authority in being able to talk back to Shaq. But he learned very quickly not to cross a line when criticizing O'Neal.
Shaquille O'Neal and Brian Shaw experienced tremendous success with the Magic and Lakers
Brian Shaw came to the Orlando Magic at just about the perfect time.
After getting drafted by the Boston Celtics in 1988, Shaw spent a few seasons in Beantown (and one in Italy) before joining the Miami Heat. Meanwhile, Shaquille O'Neal was toiling away on an Orlando Magic team trying to establish a foothold after becoming an expansion team in 1989.
The Magic began to build momentum once they drafted O'Neal and acquired Penny Hardaway in a draft-day trade one year later. They made the playoffs during the 1993-94 season. That summer, Shaw signed with Orlando. The Magic reached the NBA Finals the following season and looked like a potential dynasty.
But the presumed dynasty wilted under the Orlando sun. The Magic were swept by Michael Jordan and the Chicago Bulls in the 1996 Eastern Conference Finals. Shaq bounced for LA to join the Lakers that summer.
Still, Shaw would find his way back to The Diesel. He signed with the Lakers in October 1999 after Kobe Bryant's hand injury freed up a roster spot. The playmaking guard never looked back.
Shaw played a vital bench role as a playmaker and floor-spacer who kept things spread for O'Neal to operate in the paint. Behind a dominant Shaq and an emerging Kobe, Shaw and the Lakers won three consecutive championships.
Phil Jackson's Lakers had tremendous camaraderie. However, Shaw's choice to criticize Shaq following the 1999-00 regular-season finale turned out rather poorly for the Oakland native.
Shaq charged at B-Shaw after getting called out for not boxing out
Shaquille O'Neal was the MVP of the NBA during the Lakers' 1999-00 championship season. He was unquestionably the most dominant force in basketball and a driver of LA's success.
So O'Neal got pretty frustrated when a veteran Brian Shaw defended a Lakers rookie and criticized Shaq for his mishaps in an overtime loss to the San Antonio Spurs at the end of the regular season.
The Hall of Fame center confronted forward Devean George in the locker room after the game because of a costly mistake George made at the end of the contest. But Shaw had the rook's back, instead suggesting O'Neal should have focused on boxing out Spurs big Malik Rose, who had four key offensive rebounds in the game. That critique resulted in Shaq charging at Shaw, as he told NBA.com in 2016.
Shaw checked in at under 200 pounds during his playing career. He never stood much of a chance with O'Neal, especially when opposing centers had a hard enough time slowing Shaq down.
Still, Shaw earned Superman's respect for showing a willingness to challenge him despite the size discrepancy.
O'Neal went to bat for Shaw as a head-coaching candidate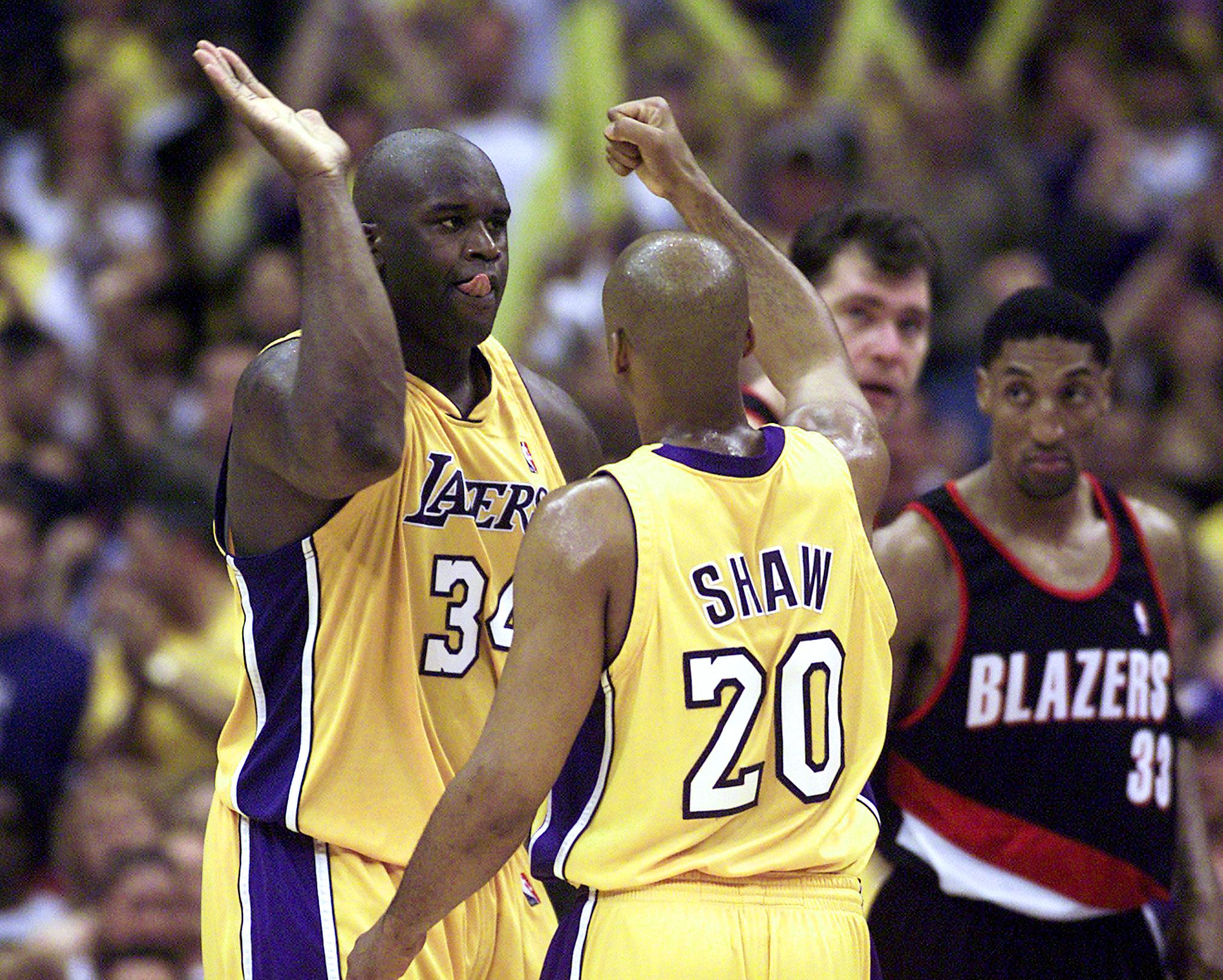 Shaq developed a deep respect for B-Shaw as a teammate. O'Neal was also adamant about the longtime assistant getting an opportunity as a head coach.
The Diesel lobbied for Shaw to be named head coach of the LA Clippers or Brooklyn Nets back in 2013 and decried the NBA's tendency to recycle coaches.
"I'm sick and tired of these coaches getting another chance before these other up-and-coming guys," Shaq said, via the Indianapolis Star. "People need to realize this is a new era, and B-Shaw speaks that language. He's my age, but he understands how it goes. He knows how the players go, how they tick. All these guys who have losing records come and try to do the same (expletive). It's not going work."
Shaw did get hired that summer, taking over as head coach of the Denver Nuggets. The Nuggets fired him after missing the playoffs in 2013-14 and starting 20-39 the following season. Shaw later became an associate head coach for the Lakers.
Although B-Shaw never had much success as a coach, he earned Shaquille O'Neal's eternal respect. Even if that meant getting twisted into a "pretzel."
Stats courtesy of Basketball Reference.
RELATED: Shaquille O'Neal Got Retribution for a Playoff Loss to the Jazz by Slapping Greg Ostertag in the Face