Shaquille O'Neal and Charles Barkley Waste No Time Demolishing Ben Simmons: 'Just 'Cause We Pay Certain Guys a Lot of Money, That Doesn't Mean You're a Great Player'
The Philadelphia 76ers are likely regretting some of their offseason choices. Rather than shipping off the disgruntled Ben Simmons, the Sixers opted to hold onto their star point guard in the hopes he would want to play. Alas, Simmons has returned to practice, gotten kicked out of practice, and earned a suspension for Philly's season opener against the New Orleans Pelicans.
Simmons is the talk of the basketball world for all the wrong reasons. And now, Shaquille O'Neal and Charles Barkley have joined in, blasting the sixth-year guard on live TV.
Ben Simmons has had a disastrous offseason
Before Simmons had a horrible offseason, he had a horrible postseason. The guard's inability to shoot, or even take shots, played a massive role in the 76ers losing to the Atlanta Hawks in the second round.
Since being scapegoated, the guard has wanted out. Simmons wants a fresh start somewhere else, far away from the team that made him the No. 1 overall pick in 2016. Up until recently, the Sixers have tried to oblige. Philly had conversations with teams regarding the unhappy All-Star, but the asking price was simply too steep to get anywhere.
So instead of playing with a new team, Simmons was stuck with his old one, facing significant pay loss if he didn't report.
Simmons eventually did show up to practice again, but he was far from a team player. The guard was reportedly disengaged and showed limited effort. Eventually, head coach Doc Rivers had enough, kicking the 25-year-old out of the gym and suspending him for the season opener.
"I just thought he was a distraction today," Rivers said Tuesday. "I didn't think he wanted to do what everybody else was doing. It was early. It wasn't a big deal. I just told him he should leave. We went on with practice."
Shaquille O'Neal and Charles Barkley lay into Ben Simmons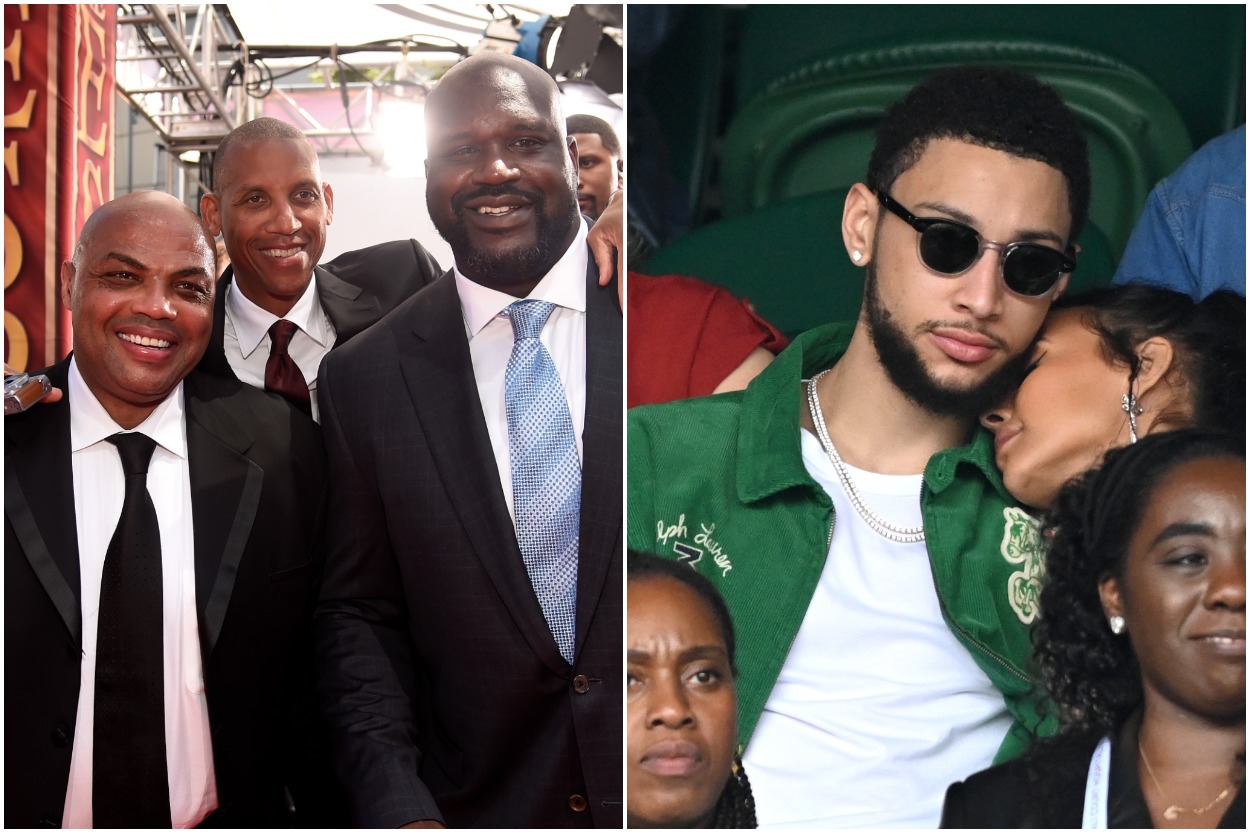 With the Simmons drama dominating the headlines, the NBA on TNT crew got right into the thick of things. Predictably, both Shaq and Charles had thoughts.
"Kenny made a great point last year," O'Neal said. "Just 'cause we pay certain guys a lot of money, that doesn't mean you're a great player. He's not a great player. He's a good player. It all started when they asked Doc Rivers, 'Can you win the championship with Ben?' and he made the face. Ben's feelings are hurt. He doesn't want to be there anymore."
"It's a joke. It's stupid, and it's silly," said Barkley. "When people ask you to be a better basketball player, and they're paying you $35, $40 million, that's a very fair thing. … You should want to be a better basketball player because that's your profession. That's your job."
Simmons signed a max deal with the 76ers in 2019, shortly after his second full season with the team. He currently has four years and $147 million remaining.
The Simmons drama will come to an ugly ending
At this point, it's unclear when the drama between Simmons and the 76ers will come to an end. But it's fair to say it won't be pretty when it does.
Given all that's unfolded, the Sixers will have to settle for much less than their reported asking price of multiple first-round picks and players. They have exactly zero leverage, as other teams know Simmons will make it impossible for them to justify playing him. Meanwhile, Simmons has tanked his own value, becoming a high-priced player teams aren't exactly champing at the bit to trade for.
If or when Simmons is dealt, the disgruntled star will be happy, the Sixers will be relieved, and the rest of the basketball world will be excited to move on to a different narrative: his first game back in Philadelphia as a visitor. For everyone's sake, please have Shaq, Charles, and the rest of the TNT crew there to cover the game.
All statistics courtesy of Basketball Reference and contract figures courtesy of Spotrac.
RELATED: Joel Embiid Obliterates Ben Simmons for His Embarrassing Attempt to Start a War With the 76ers He Can't Win: 'I Don't Care About That Man… I'm Not Here to Babysit'