Shaquille O'Neal Christened a Lakers Media Day by Dropping His Pants and Showing Reporters the Full Moon During a Rick Fox Interview
Shaquille O'Neal is one of the most charismatic and humorous individuals in NBA history. The Los Angeles media quickly learned as much shortly after Shaq signed with the Lakers in 1996.
O'Neal had a special prank in mind for one such Media Day. The sun was shining in LA, but a full moon would soon be visible for all reporters in attendance.
The Lakers pulled all the strings to sign Shaquille O'Neal in free agency in 1996
The Orlando Magic stumbled in convincing Shaquille O'Neal to re-sign with the team in free agency in 1996, opening the door for Jerry West and the Lakers to make their move.
O'Neal had been perturbed by the Magic's initial offer and later expressed equal dissatisfaction at a local newspaper poll suggesting he was not worth $115 million. Those hiccups prompted West to spring into action.
West initially offered O'Neal seven years and just under $95 million, but more action was required after the Magic upped their offer. The former Lakers general manager did just about everything he could to clear up cap space, including sending veteran center Vlade Divac to the Charlotte Hornets in exchange for a young Kobe Bryant, whom the Hornets had selected in the first round of the 1996 NBA Draft.
Having practically gutted the roster, West then offered O'Neal $120 million over seven years. The Diesel deemed it a suitable number and prepared to take his talents to Hollywood.
It wouldn't be long before the LA media became exposed to Shaq's talents as a jokester.
Shaq mooned reporters in the middle of Rick Fox's Media Day interview
Shaquille O'Neal chose to bare all during one Lakers Media Day. Literally.
In April, the NBA on TNT crew brought up a hilarious image of O'Neal showing his bare butt during the middle of a Rick Fox interview at a Lakers Media Day. Shaq did not specify when the picture occurred, but it must have happened between 1997 and 2004, when O'Neal and Fox were Laker teammates.
The segment involved all kinds of hilarity. Dwyane Wade jokingly said he refused to eat meat and was going vegan after seeing the image, also saying The Diesel's butt looked like a "well-done steak." Wade and Candace Parker also questioned why Shaq seemingly went to Media Day without any underwear. O'Neal was in hysterics throughout, apologizing to his mother on multiple occasions.
According to Fox, Shaq had a strange propensity for running around the locker room practically naked. He told Dan Patrick back in 2017 that "you could never fully relax in the locker room" with O'Neal around.
As Fox stated, the Hall of Fame center had a knack for "playing games" off the floor. On the floor, however, he was all business.
O'Neal knew when to buckle down and be a winning player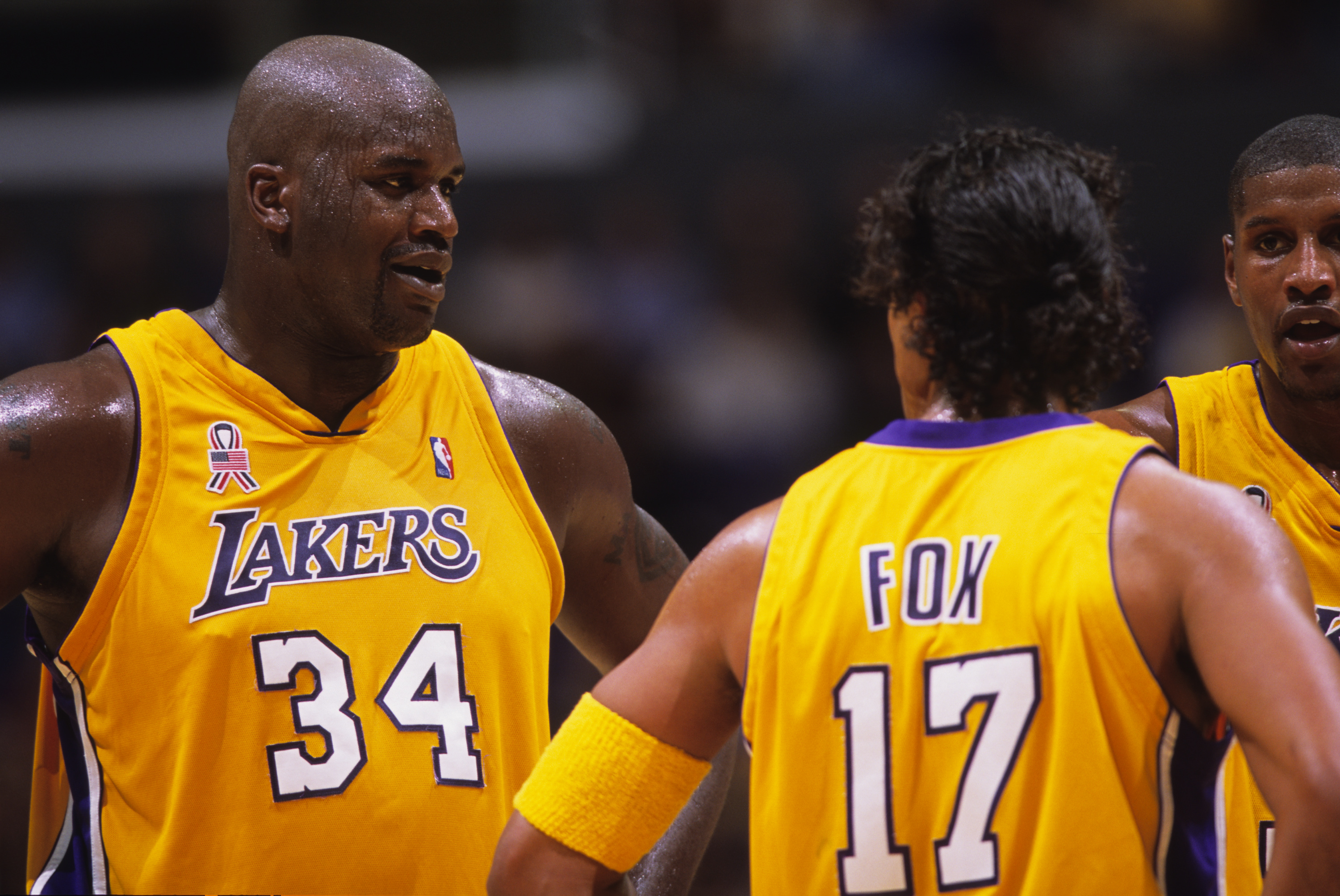 Shaq's good-natured side did not preclude him from being a dominant and intimidating force on the basketball court.
O'Neal overpowered opposing bigs and helped lead the Lakers to three consecutive championships between 2000 and 2002, winning NBA Finals MVP each time. The Big Aristotle finished his Lakers career with averages of 27.0 points, 11.8 rebounds, 3.1 assists, and 2.5 blocks, emphatically asserting his place among the best centers in NBA history.
Shaq will always be revered for bringing multiple championships to the city of LA. But he also inspired plenty of good memories because of his kindred spirit, even if that occasionally came at the expense of teammates like Fox and others.
Stats courtesy of Basketball Reference.
RELATED: Shaquille O'Neal Made His Own Jingle to Poke Fun at Vlade Divac and the Kings in the 2002 Western Conference Finals: 'Guess What? Kobe Dunked it in Your Face!'