Shaquille O'Neal Claims He's Done Attending Lakers Games: 'I Don't Celebrate 7th Place'
Article highlights:
Shaquille O'Neal won three championships and reached four NBA Finals in eight seasons with the Lakers
Shaq said he doesn't celebrate seventh place when it comes to his current Lakers team
The Lakers are struggling defensively this season
Shaquille O'Neal was one of the greatest Los Angeles Lakers players of all time, as the franchise even immortalized Shaq by putting a statue of him outside of its arena. However, Diesel's eight legendary seasons in LA don't automatically mean that he's a die-hard fan. In fact, O'Neal recently said he's done going to Lakers games.
Shaquille O'Neal had a tremendous Lakers tenure
Before we get into why Shaq said he's done going to Lakers games, let's take a look at the eight remarkable years he spent with the team.
After going to the Orlando Magic in the 1992 NBA Draft and spending his first four seasons with that franchise, O'Neal took his talents to Hollywood in 1996. The move resulted in The Big Aristotle becoming arguably the best player in the NBA.
Shaq averaged 27.0 points and 11.8 rebounds in eight years with the Lakers, earning an All-Star selection in all but one season and winning the league's MVP award in 1999-2000. Alongside Kobe Bryant, O'Neal helped the Lake Show become one of the greatest teams of all time during his years there, leading the franchise to three consecutive championships and four NBA Finals in five seasons between 1999-2000 and 2003-04.
The Lakers, however, eventually traded Shaq to the Miami Heat in 2004, and he won one more title there before playing on three more teams in his career. His No. 34 jersey has since been retired by LA, and he has a statue outside of Staples Center.
Shaq said he's done going to Lakers games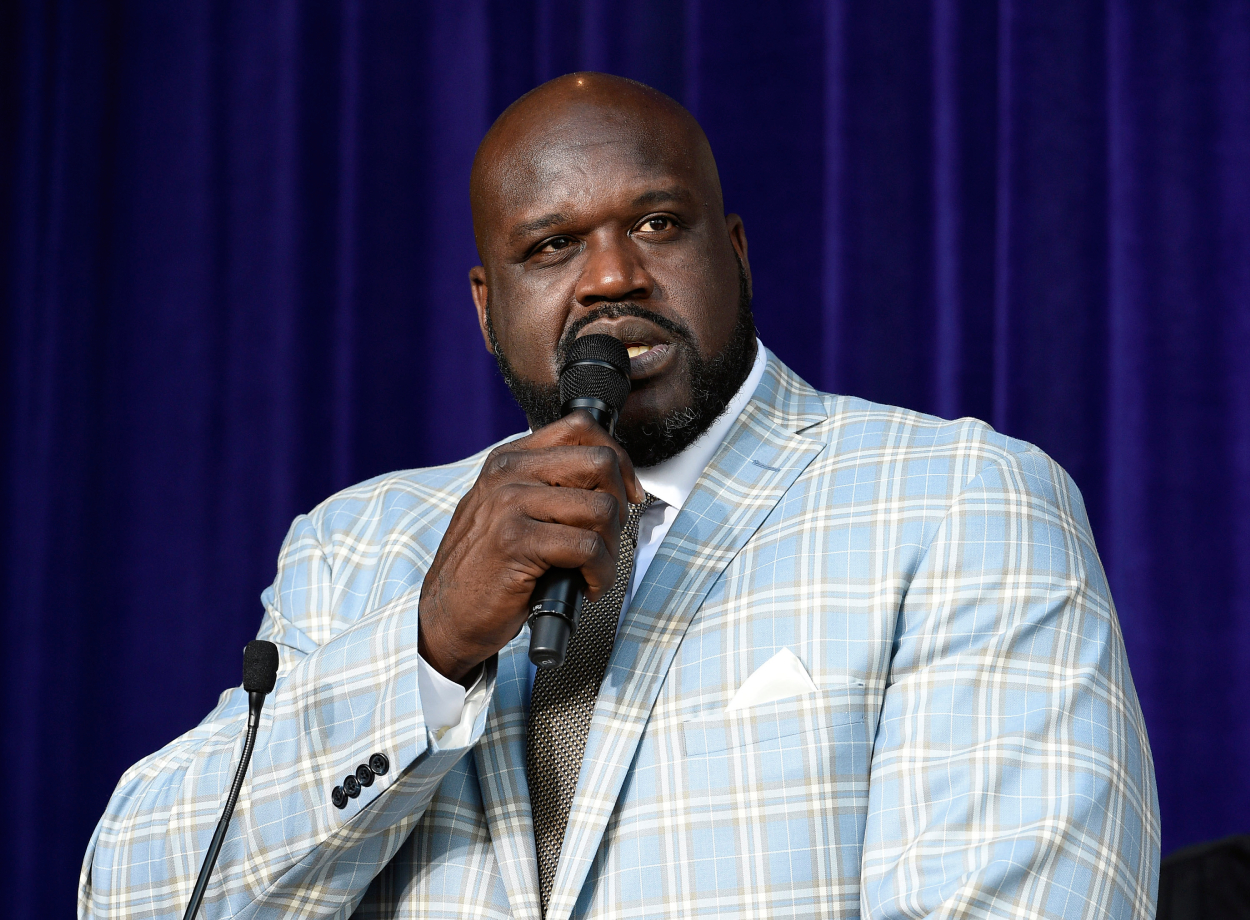 While recently talking on his podcast about Staples Center changing its name to Crypto.com Arena, O'Neal said he's done attending Lakers games.
"I'm not even going anymore," he said on the Dec. 9 episode of The Big Podcast with Shaq.
His co-host Nischelle Turner pushed back at his claim, saying, "Yes you are," but Shaq followed that up by taking a shot at the current Lakers team.
"No, I'm not; who wants to watch them people play?" he said. "… I don't celebrate seventh place at all. I celebrate Steph Curry; that's who I celebrate. I'll go to Golden State and watch them play."
O'Neal was likely just being funny when saying this. If the Lakers end up reaching the NBA Finals, you can bet your life savings on TNT sending him and the Inside the NBA crew to LA for the series.
But the point he was making was absolutely clear: The Lakers better start improving, and they better do it soon.
The Los Angeles Lakers have had a disappointing season behind their underperforming Big Three
The Lakers have arguably the most talented roster in the NBA this year, but they haven't started clicking yet.
LA is 14-13 on the season, which is good for sixth place in the Western Conference. LeBron James' squad averages 111.4 points per game, but it's turning the ball over 16.1 times a night, allowing an average of 112.1 points defensively, and letting its opponents pull down 11.4 offensive rebounds per game.
James has played well when he has been on the court, averaging 26.0 points, 5.8 rebounds, and 6.9 assists, but his fellow Big Three members, Anthony Davis and Russell Westbrook, have both been criticized by the masses. They can't seem to keep the team afloat when James is out of the lineup, and they have struggled to play above-average basketball together consistently.
On the bright side, though, James' two other Big Threes struggled at the beginning of their first seasons together and still reached the NBA Finals. So, there's still reason for Lakers fans to be optimistic. But with the stellar play of teams like the Golden State Warriors and Phoenix Suns, there's also plenty of reason to worry. LA might just not have enough to overtake teams like that in the postseason.
All in all, the Lakers better figure things out sooner rather than later, or legends like Shaquille O'Neal won't be attending their games.
Stats courtesy of Basketball Reference