Shaquille O'Neal Once Cried on Live Television Because of His Admiration for an All-Time Great Center
Shaquille O'Neal is one of the most imposing centers in NBA history, but he's not above showing his more sensitive side.
While Shaq never shies away from claiming his place among the best centers ever, he also stumps for other legendary bigs, including his boyhood idol. O'Neal's emotions poured out on NBA TV in 2013 after a backstage encounter with New York Knicks legend Patrick Ewing.
Shaquille O'Neal idolized Patrick Ewing
Shaquille O'Neal looked up to Patrick Ewing practically from the time he began playing basketball.
O'Neal revealed to Ewing on The Big Podcast With Shaq that he wore No. 33 in high school and college because that's the number Ewing wore at Georgetown — speaking of which, Shaq had a weird relationship with Hoyas centers like Alonzo Mourning — and with the New York Knicks. The Diesel also called Big Pat his "favorite player."
Shaq had his fair share of battles with Ewing, with most of those coming when O'Neal donned an Orlando Magic uniform. He went 15-11 head-to-head against the Knicks great, averaging 28.7 points, 12.0 rebounds, 2.6 assists, and 3.1 blocks. Ewing, meanwhile, averaged 21.4 points, 10.8 rebounds, and 2.0 blocks.
Although O'Neal usually had the upper hand against Ewing — who shot just 44% from the field in those matchups against Shaq — he always showed reverence to his idol and elevated his legacy. The Big Aristotle's respect for Ewing became all the more evident during a teary segment on NBA TV in 2013.
O'Neal got emotional talking about Ewing in 2013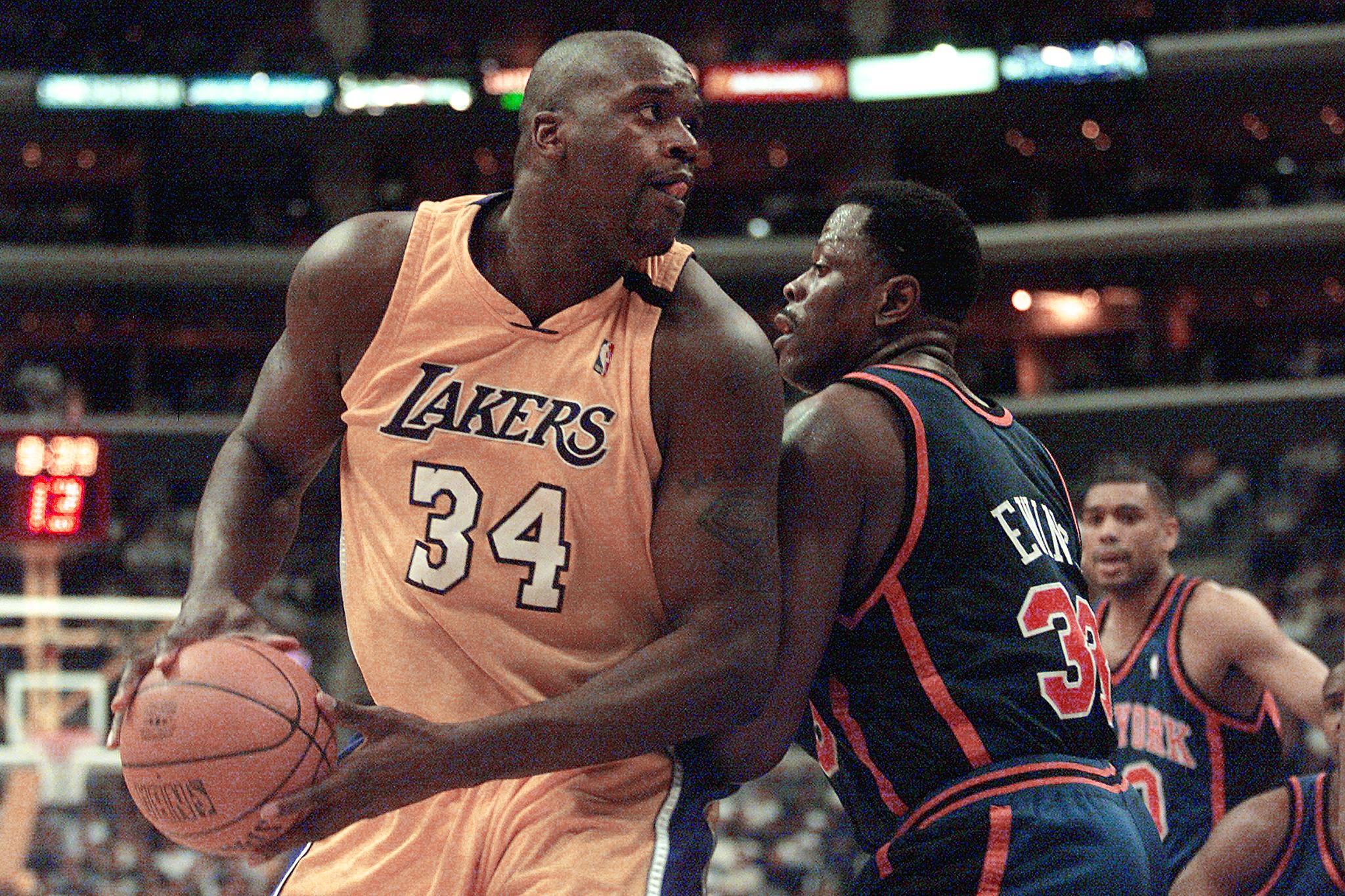 Shaquille O'Neal ran into Patrick Ewing before getting on the NBA TV set for a segment in 2013. Suddenly, he lost all control over his emotions.
Shaq began crying on live television. When asked about the cause of the tears, O'Neal revealed (h/t YouTube) his interaction with Ewing and said that the Hall of Fame center does not deserve the respect he deserves.
"I just saw Patrick Ewing, man… A lot of people, when they talk about the greats, Patrick Ewing's name never comes up. I'm putting Patrick Ewing's name there as one of the greats."

–Shaquille O'Neal (2013)
When pressed on his showdowns with Ewing, Shaq said he had to "psych" himself up and best Big Pat to become the cream of the crop among big men in the NBA. The Diesel went on to say he felt Ewing belonged among the top five centers in NBA history.
Shaq's assertion that Ewing is a top-5 center is questionable. It's hard to rank the Jamaican native above O'Neal, Kareem Abdul-Jabbar, Wilt Chamberlain, Bill Russell, and Hakeem Olajuwon, with Dream, in particular, being another underrated player whose skill and footwork even influenced guards.
Still, Ewing certainly does deserve more flowers.
Ewing has a tremendous NBA resume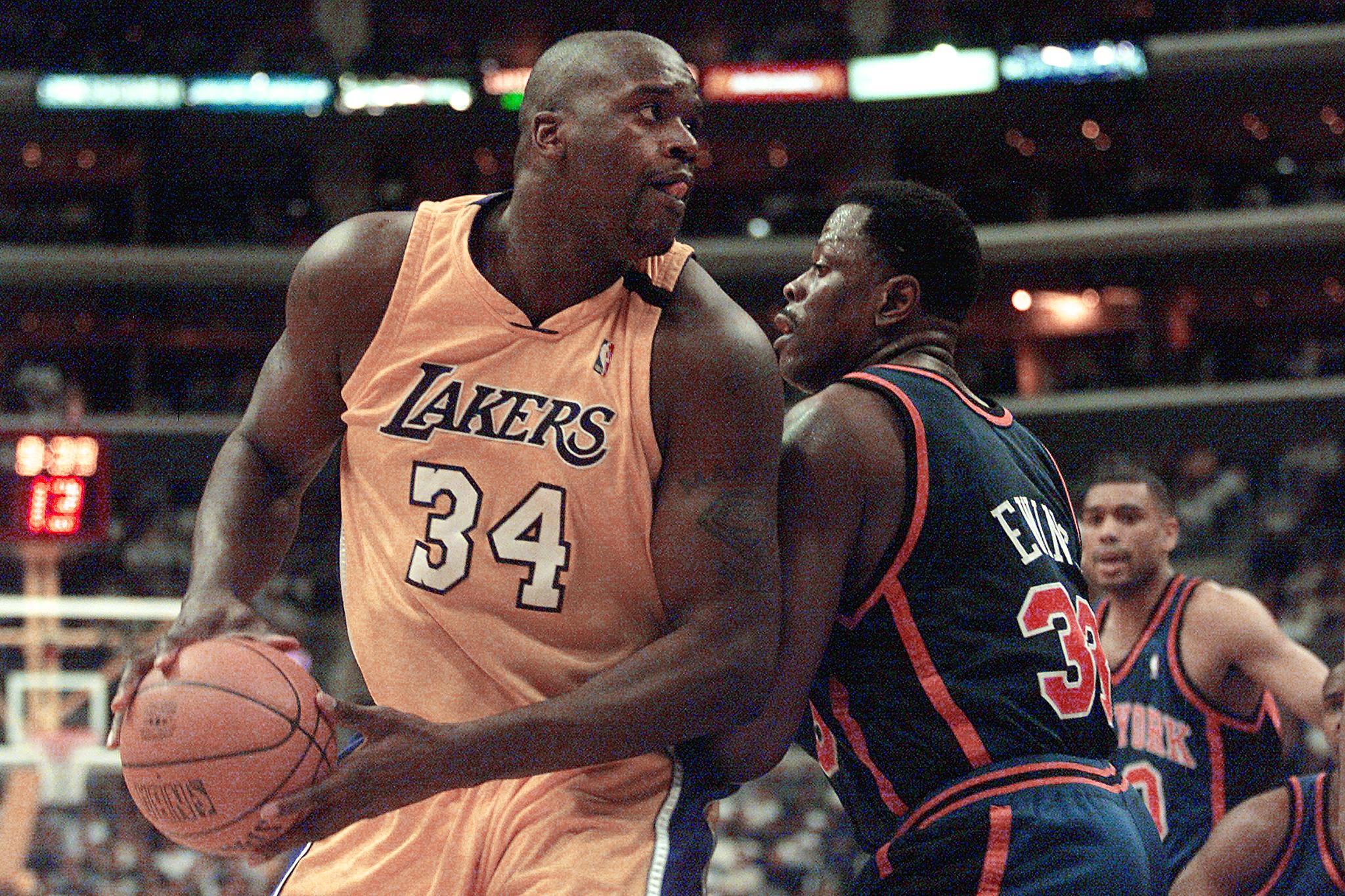 The only thing missing on Patrick Ewing's list of accomplishments is a championship ring. But it's hard to penalize him for that, considering he played in the same era as Michael Jordan.
Ewing boasts career numbers of 21.0 points and 9.8 rebounds. He made 11 All-Star teams and seven All-NBA squads, including an All-NBA First Team selection during the 1989-90 campaign. The 1985-86 Rookie of the Year also earned three All-Defensive honors and was a member of the 1992 Dream Team.
Pat probably deserves even more success for the Knicks' success because he was the only true superstar for almost the entirety of his career. John Starks and Charles Oakley were the only other Knicks players to make an All-Star team during his tenure, but Starks and Oakley never claimed superstar status. It separates him from someone like O'Neal, who played with Penny Hardaway and Kobe Bryant.
Ewing almost single-handedly revived basketball at The Mecca and narrowly missed out on NBA titles in 1994 and 1999. Shaquille O'Neal seemed to understand that Pat's excellence and association with the Knicks merit more recognition in the annals of NBA history.
Stats courtesy of Basketball Reference.