Shaquille O'Neal Dominated in Staples Center but is Actually OK With Its Shocking Name Change: 'I'm Glad'
Last month's shocking news about Staples Center changing its name to Crypto.com Arena left many people across the country somewhat emotional. The building that has been home to the Los Angeles Lakers and LA Clippers of the NBA, Sparks of the WNBA, and Kings of the NHL has housed a plethora of iconic moments. So, taking its name is almost like erasing history.
However, Shaquille O'Neal, one of the most legendary players to ever call Staples Center home, has a different view on the news. He's actually OK with the name change.
Staples Center will officially become Crypto.com Arena later this month
In November, Staples Center's owner, AEG, announced that the building would officially be called Crypto.com Arena starting on Christmas Day. It's reportedly the largest naming rights deal in all of sports history, as it's believed to be valued at $700 million over 20 years.
The news left plenty of fans and athletes upset. 
"It will definitely be weird," Clippers star Paul George said, per Sports Illustrated's Farbod Esnaashari. "It's the same location, but it's kind of like you're stripping the history here by calling it something else."
His teammate Reggie Jackson also shared his thoughts (H/T ESPN): "[The Lakers] have their history here, Kobe, especially my era, growing up, watching those championships. Shaq. Nah, it's too many memories. It's gonna be hard to not call it Staples."
But while O'Neal made plenty of great memories in Staples Center, he's actually OK with the name change.
Shaquille O'Neal is OK with Staples Center changing its name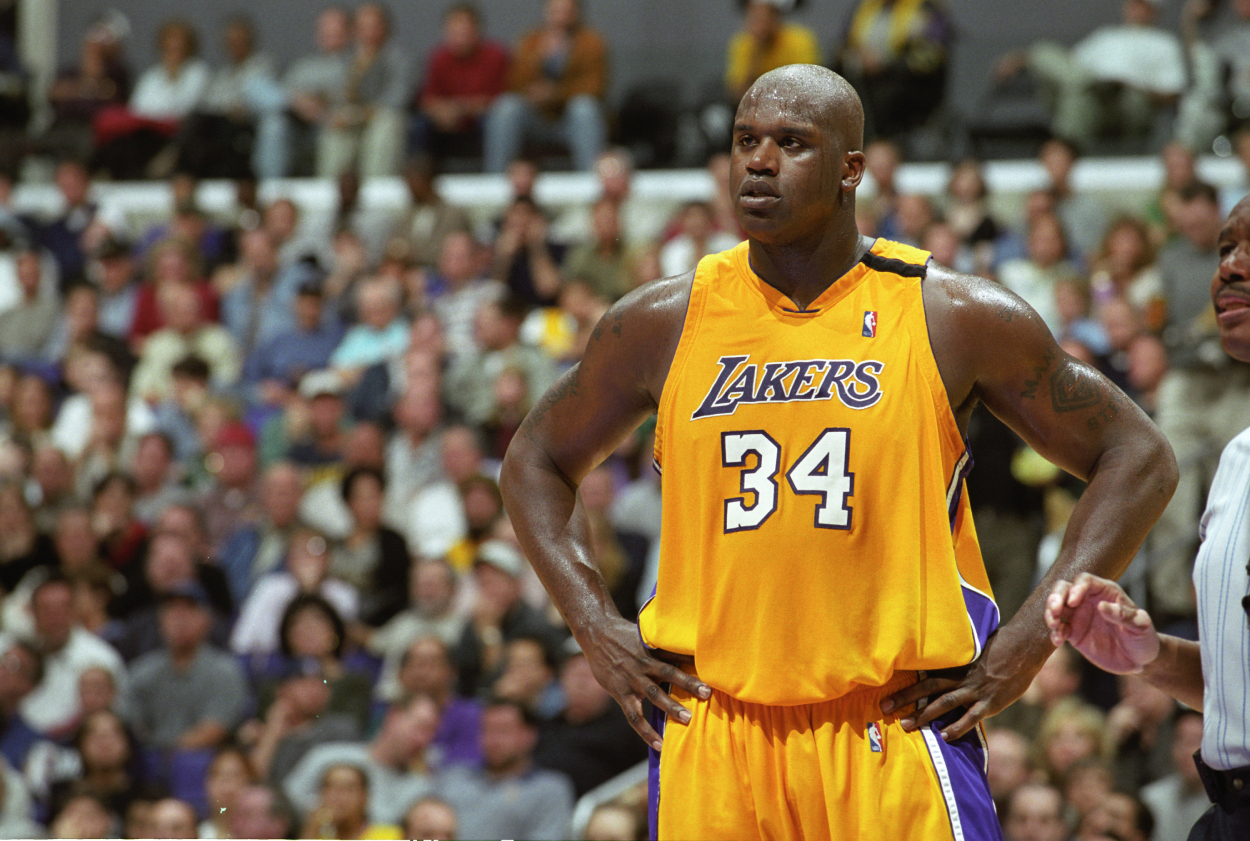 Staples Center opened in 1999, and during its first three years of existence, the Lakers — led by Shaquille O'Neal and Kobe Bryant — won three straight NBA championships.
So, Shaq, obviously, has plenty of fond memories from the years he played in that building.
"It was a blessing to be able to play in that building, to play in front of my favorite actors and actresses, to play in front of my family, score 61 points on my birthday, win championships — three in a row — for the city," he said on the Dec. 9 episode of The Big Podcast with Shaq.
But those memories are actually the reason why O'Neal is happy about the name change.
"I'm glad they're taking the name of the Staples Center down," he said. "That was our building. … Staples Center belonged to Shaq and Kobe forever."
He's got a point. Staples Center was the house that Kobe and Shaq built. It was their home, and now the arena can have a new identity to go with its new name.
Shaquille O'Neal had plenty of big performances in Staples Center with the Lakers
As he alluded to, Shaquille O'Neal put on a show almost every night during his career with the Lakers, leading to several massive performances in Staples.
In addition to winning three straight championships from 2000 through 2002, Shaq scored a career-high 61 points and pulled down 23 rebounds in a game that took place on his birthday, March 6, 2000. The Lakers won the contest by 20 points over the LA Clippers.
Later on during the first round of the playoffs that year, the 15-time All-Star scored 46 points, pulled down 17 rebounds, and had five blocks during a Game 1 win over the Sacramento Kings. He also later had 41 points and 17 rebounds against the Kings during Game 6 of the 2002 Western Conference Finals, helping the Lakers tie the series 3-3 before going on to win in seven games.
Shaquille O'Neal is a reason Staples Center is as popular as it is today. If he's OK with the name change, we should all be OK with it, too.
Stats courtesy of Basketball Reference