Shaquille O'Neal's Former NBA Finals Foe Says Shaq's Dominance Could Only Be Stopped by a Specific Opponent That Never Played Basketball
Some forces are just too strong to stop, and that was the case with NBA legend Shaquille O'Neal. Throughout his hoops career, O'Neal's strength in the paint made him arguably the most dominant player of all time, and it led to him winning four championships and three Finals MVPs.
However, according to Kenyon Martin, who played against Shaq and the Los Angeles Lakers in the 2002 NBA Finals, only one opponent could stop O'Neal: Father Time.
Shaq and the Lakers played Kenyon Martin and the Nets in the 2002 NBA Finals
By the time Kenyon Martin entered the league in 2000, Shaquille O'Neal was already one of the most dominant players in the NBA.
He won the MVP award, and he led the league in scoring for the second time in his career, the year before in 1999-2000. O'Neal also won his first championship that season before winning his second during Martin's rookie year in 2000-01.
In 2001-02, however, O'Neal and the Lakers went to the NBA Finals for a third consecutive year, and they faced Martin and the New Jersey Nets.
The Lakers won the series easily, sweeping the Nets 4-0, but fewer than seven points separated the teams in three of the four games. O'Neal and Martin were also their squads' leading scorers, as Shaq averaged 36.3 points and 12.3 rebounds in the four games and won Finals MVP. Martin, on the other hand, averaged 22.0 points and 6.5 rebounds.
Following that series, O'Neal starred in the NBA until 2011, and Martin called it quits after the 2014-15 season. So, they were both pretty familiar with each other's skills throughout their careers, which led to the former Nets star recently explaining just how dominant the Hall of Fame big man was on the court.
Kenyon Martin said only 'Father Time' could guard Shaquille O'Neal
Martin recently appeared on No Chill With Gilbert Arenas, and he discussed what it was like to go against O'Neal.
But while the Cincinnati product typically guarded one through five on the court, he admitted that Shaq was just too strong for him to defend.
"[If] they ran something and it was in transition or something, and I had to pick him up; it wasn't one time where we came out and [it was] like, 'Kenyon you got him,'" he said on the Sept. 21 episode. "… I'm the double guy. I'm the double and get-out guy. He catch it, I can go — wherever I am on the floor — I raise my hand, I can double or I can get out; I can tell you where to go on the backside. I'm that guy with him."
Martin then revealed the only opponent that could actually stop Shaq.
"There was no guarding him, man," he said. "Father Time guarded Shaq. Trust me; there wasn't no stopping that man, dog. No. [He's] the only player ever to not shoot anything outside of the paint — and dominate."
So, obviously, it was difficult to defend O'Neal. But is Martin right? Was Father Time the only opponent that could stop Shaq?
Father Time did, in fact, stop Shaquille O'Neal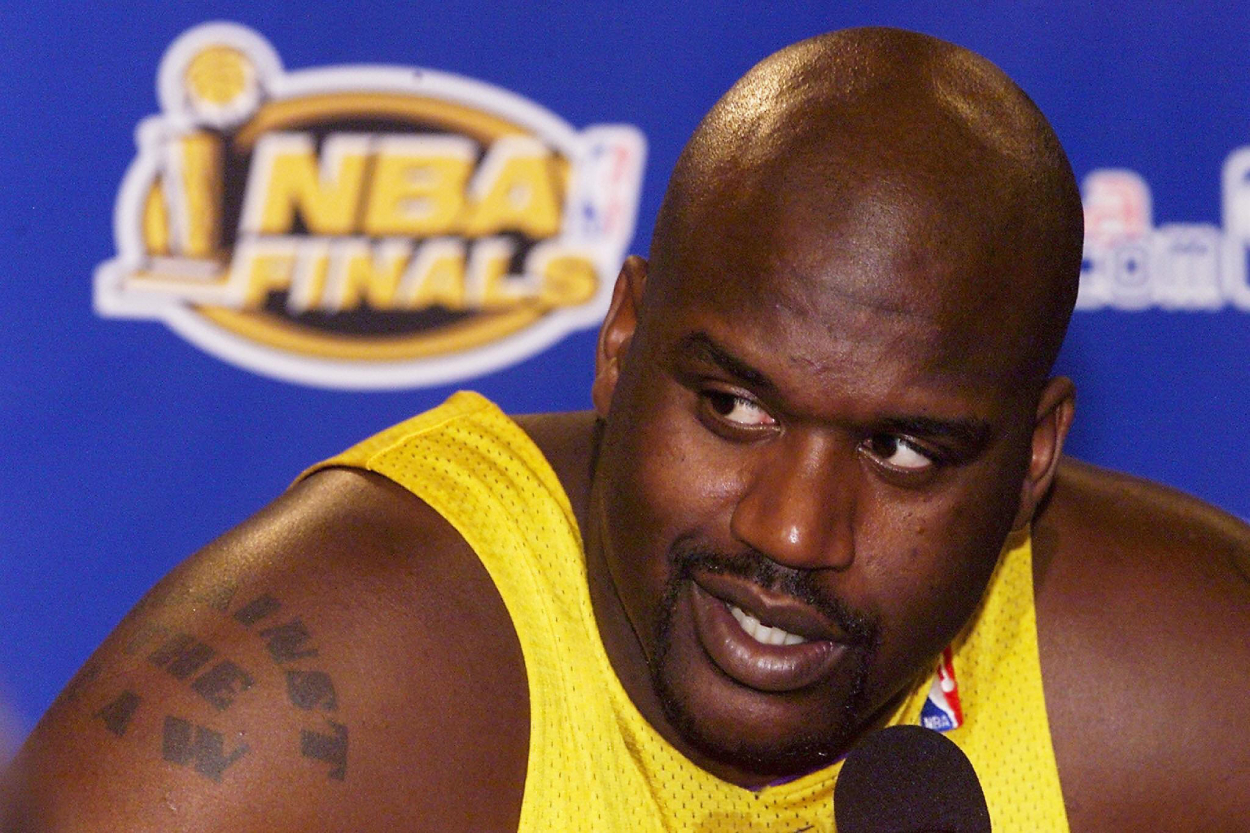 As Martin said, O'Neal was unguardable during his prime. Between the 1993-94 and 2002-03 seasons, he averaged 28.1 points, 11.9 rebounds, and 2.5 blocks. He also led the NBA in field-goal percentage six times during that 10-year span.
However, once he got past the age of 30, O'Neal's stats began to decline. From 2003-04 through 2006-07 — when he was between the ages of 31 and 34 — Shaq averaged 20.8 points, 9.9 rebounds, and 2.1 blocks. Between 2007-08 and 2010-11 (from 35 to 38), O'Neal only posted 13.9 points, 7.6 rebounds, and 1.3 blocks per game.
Shaq's former superstar Lakers teammate, Kobe Bryant, also once discussed how getting older may have been harder for O'Neal than him.
"He had years where he was lazy. But during those three championships we won? To say he was a beast would be an understatement," Bryant said to GQ in 2015. "… To be fair, I think what happened is that, as you get older, your body starts breaking down, and you have to really love the process in order to get through that. … For him, with his big toe and his knee, it became very hard for him to get up in the morning and push through those things. He might not have been as willing to do those things at the time, and I wasn't thrilled about that."
Every basketball fan in the world knows that O'Neal was as dominant as they come during his prime. Father Time, though, comes for everyone, and it certainly came for him.
Stats courtesy of Basketball Reference
RELATED: Kobe Bryant Used a Simple 6-Word Sentence to Savagely Troll Shaquille O'Neal After Winning His 5th NBA Title