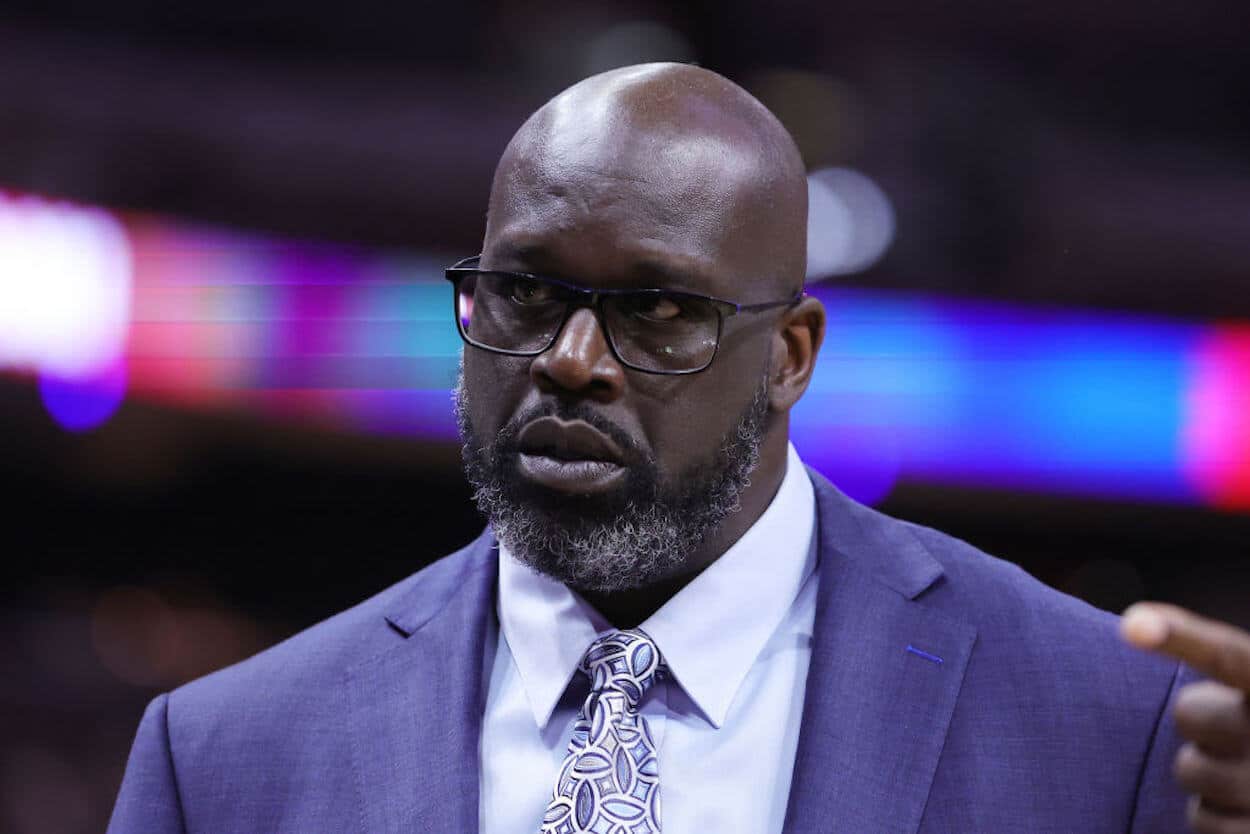 Shaquille O'Neal Has Apparently Seen Enough From Victor Wembanyama To Shake His Skepticism
In April 2023, Shaquille O'Neal told Sportscasting he wasn't sure about Victor Wembanyama's NBA future. Now, he's singing a different tune.
Whether you like him or not, Shaquille O'Neal is a key part of the basketball landscape. While his playing career is behind him, the legendary big man has become a fixture on TNT's Inside the NBA. That platform, combined with his other media engagements, means the Big Aristotle will share plenty of opinions over the course of a season. And, as of late, some of those takes have understandably been about Victor Wembanyama.
And while the reviews of Wemby have been almost universally positive, Shaq was initially a dissenter, telling Sportscasting all about his skepticism. These days, though, O'Neal has apparently changed his tune.
Let's break that evolved opinion down.
Shaq previously told Sportscasting that he was 'more on the skeptical side' about Victor Wembanyama
When you've been there and done that, it's easy to get a bit cynical. Without being inside of the big man's head, perhaps that explains why Shaquille O'Neal wasn't initially sold on Victor Wembanyama's NBA future. If you've seen countless players come into the league only to fall short, why would this one be any different?
"No, and I'm a bit skeptical because the good and bad thing about highlights," the Diesel told Sportscasting in April when asked if he thought Wemby was a surefire NBA star. "When you put your highlights on, you always show the good parts. I want to see this kid play a full game. He's not very big — he's tall, but he's building up a lot of muscles, not that strong. He can shoot, he can dribble, he can do all that."
And while you might think that being able to shoot, dribble, and do all that are important skills for an NBA prospect, O'Neal wanted to see more from Wembanyama.
"But I'm only seeing highlights of him dunk the ball and shoot jumpers," Shaq continued. "I haven't really seen a lot of post moves. We haven't seen a lot of that stuff. So again, now you could be a star in France. When you come over here, you definitely got to start all over. A lot of guys have a lot of hype and came over here, some played out, and some didn't. So I'm going to be more on the skeptical side like Charles [Barkley]."
Did that take differ from the norm? Yes, but O'Neal has never been afraid to make a bold statement before. Less than two full months later, though, it seems like he's singing a different tune.
Shaquille O'Neal now seems quite a bit positive about Wembanyama
In sports, a great deal can change in the blink of an eye. If nothing else, Shaq's opinion of Victor Wembanyama seems to be quite a bit rosier these days.
"I say really fast because he guys are not playing down low anymore," O'Neal told Suzy Schuster of The Rich Eisen Show when asked how quickly Wemby can adjust to the Association. "Guys are not playing physical anymore. They're switching one through five. He's a pick-and-pop guy. He can shoot pretty good. He's like a seven-foot-four Kevin Durant, so I think he can acclimate very, very quickly."
While none of those facts were any different than when the Big Aristotle expressed skepticism in April, he did raise a tangible change: we now know that Wembanyama is probably headed to San Antonio when he's drafted. In Shaq's mind, that will help make things even smoother.
"And he's with the master," the TNT talking head added. "Like, having a kid like that go to 'The System'? [Whistles] That's what I call the Spurs, 'The System.' Having a kid like that go to 'The System,' I think people better watch out."
And, since this is Shaquille O'Neal we're talking about, he couldn't wrap up without throwing a bit of shade at modern big men.
"If this was our era and [people were] banging, he'd be, he'd be, you know, chicken noodle soup," Shaq continued. "Like, I'm watching how these guys play now, you know, especially like, you know, Joel Embiid. He's 6-11, he's not posting up. He's shooting jumpers, and then you've got the nerve to say, you got the nerve to say, 'Me and James [Harden] can't do it by ourselves'? Yeah, cause get your big ass down in the paint. If you get your big ass down in the paint, you can do it by yourself. But that's not how people play anymore, so this kid will be fine, and I wish him well."
As you can see, that's quite different from what O'Neal thought at the start of April.
So, what's responsible for that change? Did Shaq realize that as a person living in 2023, let alone a multimillionaire working in the media, there was a way to see more of Victor Wembanyama than simply watching highlights? Does he have that much faith in Gregg Popovich and the San Antonio Spurs organization? Since we know that O'Neal can take things a bit personally, did he feel self-conscious that he was one of the few dissenting voices about Wemby? Or did he simply learn some new information and change his opinion, which is something everyone, even TV pundits, is allowed to do?
At this point, the world may never know. Shaquille O'Neal's skepticism about Victor Wembanyama, though, seems to officially be a thing of the past.