Shaquille O'Neal Just Lit a Fire Under Ja Morant to Earn the 'Best Player in the League' Label
Memphis Grizzlies star Ja Morant has truly spread his wings as one of the game's best talents in only his third year behind an MVP-caliber campaign. His stellar play has drawn constant comparisons to a young Derrick Rose, but his impact far exceeds his explosive playmaking as a scorer and passer.
Morant has the Grizzlies positioned to make a legitimate push toward an NBA title. Beyond that, he's garnered recognition from Hall of Famer Shaquille O'Neal, labeling him as the game's best player.
Ja Morant is experiencing a breakout MVP campaign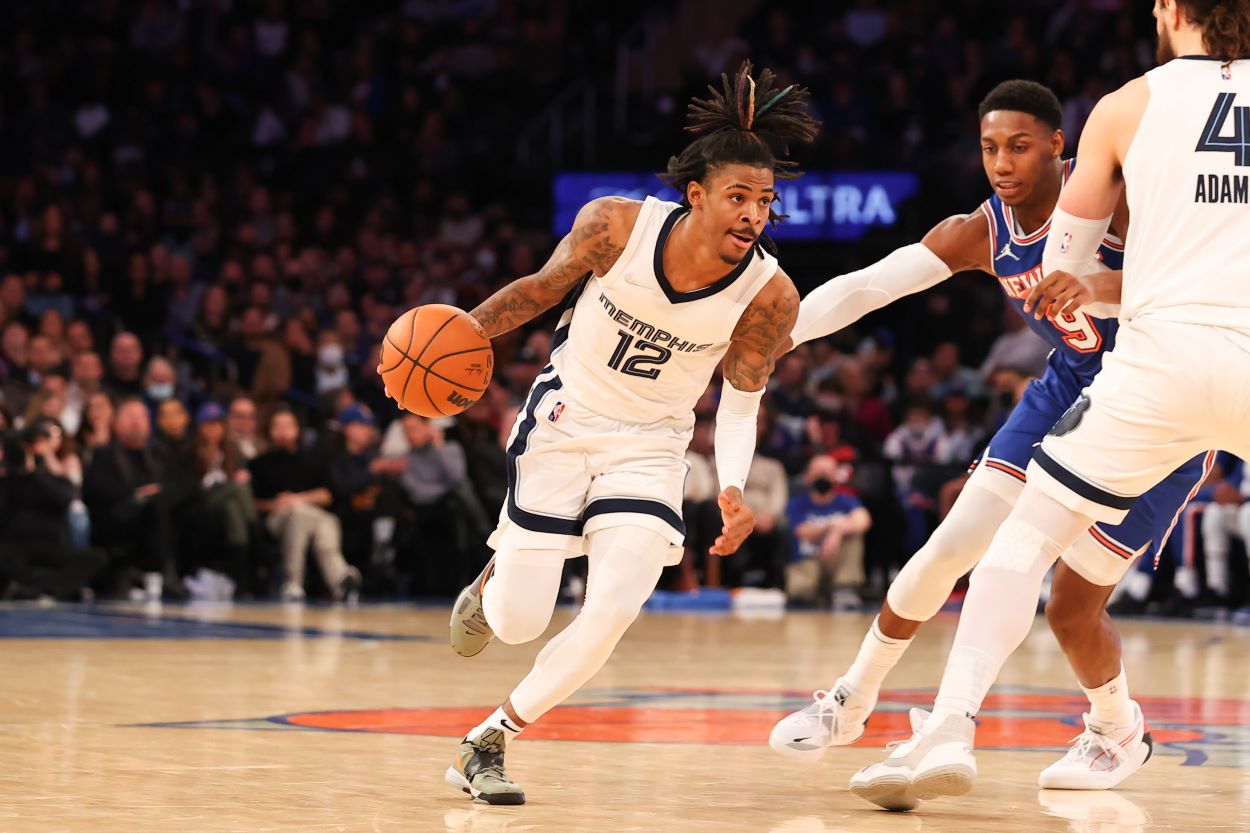 After leading the Grizzlies to their first playoff trip in four years, Morant has taken his game to the next level.
The Murray State product has firmly established himself as an elite scorer, ranking seventh averaging 27.5 points while shooting 49.5% from the floor. He's one of four players alongside Giannis Antetokounmpo, Luka Doncic, and LeBron James, averaging at least 26 points, six assists, and five rebounds.
Morant has tallied 40 or more points six times, which puts him on a shortlist of players age 22 or younger in the 3-point era (since 1979-80 season) to reach that feat. That puts him in the company with James, Michael Jordan, Kobe Bryant, Tracy McGrady, Trae Young, Amare Stoudemire, and Kevin Durant.
As Morant continues to shine, a Hall of Fame big man just gave him the ultimate confidence booster.
Shaquille O'Neal just lit a fire under Ja Morant to earn the 'best in the league' label
Morant's massive leap in his third year has elevated him to recognition as one of the game's best talents.
His stellar play has transformed the Grizzlies into a Western Conference powerhouse with potentially serious NBA title aspirations. Hall of Famer Shaquille O'Neal took that another step by personally giving the star guard the stamp of approval as arguably the best player in the league.
"You should've seen his little cute face when I said, "Yo man, you the best player in the league," O'Neal said. "He was like 'Huh?' — 'I'm not playing with you, brother. You're the best. For real. I promise you're the best.' He kinda believed it but he didn't really believe it. Once I validated that, he just [took off]. He was already going that way anyway, but I kinda just had to light it.
"Penny [Hardaway] was like that. Kobe was like that. This kid — it will definitely be his league in the next few years."
Morant's reaction certainly shows that he doesn't believe he's arrived at that level yet. However, when a former all-time great voices those firm words, it takes matters to the next level. In the seven games six the All-Star break, he's averaging 32. 5 points per game. His stellar production includes notching 46 points and 52 points in back-to-back contests.
The first-time All-Star may not believe he's reached that status yet, but his play on the court is doing all the talking. The more he continues to rack up stellar outings, the harder it's going to be to keep him out of that prestigious conversation as the game's best talent.
Grizzlies are eyeing capturing the No.2 spot in the West
Beyond the increased recognition of Morant's blossoming star status, the Grizzlies sit in a promising spot.
Memphis holds the opportunity to secure the Western Conference's second overall seed, sitting a half-game ahead of the Golden State Warriors. The Grizzlies are in a prime position to snag at least a top-three seed in the playoffs.
They have excelled at the FedExForum this season, tied for third with 23 home wins. Morant will play a significant factor in where the Grizzlies finish heading into the playoffs, marking the young squad's second go-around in postseason action.
Despite that, the 22-year-old's confidence in his team sits firmly high.
"We got all the pieces we need to win right now [to win an NBA title]," Morant said during a recent sitdown interview with Inside the NBA's Kenny Smith. "We all know it takes time, but we feel like we will win the championship."
The doubt will remain due to the lack of significant playoff experience, but the Grizzlies are on the upswing behind Morant to put something special together.
Like Sportscasting on Facebook. Follow us on Twitter @sportscasting19.
RELATED: Ja Morant Dunked on ESPN for Inadvertently Disrespecting the Memphis Grizzlies: 'That Game Right There Was for You Too'