Shaquille O'Neal Once Made a Player Want to 'Quit the NBA' After Brutally Hurting Their Ego: 'I Felt so Insignificant'
No one wants to run into a brick wall, but that's pretty much what NBA players had to do when defending the 7-foot, 1-inch, 300-plus-pound Shaquille O'Neal throughout his career.
O'Neal used his significantly muscular frame to bully people down low, and he became one of the greatest big men of all time while doing it. However, Shaq's unreal strength once made his fellow NBA player want to quit the league altogether.
That former player was Brian Scalabrine.
Defending Shaquille O'Neal was almost impossible
O'Neal had an incredible NBA career. He was a 15-time All-Star, a four-time NBA champion, three-time NBA Finals MVP, and won the league MVP award in 1999-2000. O'Neal also led the NBA in scoring twice and sits at No. 10 all-time in total points with 28,596.
Defending him in the paint, though, was next to impossible. As mentioned earlier, O'Neal would use his muscle to bully defenders down low, which would leave guys pretty sore the next day.
"The morning after you played Shaq, it always felt like you were in a fight. You were sore from head to toe," former 18-year NBA veteran Nazr Mohammed wrote in The Players' Tribune in 2015. 
He continued: "This probably won't shock people, but Shaq was the most dominant big man I've ever faced. He's in a class of his own. Shaq's the player who kept me up at night wondering, 'How the hell am I going to stop him?' Or, more realistically, slow him down, because nobody could stop him."
Mohammed certainly wasn't the only player who had trouble guarding O'Neal.
Brian Scalabrine wanted to quit the NBA because of Shaq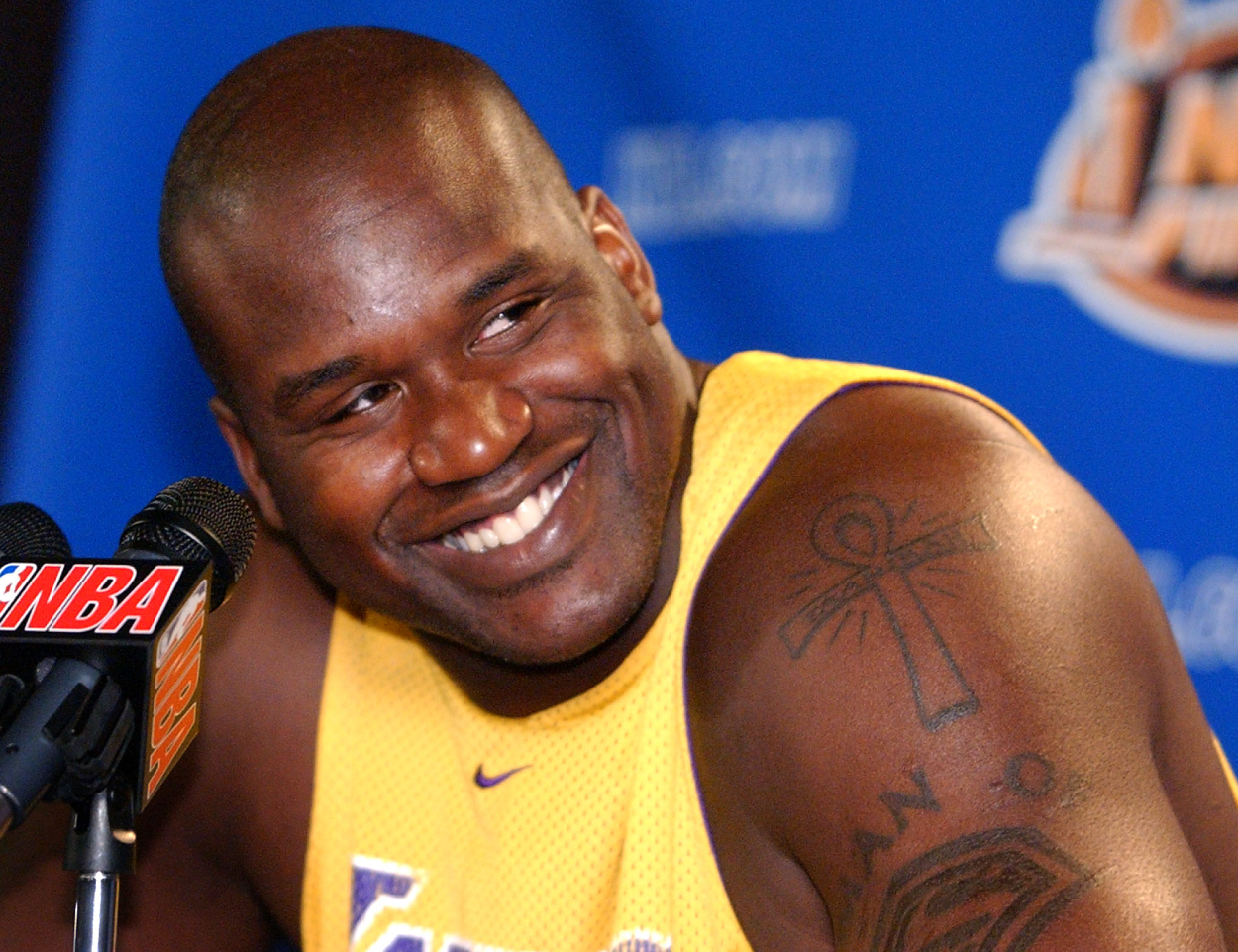 Scalabrine entered the NBA in 2001-02, which was toward the end of O'Neal's prime. Shaq was still dominating for the Los Angeles Lakers at that time but was just two seasons away from his points-per-game average dropping from a little over 27.0 per contest to just over 21.0.
But O'Neal was still pretty much unguardable.
During a game where his team played against Shaq's, Scalabrine said coaches told him to foul O'Neal down low, as the Hall of Famer never shot free throws well. So, when the big man pulled down an offensive rebound during one specific play, Scalabrine did just that.
"He comes down, and he goes up, and I'm like, 'I gotta foul Shaq,'" Scalabrine said on the June 24 episode of Duncan Robinson's The Long Shot podcast. "And I come down, two hands as hard as I can. … I'm afraid as I'm doing it, like, 'Damn, this is Shaq. I can't believe I'm doing this to Shaq.'"
Scalabrine then said it felt like his hand "hit cement," and O'Neal ultimately dunked the ball.
"As soon as he went up and dunked it, I'm thinking, 'Oh my God, he's gonna kick my ass,'" he said. "… I almost would rather him have kicked my ass for the fact that he didn't even recognize that I was there was way worse for my ego. I was thinking to myself, 'Oh, s—, I'ma get my ass kicked by Shaq in front of everybody,' and he just walked to the free-throw line. I felt so insignificant; I almost quit the NBA at that point. … That was like the only time I was actually afraid of another human being."
Scalabrine is known to have a good sense of humor, so it's unclear if he actually thought about quitting, but he, in fact, chose to stay in the NBA.
Brian Scalabrine still had a successful NBA career
Luckily for Scalabrine, he made the right choice by continuing to play in the league. He was never a dominant player like O'Neal, but he was a solid defender and proved to be valuable for some successful teams.
After playing with the New Jersey Nets for four seasons to start of his career, Scalabrine played on the Boston Celtics from 2005-06 to 2009-10. He then even won a championship with the Celtics in 2008. Scalabrine then finished his career on the Chicago Bulls in 2010-11 and 2011-12.
He ended up averaging 3.1 points and 2.0 rebounds for his career.
No, Scalabrine was never a big-time player, but even big-time players had trouble defending Shaq. The Lakers legend was unstoppable in the paint and embarrassed guys on a nightly basis. 
Because of that fact alone, there's certainly no shame in Scalabrine getting his ego hurt by one of the greatest big men to ever play the game; many players before and after him went through the same struggles.
O'Neal was just on his own level.
Stats courtesy of Basketball Reference