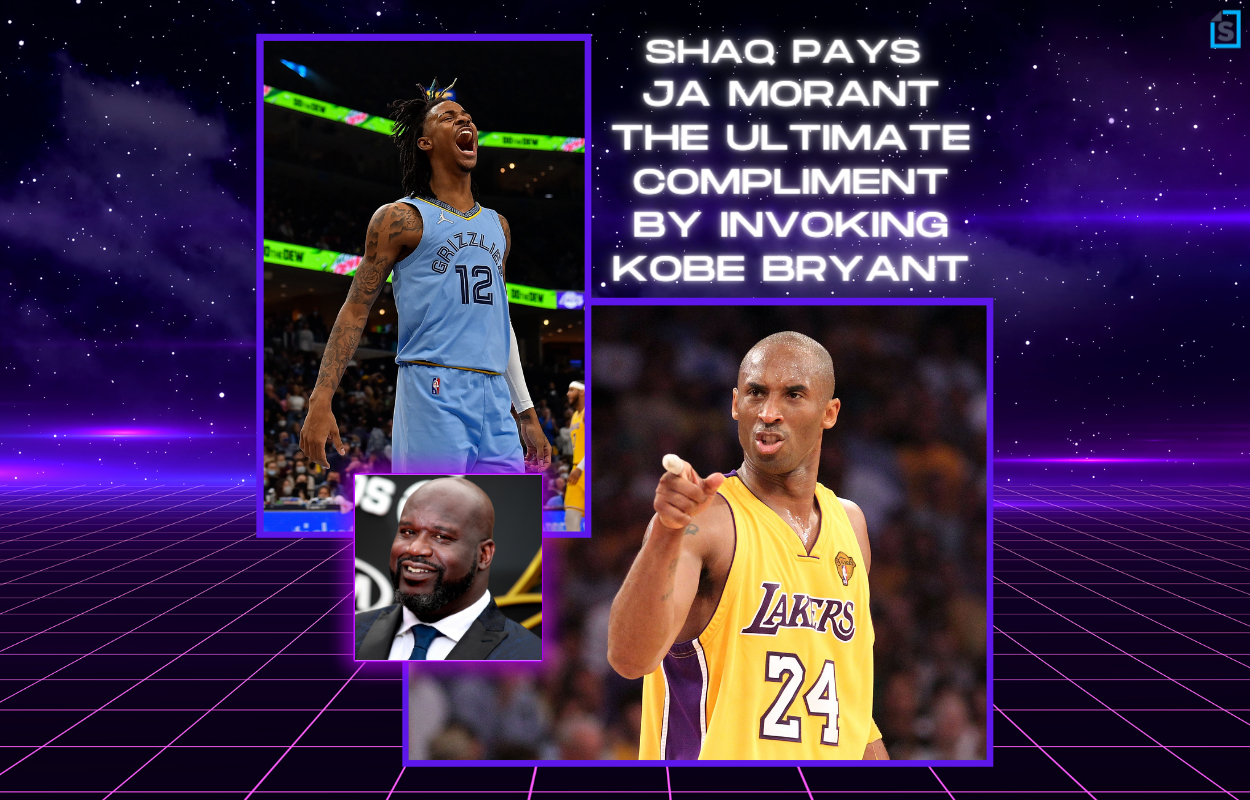 Shaquille O'Neal Pays Ja Morant the Ultimate Compliment By Invoking Kobe Bryant
While he's only three years into his NBA career, Ja Morant is already receiving some legendary comparisons from the likes of Shaquille O'Neal.
While he can occasionally leave something to be desired from an analysis perspective, Shaquille O'Neal has an impeccable NBA resume. Beyond his individual stats and four championships rings, the big man played alongside some unforgettable names, like Kobe Bryant, Dwyane Wade, and Penny Hardaway.
Shaq, quite simply, knows talent when he sees it. And he sees it in Ja Morant's game.
On Thursday, April 21, O'Neal paid the Memphis Grizzlies guard an incredibly high compliment. In his mind, Morant has a certain "it factor" that reminds the Diesel of three former teammates.
Shaq sees some of Kobe Bryant's edge in Ja Morant
While the two men had some differences, Shaq still holds Kobe Bryant in incredibly high regard. That context alone should tell you how impressive O'Neal finds Ja Morant.
"I had the ability to play with three fabulous guards that had that 'it factor,'" the TNT analyst explained. "My first came in was Penny Hardaway. From the first year, he was cold. He had it. Kobe Bryant had that attitude, like, 'Listen, I'm the best player on the court. I don't care who's here.' And then, when I went to Miami and played with D-Wade. [Morant] has the 'it factor.' He knows he's the best guy on the court. He knows he's a great player already."
The praise, however, didn't stop there.
"Kudos to Taylor Jenkins for letting [Morant] do what he do," Shaq continued. "A lot of times, you have a lot of coaches, 'Don't make that two-handed bounce pass. Don't do this or that.' But Taylor Jenkins just sits back and enjoys the show. When you have a guy that has that 'it factor' like that, you just have to, you know, let it ride. He's a great player. I know I made this statement a couple of months ago, that he reminds me of Kobe. And he does cause Kobe had that 'it factor' when I met him at 17 years old. He knew that [he] was the man. He knew that one day, he was gonna be the greatest player ever. That's what I think about when I think about this cat right here [Morant]."
Comparisons to Kobe are tricky, but Ja Morant is already building up an impressive NBA resume
In the world of basketball, Kobe Bryant is pretty close to untouchable. That makes any comparisons between modern players and the late Lakers' great kind of touchy. Ja Morant, however, has already proven his NBA chops.
While the Grizzlies guard played well during his first two professional campaigns, he took things to a new level during the 2021-22 season. Morant averaged 27.4 points, 6.7 rebounds, and 1.2 steals per outing. That was enough to play his way into the MVP conversation, even though he ultimately came up short.
Beyond the box score, it's also worth noting that Ja is an incredibly exciting player. He's capable of throwing down rim-rocking dunks, highlight-reel blocks, and 50-point games with equal ease. When you're comparing someone to Kobe, those memorable moments are part of building out the entire "icon" package.
Beyond that, the rest of Morant's resume will (most likely) fill out with time. Individual honors, like MVP titles, probably aren't too far away. An NBA championship might be tougher to check off, but the Grizzlies are currently on an upward trajectory and sit as the second-seeded team in the Western Conference. It's also possible for Ja to eventually leave town in pursuit of a ring. While those in Tenessee might not want to consider that option, he's certainly shown enough talent to earn him a place on just about any team's roster.
Predicting the future is a notoriously tricky thing, especially in sports. All it takes is one serious injury to completely alter the course of a career. Barring any unforeseen setbacks, though, Ja Morant is certainly on track to do something special. You can hone skills and practice shooting, but you can't learn how to have an 'it factor.'
Stats courtesy of Basketball-Reference