Shaquille O'Neal Questions Lakers' Effort, Dwyane Wade Says They Have No Pride
The Los Angeles Lakers have been the butt of every joke this NBA season. Oh, your team is trash? Well, at least you don't like the Lakers.
But some still wondered if they would eventually figure things out. They have arguably the best player of all time in LeBron James and numerous legends surrounding him, including Russell Westbrook, Anthony Davis, Carmelo Anthony, and others.
Have they given up at this point, though?
That's essentially what Lakers and NBA legend Shaquille O'Neal asked during LA's recent loss to the Dallas Mavericks. Dwyane Wade, on the other hand, questioned the team's pride.
The Los Angeles Lakers' tumultuous season continued in their third straight loss
The Lakers are amid a devastating slump. They are 6-15 in their last 21 games, and they have lost three in a row, dropping each game since the All-Star break.
It appeared they had a chance against the Dallas Mavericks on March 1. They trailed by 21 in the second quarter and 71-56 at halftime but stormed back to take an 87-85 lead heading into the fourth quarter.
However, after leading 100-94 with just over seven minutes left, the Lakers allowed the Mavs to close the game on a 15-4 run. Dallas and the hot-scoring Luka Doncic won 109-104.
LeBron James played well in the game, scoring 26 points on 55.6% shooting. He also pulled down 12 rebounds and had five assists. Carmelo Anthony added 20 for the Lakers, and Malik Monk dropped 17.
But LA only shot 36.8% from the field and 16.7% from deep in the fourth quarter, and it allowed Dallas to shoot 55.6% in the final period. The Mavs used that last stretch to essentially wipe out any momentum the Lakers had built in the third quarter.
Shaquille O'Neal questioned LA's effort, Dwyane Wade said they don't have pride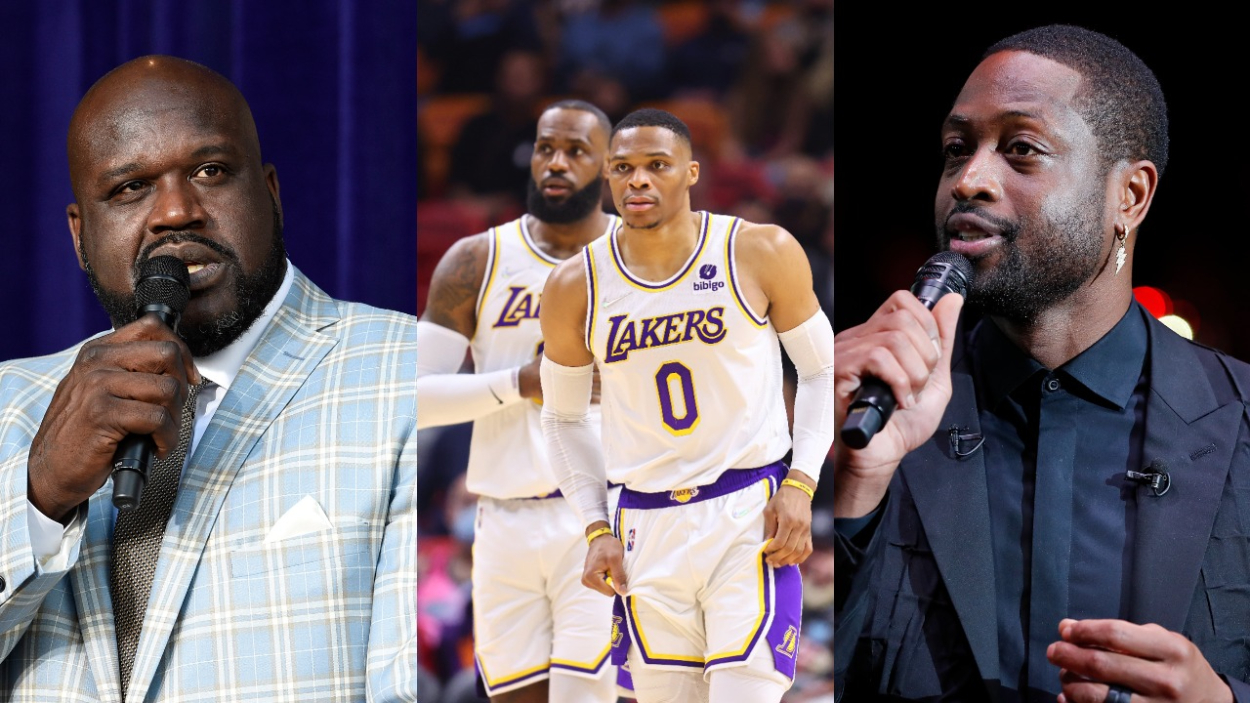 As mentioned earlier, the Lakers trailed big at halftime against the Mavericks. Dallas led by as many as 21 in the second quarter, and it looked like LA was in for another blowout after a 28-point loss to the New Orleans Pelicans on Sunday.
And Shaquille O'Neal, who recently warned the Lakers against trading LeBron James, didn't appreciate their lack of effort.
"You gotta at least put more effort into it," O'Neal said on the March 1 episode of Inside the NBA. "I don't mind losing, but when you don't have a lot of effort, it shows that – and I hate to use this word – it looks like they're quitting. I hate to use the word. … I don't see a lot of effort out of this team. They still can do something. I'm not talking about winning a championship, but if I was them, the first goal would be, 'Let's get out of this [ninth] spot.' And let's just start coming together, let's start playing together. We know if we play together, we show effort, and play hard, we can compete with whoever No. 1 or whoever No. 2 is."
LeBron's best friend, Dwyane Wade, then used a word he has always hated to hear during his career: frontrunners.
"When things are going great, we all in it; when things are going bad, they pull apart," he said. "There's no sense of urgency with this team. Like Shaq said, it's not about winning a championship at this point. This is about pride. There's no pride out there with this team. They pull apart from each other."
Despite their age, the Lakers still have a ton of talent. But effort and pride are both keys to success, and LA doesn't have either right now.
The Lakers have lacked effort all year
The Lakers did show a little effort after Shaq and Wade's comments. They rallied and took the lead in the third quarter, only to lose it in the fourth.
However, lack of effort has been a concern about this team all season.
Russell Westbrook's comments after LA's loss to the Pelicans highlighted this.
"Teams are coming in, playing harder, and I believe that's kind of their scouting report: Just play harder than them and see what happens," he said, per ESPN. "And it's working. Until we determine and have the determination that we're not going to allow it, especially on our home floor, it will continue to happen to us."
So, how do they start playing harder?
There isn't a quick fix. The team needs to quit feeling sorry for itself first and then show more effort on the defensive end (LA is allowing 112.4 points per game). That would be a start. But LeBron James is the only player who has been consistently playing hard all season long.
All in all, the Lakers had championship expectations entering the year but are instead just two games away from missing the NBA Play-In Tournament entirely. If they don't start showing some effort soon, they could be on the outside looking in once the postseason rolls around.
Stats courtesy of Basketball Reference
RELATED: Charles Oakley's LeBron James Story Potentially Gives Insight Into LBJ's 2023 Free Agency