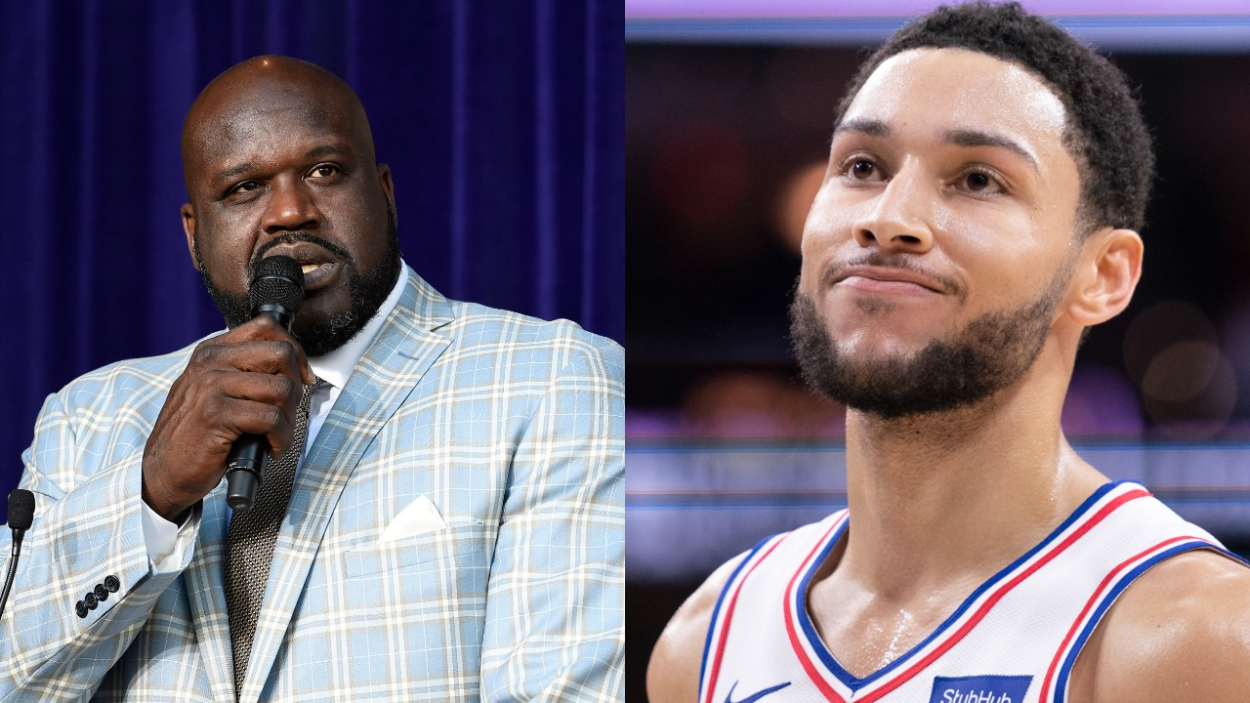 Shaquille O'Neal Refuses to Criticize Ben Simmons After Receiving DM From Sixers Star: 'I'ma Back Off'
Ben Simmons recently DM'd Shaquille O'Neal following Shaq's recent comments on TNT's 'Inside the NBA.' So, O'Neal says he's now done criticizing the Philadelphia 76ers star.
Ben Simmons is refusing to go into work, so what else would he be doing during his free time other than watching Inside the NBA on TNT? 
OK, he's rich, so the Philadelphia 76ers star probably has plenty to keep him busy, but some of Shaquille O'Neal's critical comments on the show recently made their way back to Simmons, and the point guard responded.
It has since resulted in O'Neal putting an end to his on-air criticism of him.
Shaquille O'Neal hasn't been afraid to bash Ben Simmons on 'Inside the NBA'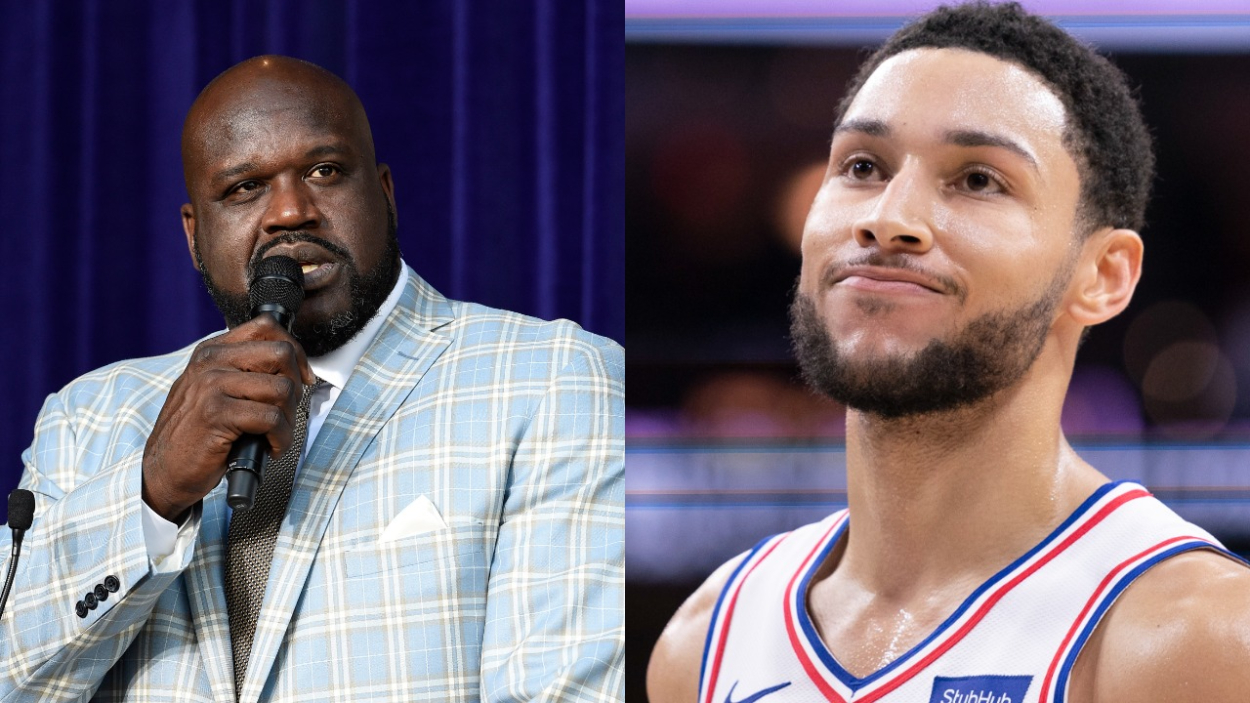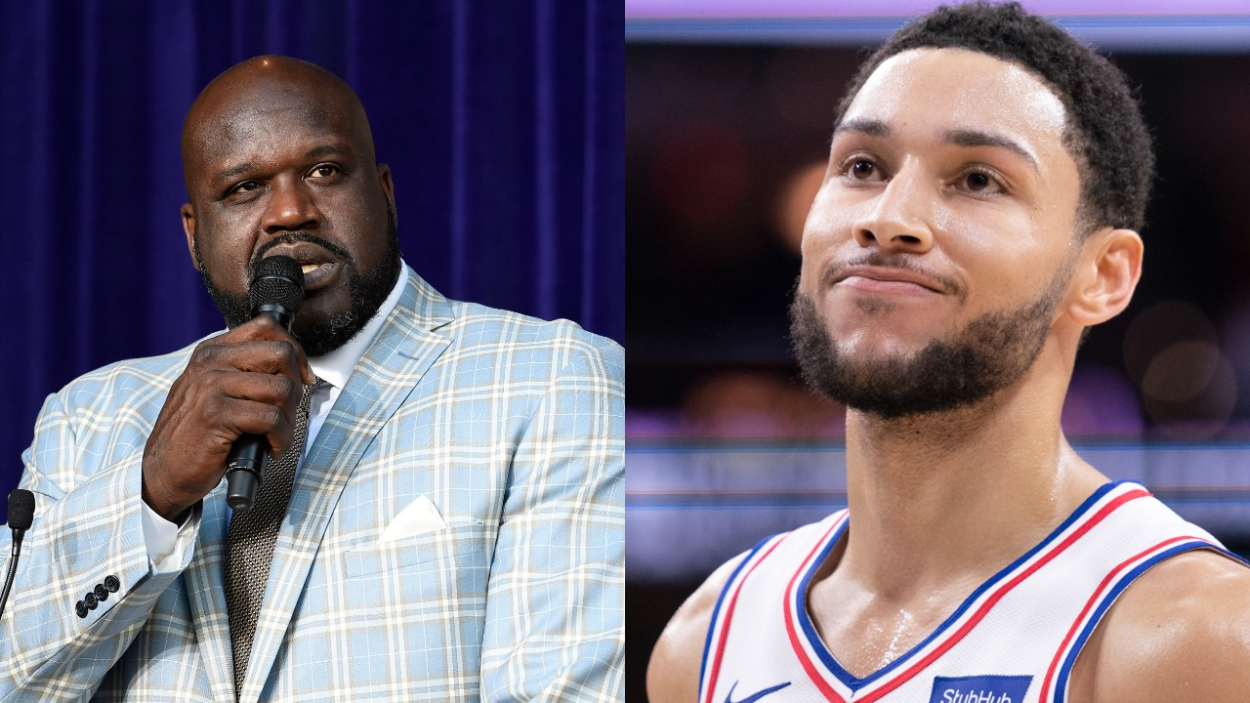 This year, Ben Simmons has yet to play for the Philadelphia 76ers after requesting a trade in the offseason. Simmons was the recipient of significant criticism following the team's 2021 Eastern Conference semifinals loss and has appeared to be at odds with Philadelphia's fan base and members of the Sixers organization.
Given his elite talent level, the criticism has continued to hit the airwaves while he sits out and waits for a trade. And NBA legend Shaquille O'Neal has been a leading voice in that on Inside the NBA.
"The difference between [Joel Embiid] and his soft partner is he can take criticism without being a crybaby, and he still wants to play," O'Neal said on the TNT show while discussing Simmons' 76ers teammate Joel Embiid (H/T BallIsLife.com). "Because me and Charles [Barkley], we've been on him. We stay on him. We tell him to his face what he needs to do. He didn't cry, he didn't say, 'I want to be traded.' He didn't complain about mistreatment, and that's the difference. That's why I like him and respect him. The other guy, I don't respect."
O'Neal then revealed on the Feb. 3 episode of The Big Podcast with Shaq that Simmons reached out to him, but the Hall of Famer didn't ease up.
"Ben Simmons [is] messing the money up," he said in part. "First of all, they already think we're spoiled. They already think we don't deserve it. You're making $40 million, and the only reason why you're not playing is because your coach called you out. You're making us look bad."
But he later changed his tune.
Shaq is done criticizing the 76ers star
On the same day of his podcast, Shaquille O'Neal later appeared on TNT's Inside the NBA, and his message regarding Ben Simmons was much different. He now says he's done criticizing the three-time All-Star.
"He sent me a text, I showed you guys the text, but I'm not gonna talk about – out of respect for him – what was in the DM," O'Neal said on the Feb. 3 episode. "He's going through some things right now, so I'ma back off. As an LSU brother, I'ma back off. But I wish him well. … We both went to LSU; we both in the NBA; we talk smack, we do that, we argue. Like when I say something, you have permission to come back because with me, it ain't personal. If I say something, just how I feel at the time, and you don't like it, holla at me. He hollered. I showed you guys what he said. And then he told me something today, and I have to be sensitive to what he said."
So, it appears Simmons may have reached out to O'Neal again after Shaq's podcast comments, but that's not 100% clear.
"I'ma respect him, he's going through some things, so I'ma just back off," he added. "I – slash we – we criticize them because we got criticized. And for the great ones, the great ones step up to criticism. … Out of respect for him and his family, I'ma just back off."
It appears Ben Simmons could be staying in Philadelphia for now
With how much 76ers president Daryl Morey is asking for in return for Ben Simmons, the guard's trade market heading into the Feb. 10 NBA Trade Deadline doesn't appear to be too hot. There's a good chance he will still be on the Sixers once the deadline passes.
But keeping him in Philly would be a mistake.
Simmons clearly doesn't want to play for the team, which leaves a glaring hole in its lineup. Joel Embiid is having an MVP level season with a league-leading 29.1 points to go with 10.8 rebounds per game. And he has led the Sixers to a 31-20 record and just one game out of first place in the Eastern Conference.
But if the 76ers want to go on a playoff run, they will need another star. The defensive intensity ramps up in the postseason, and dominating like he is now could become difficult for Embiid. He will likely need another star to take attention off him, and Philly can only get someone like that by trading Simmons.
As of right now, though, it appears Ben Simmons is staying in Philadelphia. And whether he plays this season or not, Shaq appears to be done criticizing his fellow LSU product.
Stats courtesy of Basketball Reference