Shaquille O'Neal Sends Stern Warning to Lakers About Trading LeBron James: 'You'll Never Win Again'
Roughly six months ago, the Los Angeles Lakers didn't envision their busy offseason would lead to a disastrous campaign. Instead, LeBron James and the Lakers spewed tremendous confidence that the team's roster rebuilding effort could translate to championship contention.
However, Los Angeles has experienced anything but that, falling nearly out of the play-in tournament altogether. The turmoil has pushed previously unthinkable possibilities to the forefront. All that chatter has led Hall of Famer Shaquille O'Neal to deliver a warning to the Lakers if they consider trading James.
Lakers hold uncertain future ahead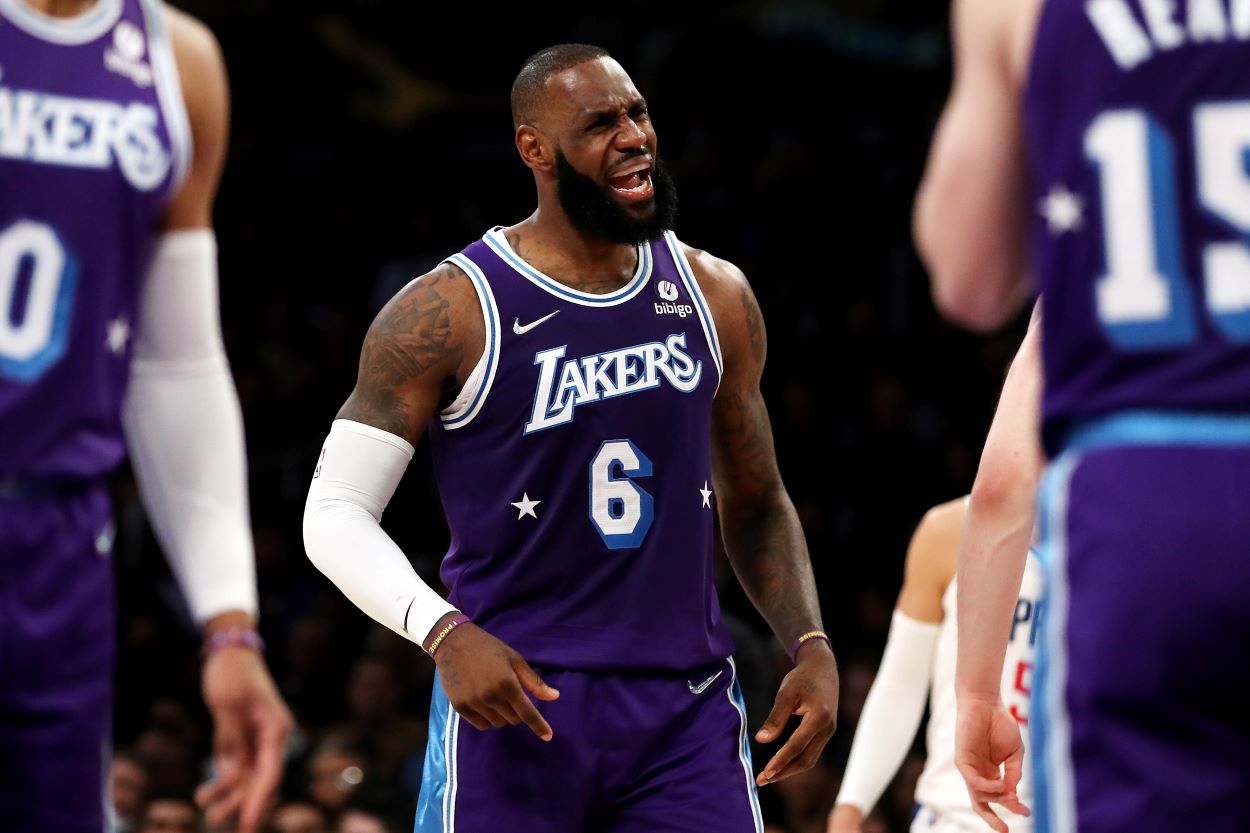 The frustration level has reached a breaking point as the Lakers fall almost entirely out of the playoff picture.
Los Angeles isn't playing anywhere near like a championship contender. Instead, the team is providing every reason to believe a roster implosion lies ahead next offseason. Injuries have played a significant factor, while the decision to trade for Russell Westbrook looks like a disastrous mistake.
The ongoing struggles have guided the conversation toward the Lakers needing to consider all options to reconstruct the roster, including possibly considering moving Lebron James. All that didn't take long for a former Lakers great to push back at that potential franchise-changing notion.
Shaquille O'Neal delivers a stern warning to Lakers about trading LeBron James
The Lakers' roster problems run deep beyond the lack of support behind LeBron James.
However, the chatter has shifted toward suggestions that moving the 18-time All-Star could be an option next offseason. During a recent interview on CNBC, Hall of Famer Shaquille O'Neal brushed back at that scenario.
"If you trade LeBron, you'll never win again," O'Neal said. "You have to make a decision. If you put LeBron around the right guys, they are definitely going to win. I think whoever put the team together needs to step up and try and fix it."
In his 19th campaign, James is still playing at an elite level, averaging 29.0 points on 51.9% shooting from the floor. Injuries have become a bigger factor, but his performance hasn't diminished by any considerable extent. He may not be able to carry a team to success like he has done throughout his career, but he could guide the franchise to NBA title contention with the right pieces around him.
James is a one-of-a-kind talent that the Lakers want to maximize the remaining window of his playing days. The four-time league MVP has never been traded, and it would be hard to envision that becoming a potential fate ahead.
Could the Lakers consider moving Anthony Davis?
Moving LeBron James is likely out of the question, but the same may not be said about Anthony Davis.
The star big man played an instrumental part in pushing the Lakers to win the 2020 NBA title, but he's struggled with injuries since then. He hasn't shaken his history of health issues, missing significant playing time over the last couple of campaigns.
Davis missed three months last season due to a calf injury related to his Achilles tendon, limiting him to 36 regular-season games played. Last summer, he changed his offseason approach by hiring a new trainer, but that hasn't translated to improved health.
Davis missed 17 straight games due to a sprained MCL in his left knee and now sits more than a week into being sidelined from a sprained ankle that will force him to miss at least four to five weeks. There could be a realistic chance he misses the rest of the regular season, especially if the Lakers are scrapping to make the playoffs.
Despite all the game-changing talent he possesses, Davis has repeatedly shown he can't be relied upon to stay healthy. He's in the second year of his five-year, $189.9 million deal that runs through the 2024-25 campaign.
Davis' trade value has likely slightly diminished due to his injury history, but he should fetch a significant package based on his talent alone. The Lakers haven't moved toward that scenario just yet, but the franchise may have to explore that route to truly put them back on track toward NBA title contention.
Contract figures courtesy of Spotrac.
Like Sportscasting on Facebook. Follow us on Twitter @sportscasting19.
RELATED: Could LeBron James and Anthony Davis Be Traded by Los Angeles Lakers This Offseason?