Shaquille O'Neal Had the Size Advantage Over Allen Iverson but Still Hated Playing Against Him: 'It Was Hard for Me'
For much of the late 1990s and throughout the 2000s, basketball legends Allen Iverson and Shaquille O'Neal served as two of the sport's most popular players. Iverson had the cornrows and crossovers that appealed to a massive fanbase.
And as for O'Neal? His attitude and skilllset spoke for itself.
The NBA's balanced schedule, coupled with them playing in the same conference at points in their careers, led to some fun matchups between the two No. 1 overall picks and their respective teams. But despite having a size advantage over the 6-foot Iverson, O'Neal — who clocked in at 7-foot-1 and 325 pounds — later admitted he became easily frustrated playing against the All-Star guard.
Shaquille O'Neal said he disliked playing against Allen Iverson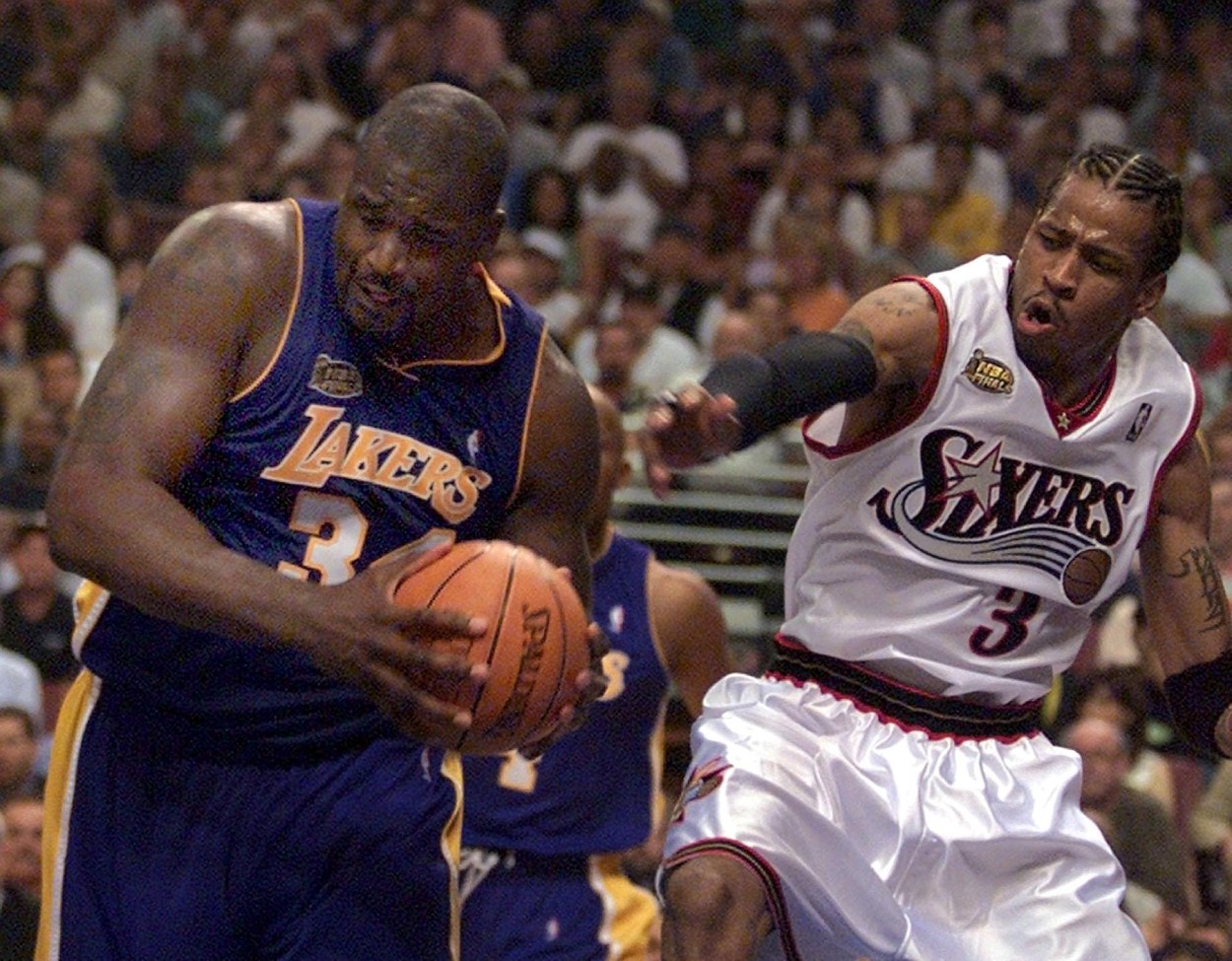 If O'Neal really wanted to give Iverson fits when they squared off, he could body him into the ground with ease. The Big Diesel had the size and the ability to bully Iverson and send his shots flying into the stands.
When Complex profiled Iverson in 2016, O'Neal spoke with the magazine and acknowledged he actually found it hard to play against Iverson. However, those self-admitted problems had nothing to do with the superstar guard's crossovers or ability to fire an accurate pass into traffic.
Instead, O'Neal admitted he couldn't properly motivate himself against Iverson because of the latter's personality.
"Usually, I needed to make something up about a person in my mind to play against them. But, I couldn't do that with [Iverson] because I liked him too much."

Shaquille O'Neal
Of course, O'Neal could afford to say that after both had retired — and well over a decade following their legendary clash in the 2001 NBA Finals.
Iverson and O'Neal famously battled in the 2001 NBA Finals
Unfortunately for basketball fans, Iverson and O'Neal never played together on the same team outside of the All-Star Game. However, those old enough to enjoy the 2001 NBA Finals certainly got their money's worth in games involving the two legends.
That season's NBA MVP and a superstar guard for the Philadelphia 76ers, Iverson led his team against O'Neal's Los Angeles Lakers. A year earlier, the Lakers defeated Reggie Miller and the Indiana Pacers to win the franchise's first title since 1988.
Although O'Neal scored 44 points and grabbed 20 rebounds in Game 1, that wasn't enough to stop Iverson. The dynamic scorer totaled 48 points and made Tyronn Lue a future meme template in the 76ers' 107-101 victory. O'Neal and the Lakers won four straight games en route to a second straight title.
For the series, O'Neal averaged 33 points, 15.8 rebounds, 4.8 assists, and 3.4 blocks per game and earned Finals MVP honors for the second straight year. Iverson did his best part to keep the 76ers in the series, averaging 35.6 points on 40.7% shooting per night.
Iverson and O'Neal are two of the greatest No. 1 overall picks in NBA history
Iverson and O'Neal entered the Naismith Memorial Basketball Hall of Fame together in 2016. As of August 2021, they were among only 19 No. 1 overall picks in league history who earned enshrinement into the Hall of Fame. Sixty-five players have been selected first overall in the NBA Draft.
According to Basketball-Reference, O'Neal — the top overall pick in 1992 — totaled 181.71 win shares (the 13th-highest score in NBA history) in his legendary career. Only four players selected first overall had a higher career win shares total through the end of the 2020-21 season.
Kareem Abdul-Jabbar, first overall in 1969: 273.41 (the most in NBA history)
LeBron James, first overall in 2003: 242.04 (third in league history)
Tim Duncan, first overall in 1997: 206.38 (seventh in league history)
Oscar Robertson, first overall in 1960: 189.21 (12th in league history)
Iverson, the first overall selection in 1996, totaled 98.97 win shares, which ranks 92nd in league history. However, we have a feeling he's more pleased with his place among the 19 Hall of Famers than where he ranks in an advanced statistic.
All stats courtesy of Basketball-Reference.