Shaquille O'Neal Has a Surprising Take to Being Ranked No. 4 All-Time Among Centers
Shaquille O'Neal is known to get cranky when an all-time list comes out, and he's not as high as he thinks he ought to be. His Inside the NBA co-star, Charles Barkley, came out with a list that made O'Neal less than happy. He's upset with his injuries preventing him from attaining a higher plateau in the pantheon of NBA stars. Heck, even the TNT crew used Shaq's ego as a weapon with an epic prank.
Thus, it came as a surprise recently when a graphic posted on social media listed him as the fourth-best center of all time. The surprise wasn't so much in the ranking as it was with O'Neal's reaction to it. Given his history, he was downright blasé about the whole thing.
Shaquille O'Neal lamented during his Hall of Fame speech
Michael Jordan aside, most players during their Hall of Fame induction speeches try to thank those who helped them get there. They talk about how humbling the experience is, how meaningful it is, and the work and sacrifice it took to get there.
But not Shaquille O'Neal. No, when inducted in 2016, O'Neal went for a full airing of the grievances, per Sean Deveney of The Sporting News.
"The only thing that upsets me about my career is missing 250 games, averaging 25 points at that time; that's another 5,000 points. I wanted to arrogantly say — after passing Wilt Chamberlain in stats, I wanted to say — I'm the most dominant big man ever to play the game, and I don't want to hear anyone else's name. But it got cut short."
O'Neal isn't wrong. Injuries did chip away at his career. Another 5,000 points would have him flirting with 34,000 for his career. He's already eighth on the all-time list, but that total would move him into most elite of the elite. Add an even five grand, and O'Neal finishes with 33,596 points. That's only 47 less than fourth-place Kobe Bryant.
But you can't overlook the fact that O'Neal wasn't always Mr. Dedication when it came to remaining in top shape. His weight fluctuated. As great as he was, there was always the belief he could have been that much better.
No. 4 all-time is just fine by O'Neal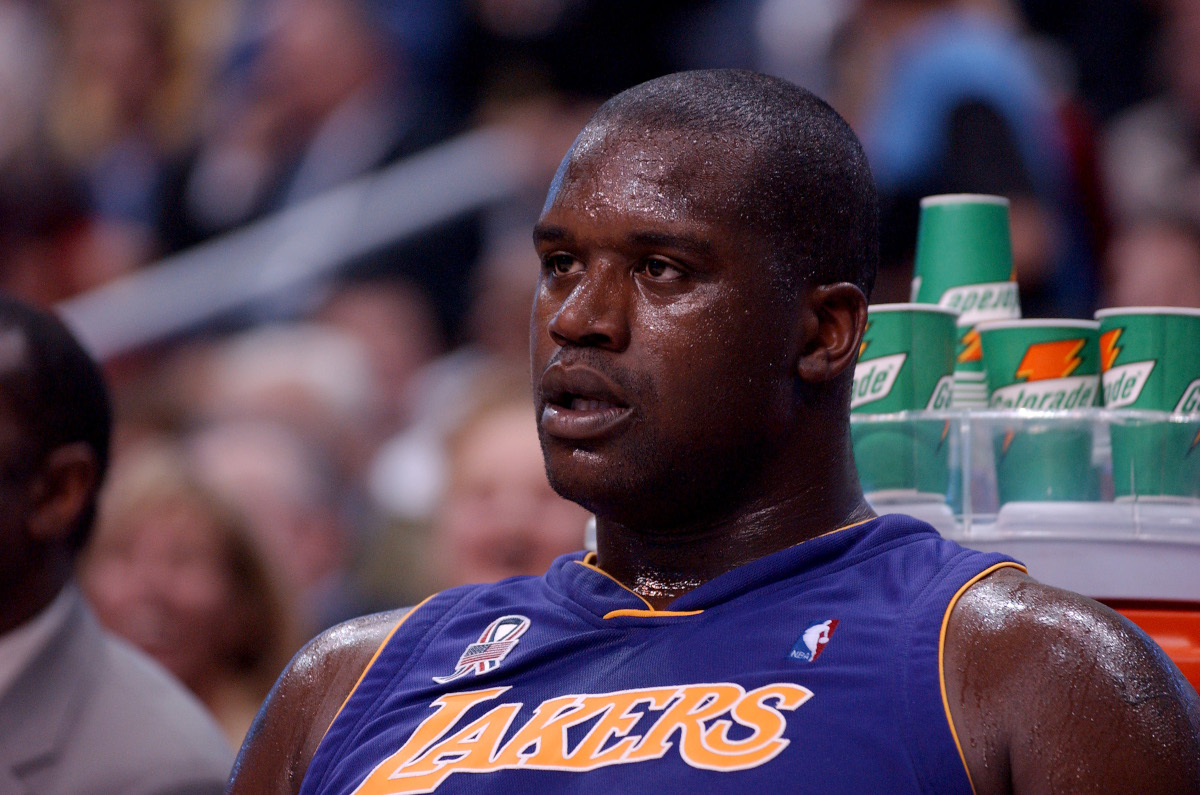 In a recent post on Instagram, Shaquille O'Neal shared a graphic listing the top 10 centers of all time. The top three were Kareem Abdul-Jabbar, Chamberlain, and Bill Russell (and let the debate regarding the order commence).
O'Neal was fourth, ahead of Hakeem Olajuwon. The remainder of the top 10 included Moses Malone, David Robinson, Patrick Ewing, George Mikan, and Bill Walton. Please note this is not an endorsement of the list or any part therein; merely reciting what was there.
But Shaq, known for his bluster, was OK with the whole thing.
"I agree, thanks."

Shaquille O'Neal
Was he having a mellow day? Where are the flames? Where's the righteous indignation? What happened to Shaq, and is there a pod nearby?
The great pranking of Shaquille O'Neal
On April 1, 2015, the Inside the NBA crew turned in one of the greatest April Fool's Day pranks in recent memory.
The prank happened the same week Bleacher Report, owned by the parent company of TNT, released its rankings of the top centers in NBA history.
That provided TNT with the ammunition it needed to send Shaquille O'Neal into a seething rage with a doctored set of rankings.
The list just kept going. No O'Neal. Not in the top five. Not in the top seven. He wasn't No. 8 either. When The Diesel finally appeared at No. 9, it came with a less-than-flattering photo of Shaq and a seal with disturbingly similar facial expressions.
His reactions grew with each name revealed. It was an incredible gotcha moment. It's probably good they took it to ninth, though. He seemed plenty pleased with No. 4.
Statistics courtesy of Basketball Reference.