Shaquille O'Neal Tells Damian Lillard to Leave the Portland Trail Blazers if He Wants to Win: 'I Don't Really Like Guys Teaming up, but It's Just the Way It Is These Days'
Portland Trail Blazers star Damian Lillard has been a part of the NBA rumor mill since his team exited last year's playoffs early. The Blazers lost in six games to a weakened Denver Nuggets team despite Dame showing out as the best player in the series. Lillard has repeatedly shot down rumors that he wants out of Portland, but the gossip refuses to go away. Now former NBA champion Shaquille O'Neal has weighed in on the subject, giving advice to Lillard and telling him that he needs to force his way out of Portland. "I don't really like guys teaming up," O'Neal said, "but it's just the way it is these days."
The sixth-overall pick in the 2012 NBA Draft wants to emulate Kobe Bryant, Tim Duncan, and other superstars who stayed with one franchise their entire careers. But Bryant and Duncan won titles with their respective organizations; Lillard has yet to even make the finals. O'Neal may have a point, even if Dame won't listen.
Damian Lillard has so far refused to demand a trade out of Portland, despite Shaquille O'Neal's advice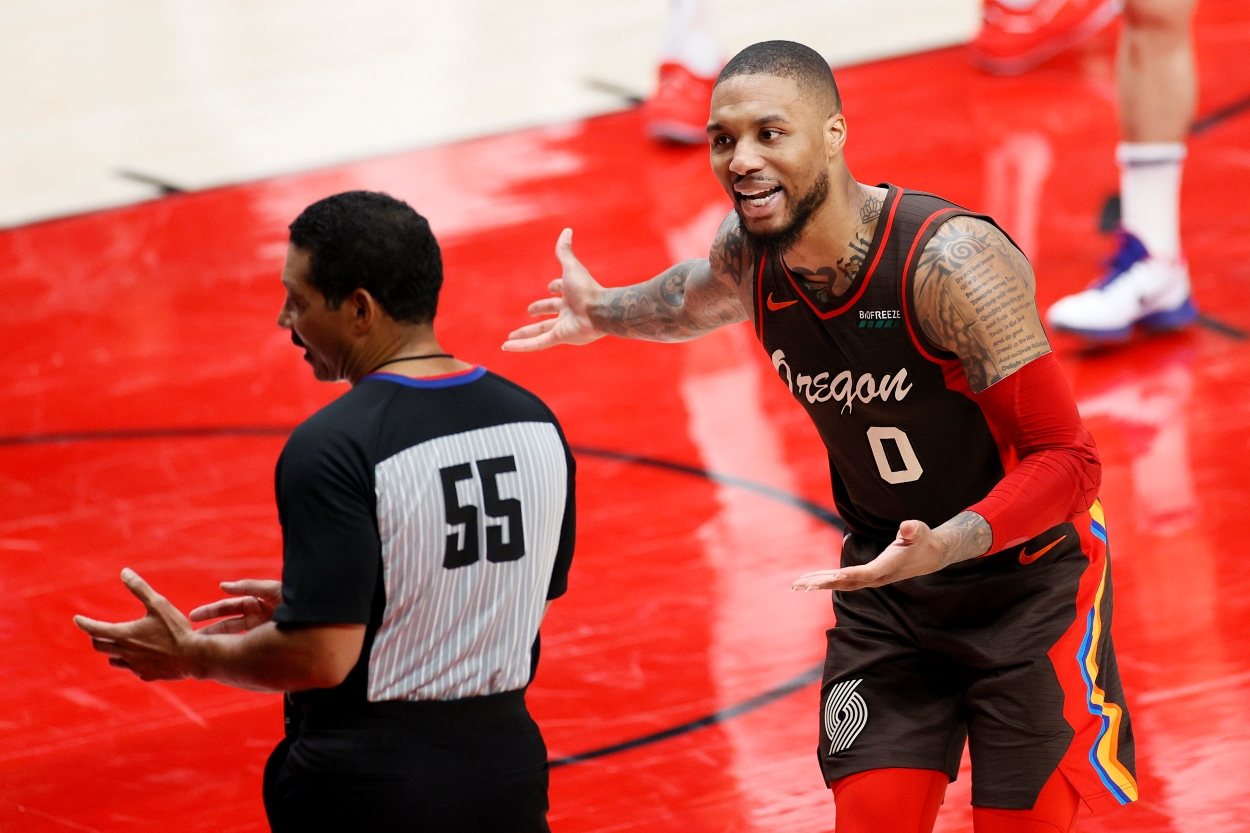 After the Blazers Game 6 loss to Denver, Lillard's frustration boiled over and he questioned his future with the organization for the first time, according to ESPN:
"I mean, we didn't win a championship, so obviously where we are now isn't good enough. I don't know what a shakeup looks like or what changes will be made or could be made, but obviously as is, it wasn't good enough. We came up short against a team without their starting point guard and shooting guard (Will Barton and Jamal Murray). … Obviously, where we are isn't good enough to win a championship if it's not good enough to get out of a first-round series with two of their best three or four players not on the floor."

Damian Lillard on Portland's first-round exit in the 2021 playoffs
Lillard averaged 34.3 points and 10.2 assists in the series against the Nuggets. He shot 45% from three on 13 attempts per game.
Dame dropped 55 points, 10 assists, 6 rebounds, and drilled 12 threes in game five, and it still wasn't enough.
O'Neal recognizes Lillard doesn't have enough help and suggested the Blazers' star leave Portland if he wants to win a title
O'Neal knows a thing or two about getting out of one situation to win a title in another. The Big Aristotle left the Orlando Magic to join the Los Angeles Lakers, where he and Kobe Bryant teamed up to win three straight championships. It was more a dynamic duo than a superteam; regardless, O'Neal left the franchise that drafted him and found greener pastures elsewhere.
On the Rich Eisen Show, Shaq told Lillard that his best chance at winning a title is to leave Portland and follow the path laid down by other superstars over the past decade:
"He is an old school mentality guy that's playing in the new school. The old-school guy would say, 'I'm not teaming up with you, I'm gonna beat you'. But these new school guys would say, 'hey, let's team up to make it easier.' So that's the toughest decision for him.

"I know he wants to stay in Portland and win it out. But he may have to switch up his mentality… if everybody else is doing it, then that's just gonna keep him further from winning a championship… I don't really like guys teaming up, but it's just the way it is these days. If he can get to a team that already has two or three guys, and you add him? That raises his chances of winning a championship."

Shaquille O'Neal on Damian Lillard's situation in Portland via The Rich Eisen Show
Dame is coveted by Philadelphia general manager Daryl Morey, who wants Portland's franchise player in return for Ben Simmons. But Lillard isn't having any of it.
Lillard has doubled down on his decision to remain in Portland, despite Shaq's advice
The same day The Big Diesel offered Lillard his guidance, the former Weber State star reiterated his desire to stay with the Trail Blazers organization in a post on Instagram.
"Back for more… #RipCity is my city." Lillard wrote simply.
Portland has been home for Dame since he entered the league. It's clear he wants to keep it that way.
Things in the NBA can change quickly when it comes to superstars, but it seems Lillard has no desire to play anywhere else, even when an NBA Hall of Famer instructs him to do otherwise.
All statistics courtesy of Basketball-Reference.