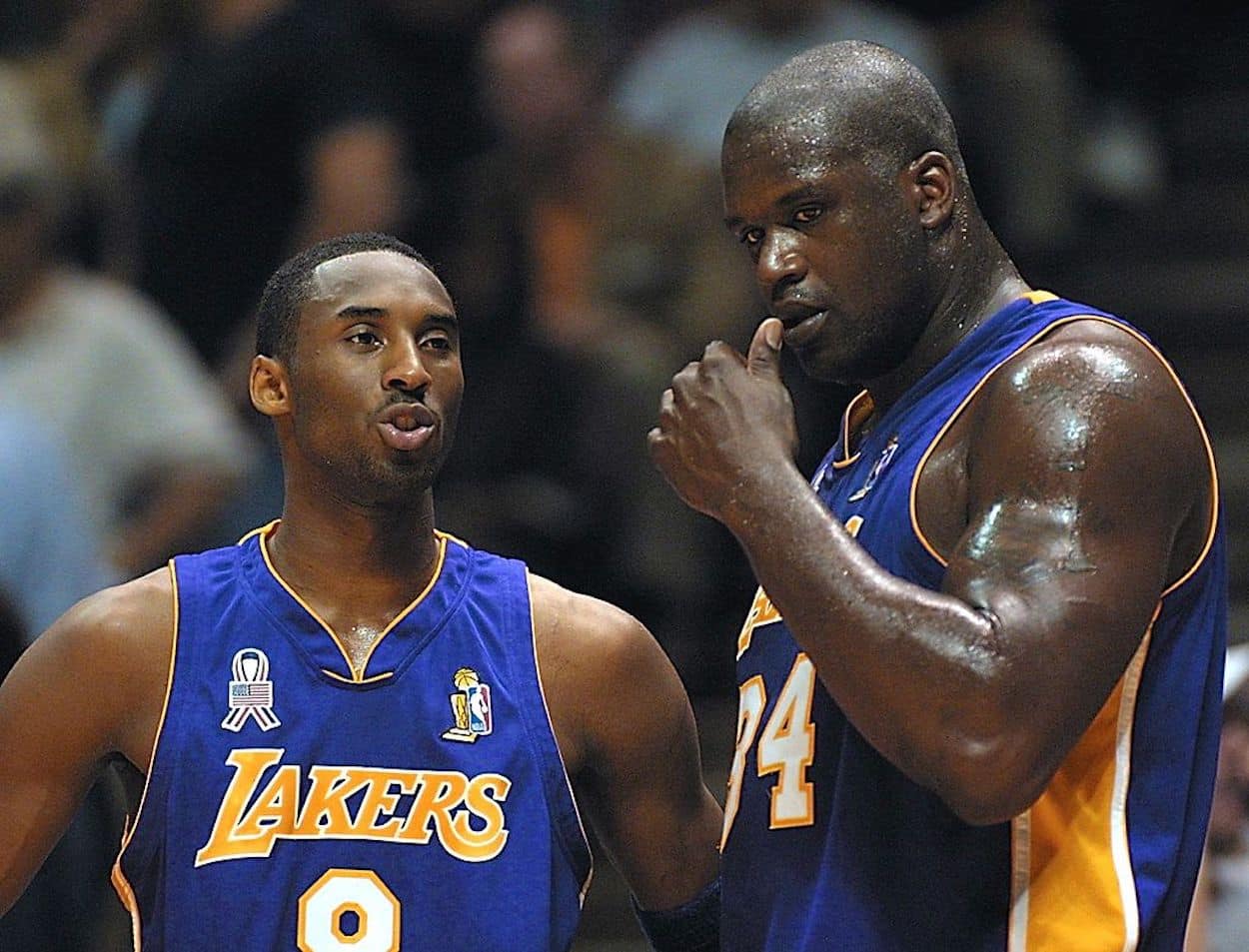 Shaquille O'Neal Would Team Up With Kobe for 1 Final Game Over Michael Jordan or LeBron James
While Michael Jordan and LeBron James are two world-class players, Shaquille O'Neal would rather team up with Kobe Bryant.
While there have been plenty of dynamic duos in NBA history, few shone brighter than Kobe Bryant and Shaquille O'Neal. Not only did the two men find plenty of on-court success, but their games complemented each other's. Shaq dominated the paint with his physical strength and a surprising amount of skill, and Kobe could take over a game with his signature competitive fire.
Through that lens, it's not surprising that the center would like to team up with his late partner in crime again. But O'Neal took things a step further.
During an appearance on Revolt's Drink Champs, the Diesel was hit with quite the hypothetical situation: He had one game of basketball left, and God would let him team up with three of the game's all-time greats. Even with Michael Jordan and LeBron James available, Shaq would still run with his former teammate.
Shaquille O'Neal would play his last basketball game on Earth with Kobe Bryant
At this point in time, there's nothing new about the concept of fantasy sports and all sorts of hypothetical matchups. The situation Shaquille O'Neal was hit with, however, seems like something out of a movie.
"So, God comes to you and says, 'You got one last game to play,'" the scenario went. "And it's either with Kobe, LeBron, or Jordan."
While that might give most basketball fans pause, Shaq didn't hesitate. His reasons, however, were tied to something bigger than basketball.
"Kobe," he instantly responded. "Because when you have friends, and you have discrepancies, but they're not really discrepancies, you should always reach out to that friend. … It hit me hardest that year because before Kobe passed away, my sister passed away. And I was always the 'I'll call her tomorrow.' 'Let me go buy this business, I'll call you tomorrow.' 'I'll call you tomorrow.' 'I'll call you tomorrow.' And then you wake up, and they're not here. So that, and if I could just see him one last time, we'd just argue, fight, play. I would love to have that."
From a basketball perspective, would Kobe be the best partner for Shaq?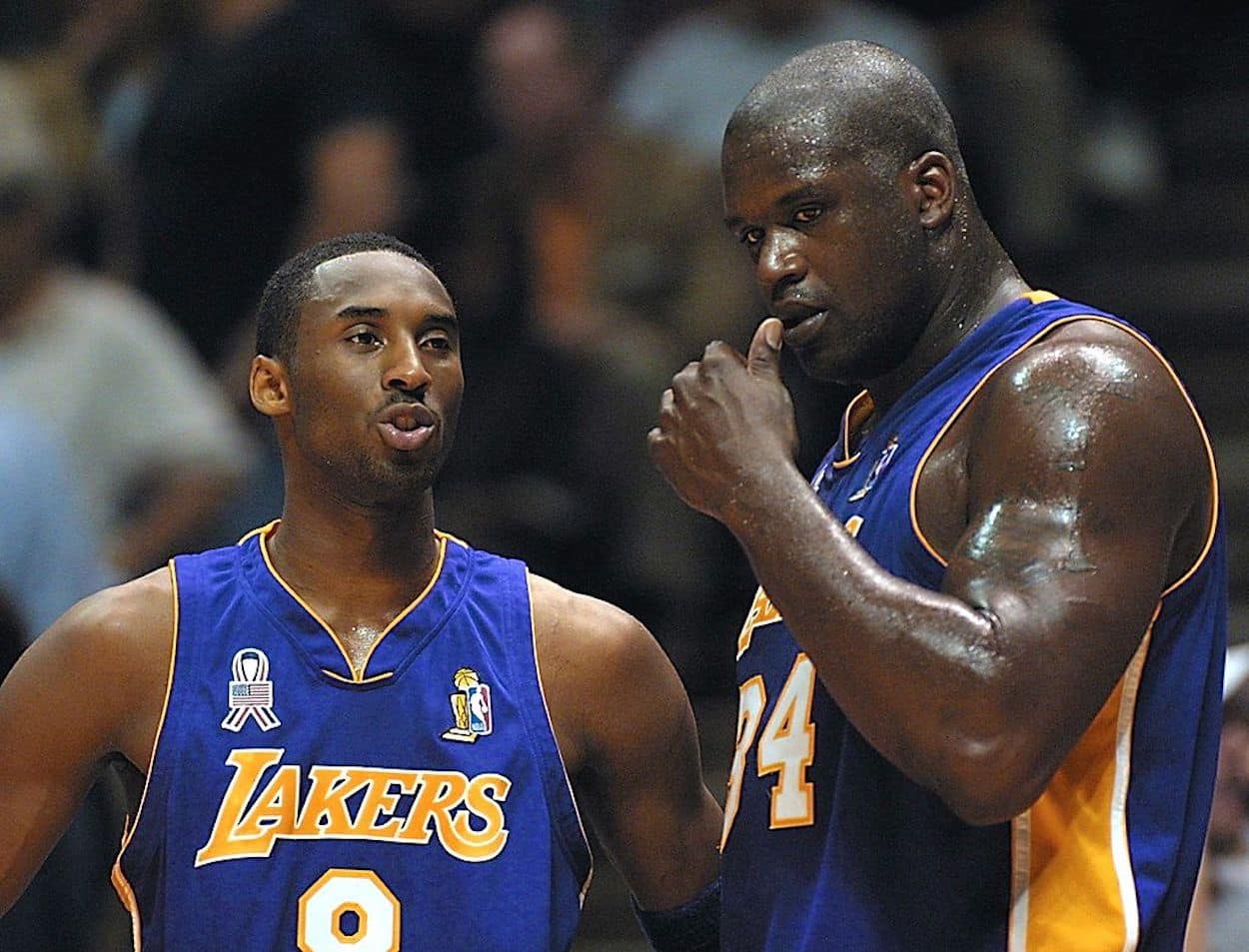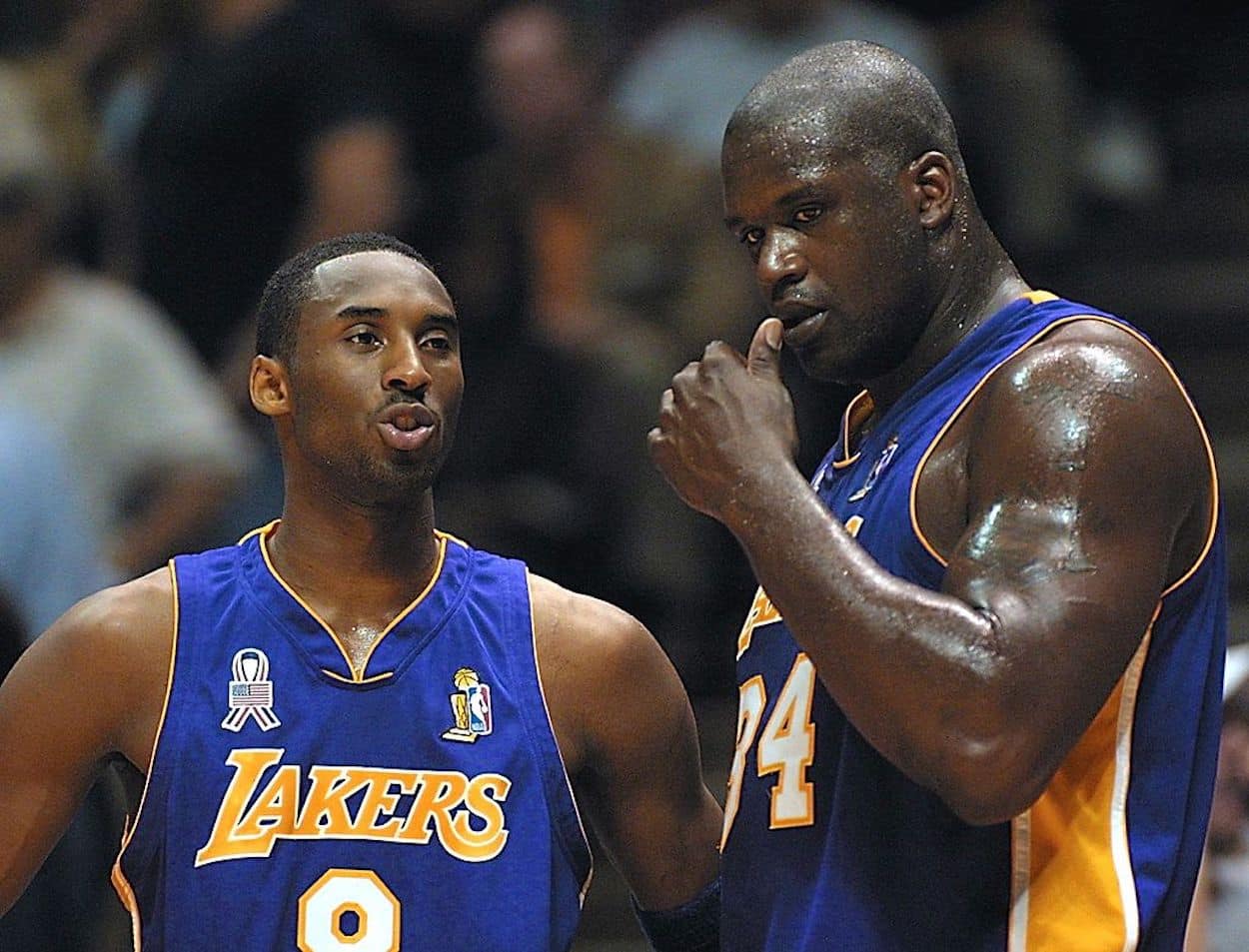 It goes without saying that O'Neal's position, along with his emotional reason, is perfectly valid. If we're focusing on a pure basketball-based analysis, though, who would his best partner be?
For the sake of this hypothetical, we're going to assume a standard game of two-on-two against NBA-level competition. Imagine the professional equivalent of running on your local court; the talent pool is fairly standardized, but there's room for different team compositions and matchups. For the sake of convenience, we'll also assume all the players in question are in their primes.
So, what do we know about Shaq? He's big, he's strong, and, since we're considering his peak form, he's way more athletic than you'd think. The center can patrol the paint, and while he won't want to be drawn out to the perimeter, he won't be completely embarrassed by a smaller, quicker opponent.
Now, moving on to the potential teammates. In terms of physical stature, Kobe and MJ are pretty similar, while LBJ is about three inches taller and a bit heavier. While that would normally give James something of an advantage, it's neutralized by Shaq's presence; when you have one of the most dominant centers of all time on the block, being able to drive, bang bodies, and help out on the boards is less relevant.
In a similar vein, O'Neal's ideal partner would be more of what you'd imagine from a traditional guard: someone capable of spacing the floor, creating off the dribble, and playing a two-man game. That actually works in LeBron's favor, as his assist numbers, three-point shooting rate, and three-point shooting percentages are the highest out of the trio.
It's also worth considering how his size could be a factor. While Shaq's presence mitigates the need for help in the paint, you win two-on-two by outscoring the opposing team. If James can bully a smaller defender every time, he'll either have an easy bucket or a free pass to an uncovered Shaq. In a race to 21, those are both good outcomes.
With all of that being said, though, you can make similar cases for Kobe or Jordan. MJ averaged more points per game than King James. And, more anecdotally, who wants to try to guard any of those stars in a one-on-one situation?
But what happens when Shaq and his teammate don't have the ball? For all of the duo's talent, they can't fall asleep at the defensive wheel. Who's best suited to that part of the game?
While all three men are capable defenders, Jordan would get the nod. James' size could be a detriment against quicker guards, forcing Shaq to help off his man. MJ and Kobe are pretty similar, but Phil Jackson said the former man was the better defender (h/t Sports Illustrated), so I'll defer to the coach.
Lastly, we have the issue of intangibles. King James has plenty of cachet, but I'd go on the record as saying he doesn't have the same fear factor as the other two candidates. Jordan slightly edges ahead of Bryant, but the Lakers legend isn't that far behind; MJ has all-time recognition, but Kobe was basketball to the generation that was too young to see His Airness. The Black Mamba does have a unique advantage, though: He's the only member of the trio to have existing chemistry with Shaq.
So, Shaquille O'Neal made his choice, and we've traced out the potential pairings. Who do you think is the best partner for the Diesel? Let us know in the comment section below.