Shawn Oakman Was an Internet Meme, Had a Nasty Trial, and Finally Got His Chance in the XFL
Shawn Oakman surely didn't expect what the next five years would look like when he appeared at midfield on Jan. 1, 2015.
An intimidating defensive lineman at Baylor, Oaklman's size turned him into a viral meme. The productive Oakman, a player some thought could eventually be a first-round draft pick, spent the next few years battling legal issues and never reached the NFL.
Just how wild has the last few years been for Shawn Oakman? This is his story, from Baylor to the XFL and everything in between.
Shawn Oakman became an internet meme at Baylor
At 6-foot-9 and 275 pounds, Shawn Oakman was a beast of a man. After beginning his career at Penn State, Oakman joined the Baylor Bears as a transfer in 2012 and sat out the season in compliance with NCAA transfer rules.
When Oakman took the field in 2013, opposing offenses rightfully shuddered. Oakman totaled 12.5 tackles for loss and two forced fumbles as a redshirt sophomore.
A year later, Oakman earned AP third-team All-American honors when he registered 11 sacks, four forced fumbles, 19.5 tackles for loss.
Oakman went viral before the Cotton Bowl Classic at AT&T Stadium, home of the Dallas Cowboys. The meme showed him towering over Michigan State before the coin toss.
Oakman's production dipped to 14.5 tackles for loss and only 4.5 sacks in 2015. There was still optimism a team would draft him — or, at the very least, sign him as an undrafted rookie.
Oakman had a nasty legal trial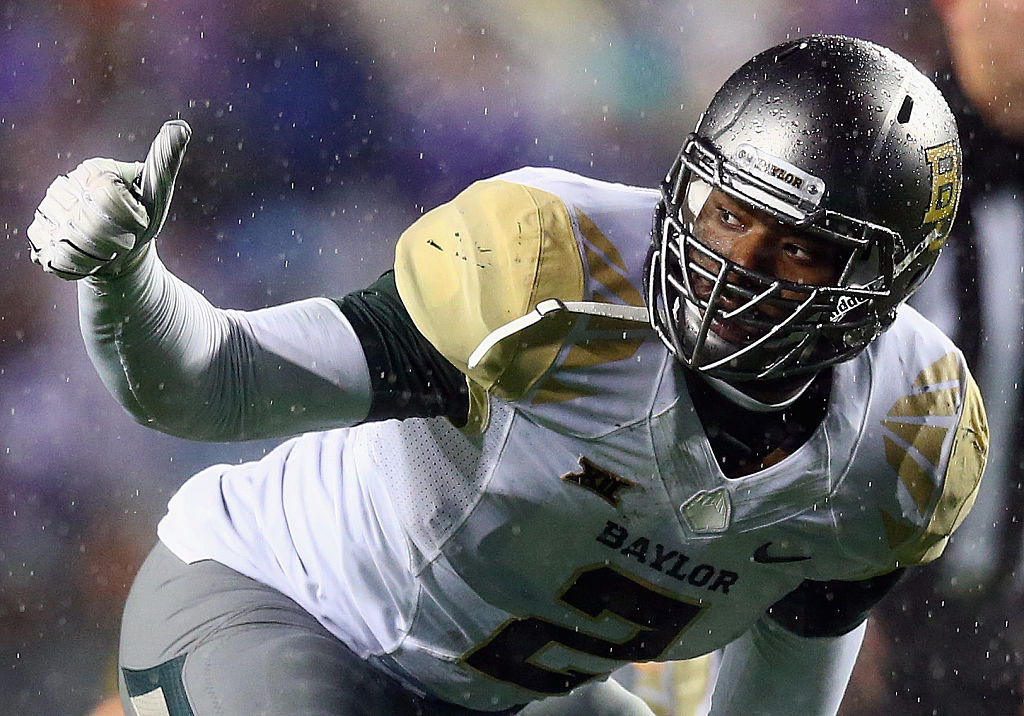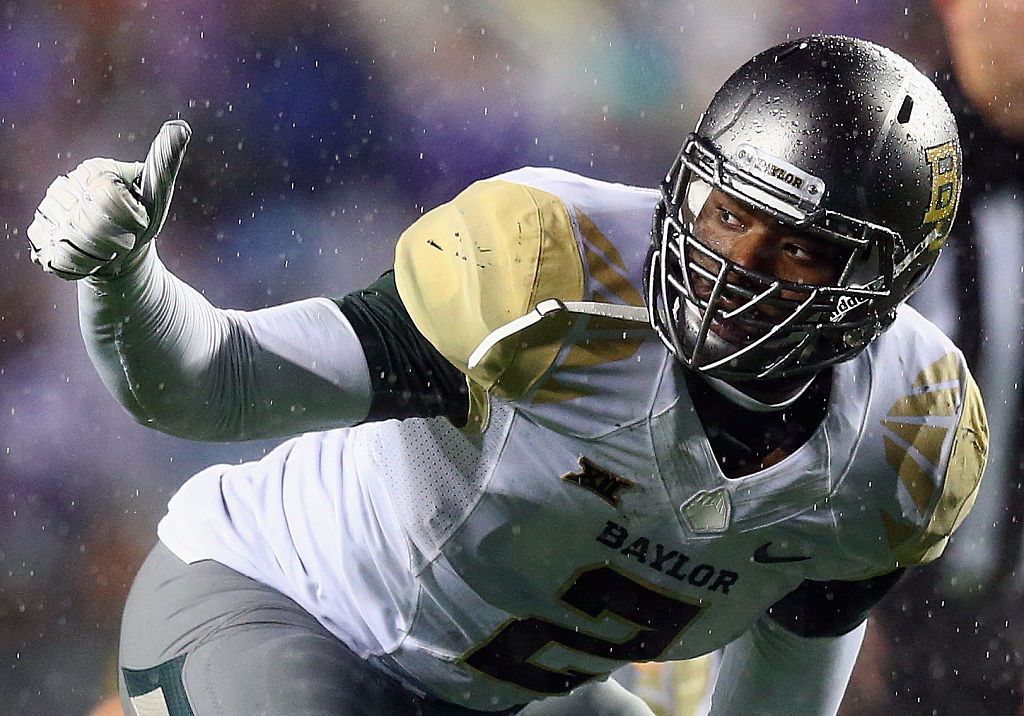 Any optimism about Shawn Oakman playing in the NFL in 2016 evaporated when he faced legal issues before the draft.
Texas police arrested Oakman after a woman accused him of sexual assault. According to a police affidavit, Oakman brought a woman he met at a bar in Waco to his nearby apartment and assaulted her in his bedroom.
A grand jury in McLennan County, Texas, indicted Oakman on charges of second-degree felony sexual assault in July 2016.
A jury found Oakman not guilty of sexual assault in February 2019. The jury cited evidence for consensual sex and a lack of incriminating evidence.
Shawn Oakman played in the XFL this year
Shawn Oakman played for various arena league teams before he went on trial. Once the jury found him not guilty, Oakman could finally pursue a professional career without worrying about a prison sentence.
In a September 2019 interview with the Philly Voice, Oakman explained how devastated he felt to see his dreams of playing in the NFL die over something that a jury decided never happened.
"Believe it or not, I'm not angry. I'm hungry, which I think is worse, because every day I'm fighting for something that seems to be reachable."
Oakman's hunger paid off last fall when he earned an opportunity in the XFL. He had seven tackles, including a sack, and three quarterback hits in four games with the Los Angeles Wildcats.
The XFL's season, and its short term future, ended prematurely because of the coronavirus pandemic. Oakman recently announced he is working on a book and signed with the Canadian Football League's BC Lions.
Neither the league nor the team officially announced the signing.