Shawne Merriman Gushes About Joe Burrow and Ja'Marr Chase, Compares Cincinnati Bengals Duo to Steve Young or Joe Montana and Jerry Rice
When you think about the top quarterback and wide receiver combinations in the NFL, Joe Burrow and Ja'Marr Chase of the Cincinnati Bengals have proven that they belong right near the top of that list.
Is it possible that the duo has all-time great status etched into their future, though? One former NFL star, three-time Pro Bowler Shawne Merriman, thinks it's possible.
The Cincinnati Bengals are the toast of the NFL right now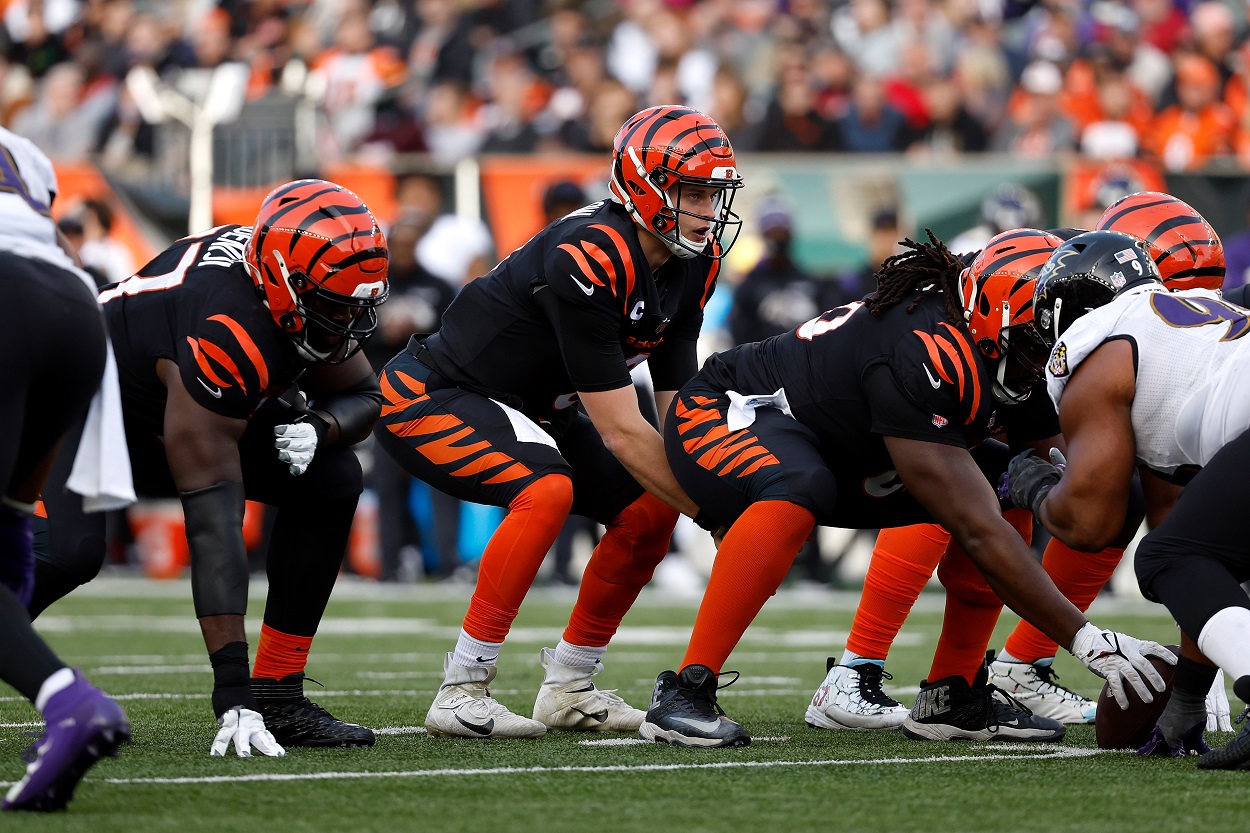 The Bengals are fresh off a 34-31 win over Patrick Mahomes and the Kansas City Chiefs, who have been the top dog in the AFC for a few seasons now.
It was a statement win for Cincinnati, as it not only dropped the Chiefs out of the top spot in the AFC Playoffs, but it also secured the Bengals the AFC North crown for the first time since 2015.
It was quite an accomplishment for Cincinnati, and speaking of statements, Mahomes gave one of his own to Chase after the contest.
"Keep going — we'll see you in the playoffs," Mahomes said, via ESPN.
That's basically like Michael Jordan in his prime telling you that he'll see you in the big dance. That's no minor deal, and it was a sign of respect from Mahomes, not just to Chase, but to the Bengals as a whole.
Chase finished the game with 11 receptions for an astonishing 266 yards, and three touchdown catches. For his part, Burrow out-played Mahomes in arguably the biggest game of his young career to date. He tossed four touchdown passes overall and threw for 446 yards on 30-of-39 passes.
It was a brilliant performance from both of Cincy's stars.
Shawne Merriman thinks Joe Burrow and Ja'Marr Chase can be all-time great
Merriman gives Gambling.com a weekly rundown of his thoughts in his role as NFL Ambassador for the site. Merriman isn't afraid to hit the significant topics of any given week, and he's certainly not scared of sharing his opinions.
Speaking of opinions, you'll hear very few bolder than Merriman's thoughts on Burrow and Chase after the win over the Chiefs.
"To watch Joe Burrow and Ja'Marr Chase for this many years and what they will do, we might possibly be looking at the best one-two combo that has ever played the game," Merriman said. "I'm talking about the Steve Young to Jerry Rice or with Joe Montana. I'm talking about the best one-twos at quarterback and wide receiver, and it's going to be fun as hell watching them for the next 10 years."
To say that Merriman offered high praise to the Cincinnati duo would be an understatement. Let's break this down.
To compare Chase to Jerry Rice is just a massive compliment for the second-year wide receiver out of LSU.
Rice is the NFL's all-time leader in career receptions (1,549), yards (22,895), and all-time touchdowns (208). He is the epitome of the Triple Crown.
As talented as he was, Rice did benefit from being on the receiving end of footballs thrown by two Hall of Famers in their own right. Rice caught 67 touchdowns from Joe Montana from 1985-1992. If you think that's impressive, which it is, consider the fact that he followed that up with 92 touchdowns between him and Steve Young. It wasn't a bad run for the San Francisco 49ers, was it?
To compare Burrow and Chase to either Rice and Young or Rice and Montana? That's literally the best comparison a young quarterback and wide receiver pairing can get.
Can Burrow and Chase lead the Cincinnati Bengals to a Super Bowl?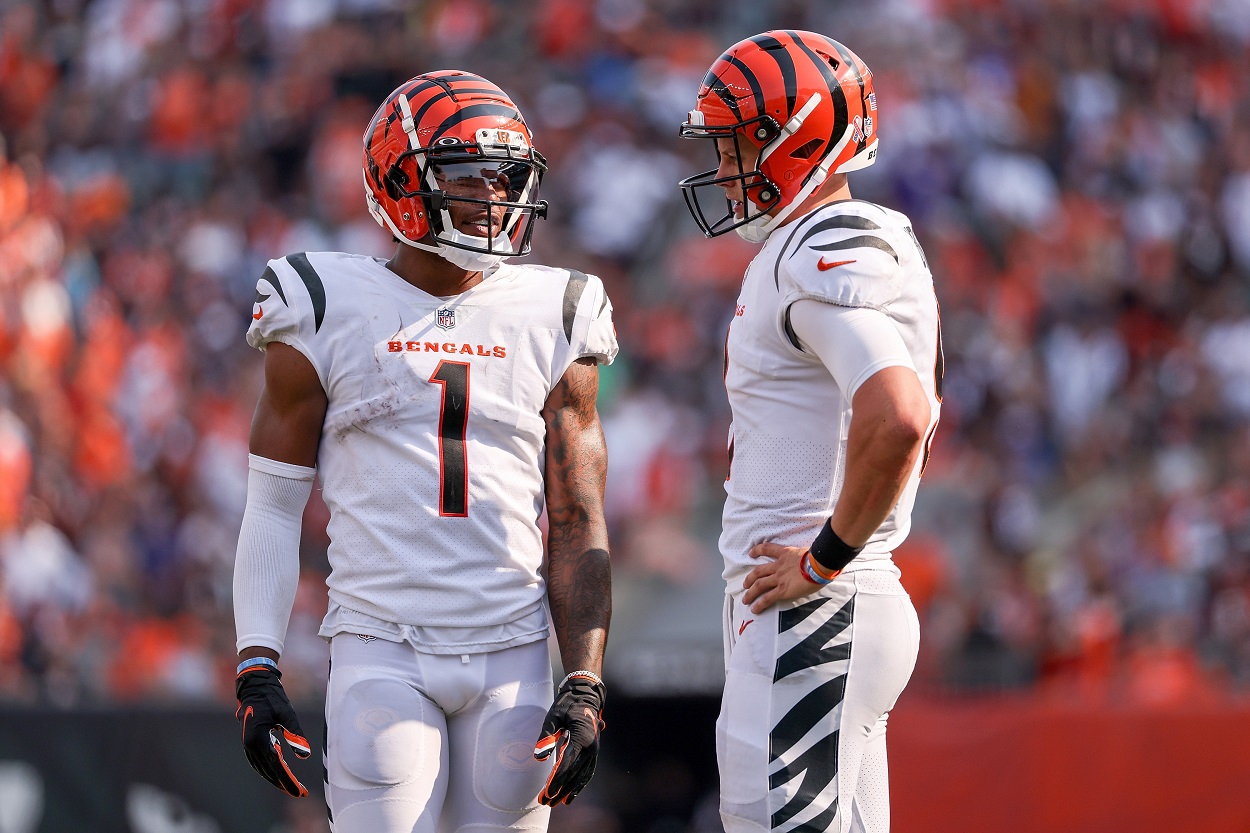 Regular season stats are great and comparisons to absolute legends have to feel good, but any elite player worth their salt is playing for one thing and one thing only, and that's championships.
The Bengals are in the big dance, so to say that they don't have a shot would be foolish. The AFC is honestly a bit of a crap-shoot anyhow if you were betting on one specific team coming out on top. The Tennessee Titans are the No. 1 seed at the time of this writing, but there are multiple teams still in the running for it, a list that includes the Bengals as well as the Titans, Chiefs, and New England Patriots.
We already know the Bengals have the ability to out-gun the Chiefs, which is no easy task considering the fact that KC boasts the third-best offense in the NFL. Speaking of great offenses, Burrow and Chase are getting all the publicity, but the Bengals can complement their duo through the air with Joe Mixon on the ground. This season, Mixon made his first Pro Bowl and he's the league's second-best rusher in terms of total yards with 1,205. He's also a bit of a dual-threat back, having caught 42 receptions for 314 yards and three touchdowns.
That makes Cincy's offense that much scarier. There's not a team in the AFC that wants to run into this unit right now.
Still, Merriman doesn't think the Bengals will make a Super Bowl this season. He just doesn't see it.
"When I think it's crunch time and the game is on the line, and you're playing a complete team with everything on the line, I believe they don't have enough to be a Super Bowl contender," he said.
Perhaps the Bengals truly don't have enough, but they do have Burrow and Chase. That will be more than enough in many cases.
Stats courtesy of ESPN and Pro Football Reference.