Sheila Ford Hamp and Dan Campbell's Post-Game Celebration Was Embarrassing for the Detroit Lions
You would have thought the Detroit Lions just won the Super Bowl or, at the very least, their first playoff game since 1992. Given the celebration in the locker room after their first win of the 2021 season, you would have thought Dan Campbell had led the 1-10-1 Lions to the pinnacle of the sport.
Even after a win, it was a reminder of how bad the Lions have been and still are.
Sheila Ford Hamp and Dan Campbell's Embarrassing Post-Game Celebration
This is not to say that Campbell, nor anyone associated with the Lions, shouldn't be happy after the win. That's why you play, after all, and Campbell had yet to experience that feeling as a head coach.
Celebrating is fine. Celebrating like they just won the Super Bowl, though … well, that was a little bit pop-warner.
There's an old-school football saying regarding celebrations that says you should act like you've been there before. The "there" in that saying is the end zone. Ironically, Barry Sanders personified this best when he was with the Lions.
You want to act like you've been in the end zone before because celebrating every touchdown like you've won the world championship basically implies that those moments are rare for you and that you've never experienced them before.
Yes, the Lions haven't won a playoff game since 1992. Yes, they haven't been to the playoffs since 2016, but they have won a single game before.
Act like it.
An owner jumping into the arms of the head coach, no matter who that owner is, is a bit much for a regular-season win, even if it was Campbell's first.
"Oh my God, that was un-fricken-believable," Sheila Ford Hamp told Campbell as he let her down from a bear hug.
It's un-fricken-believable that your franchise has won a game? How low have the standards gotten in Detroit?
There are still major questions surrounding Campbell and the Lions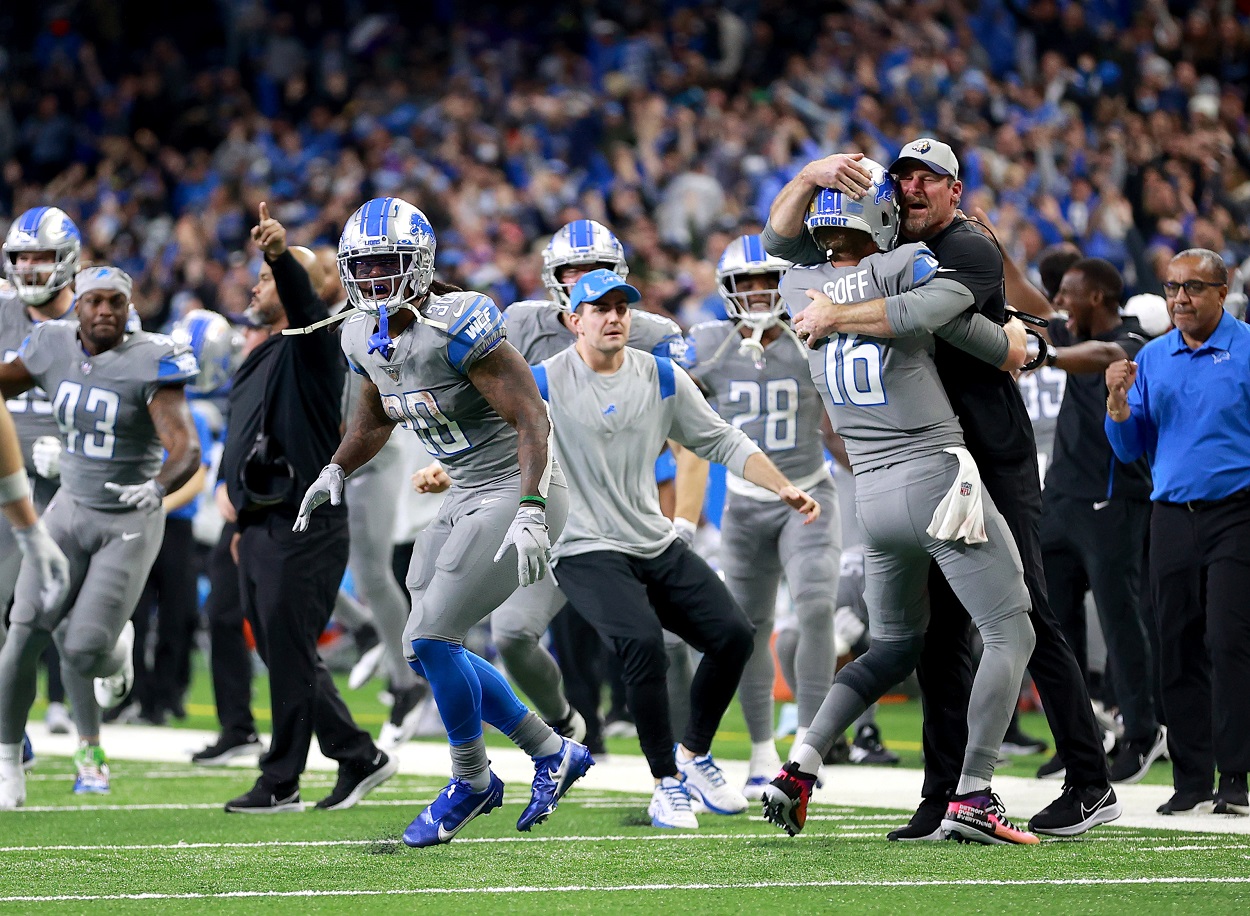 Lost in the celebration is the fact that Campbell is celebrating his very first win as head coach 12 games into Detroit's season. The win is an accomplishment, but it doesn't necessarily feel that way when the previous 10 games have ended in losses — and one in a tie.
Even with the win, Detroit is still the worst team in the league.
Sure, the Lions can go on a run and make something respectable out of this season, but if you were a betting person, would you really trust Campbell to pull that off?
He's proven to be in over his head this season, almost learning on the job. He's made multiple head-scratching in-game decisions, and that's not even considering his off-field antics. From chugging coffee to crying after a loss (in Week 5, mind you), having a bombastic personality is one thing when you're winning. When you're losing and struggling to change a systemic culture of losing, being the eccentric, funny coach is less charming.
Campell still has to prove he's more coach than soundbite.
One win over a Minnesota Vikings team led by a coach who should be fired at the end of the season doesn't provide that proof.
Ironically, losing would be best for Detroit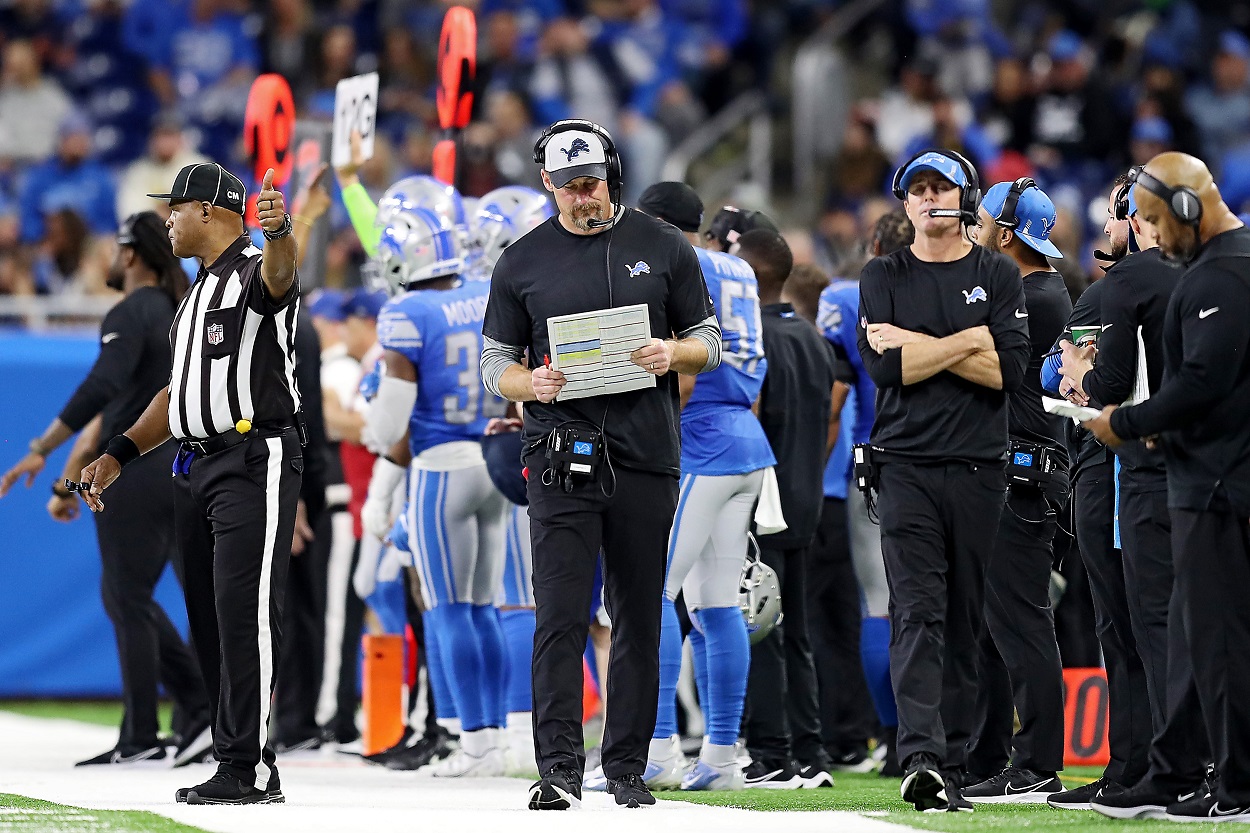 Now that they've finally broken into the win column, the ironic thing for the Lions is that they'll be better off staying on the losing side for the rest of the season. At the very least, Campbell needs to walk the tight-rope.
Whether or not he's really "the guy" long-term for Detroit doesn't mean anything right now. The Lions gave him a six-year deal, so unless things really go off the rails, he'll be back next season.
Building a real organization that doesn't need to throw a pizza party for just one win is the giant task ahead of him. With that in mind, the best thing Campbell can do for his team in the future is lose enough this season to secure the No. 1 overall pick in the upcoming draft.
As of right now, the Lions' main competition is the Houston Texans and Jacksonville Jaguars, both at 2-10. The Lions need to keep losing while doing so competitively, or if they do pick up another win or two, they need to hope both of those teams get a win as well.
It's a counterintuitive process for a head coach, but getting the top pick in a draft can be a franchise-defining moment. For instance, the Lions drafted Matthew Stafford first overall back in 2009, and he was their franchise quarterback for 12 seasons.
There may not be that type of quarterback in this draft, but there is a chance to pick up a superstar pass-rusher like Kayvon Thibodeaux out of Oregon or Aidan Hutchinson from Michigan.
Campbell has a balancing act ahead of him. He has to win by losing while at the same time trying to establish some kind of positive culture in Detroit.
Part of that culture change should be avoiding bush league moves like celebrating one win like championship glory.
Stats courtesy of ESPN and Pro Football Reference.