Can Shogo Akiyama Be a Difference-Maker for the Reds?
Will Shogo Akiyama be a star for the Reds like Ichiro was with the Mariners? The Reds signed Akiyama to a three-year, $21 million contract in the offseason.
Akiyama became the first Japan player to sign a contract with the Cincinnati Reds.
So can the Japanese-league veteran make the switch over to the majors?
Shogo Akiyama's career in Japan
Shogo Akiyama played nine seasons in the Japanese league and holds the record for hits in a season with 216, which he set in 2015.
Akiyama had an impressive career in Japan. He finished with a career batting average of .301 and finished with 1,405 hits.
The 31-year old stole 112 bases during his career in Japan. His last three seasons he finished with 20 or more home runs and scored over 100 runs.
Looking at his highlights, he finds multiple ways to get on base. And his speed is an advantage, especially from the left side of the plate.
One area that Akiyama will need to improve in is his strikeouts. He finished with 108 Ks his last season playing in Japan. Spring training will be a good test to see how does in that area.
Akiyama's defense might be his best attribute. During the 2016 season he finished with a perfect fielding percentage. His career fielding percentage was .990, a very impressive stat.
He will be able to use his speed to run down balls in the gap and prevent runners from getting extra bases.
Comparison to Ichiro and Ohtani
There's not a lot of hype surrounding Akiyama like there was for Shohei Ohtani or Ichiro Suzuki.
Like Ichiro, Akiyama bats from the left side. You can see some similarities with him and Ichiro, especially at the plate. Ichiro was really good at making contact and Akiyama has the potential to do the same. Akiyama is not a power hitter, but he does have power, just like Ichiro.
Now Ohtani and Akiyama are two differently built players. Ohtani is more of a power hitter and Akiyama is the typical lead-off batter.
But, both players bat from the left side and share a similar batting stance. Also, they have quick hands which is a plus in baseball.
If Akiyama can continue to work on his game offensively and have a good spring training, the Reds will find a way to utilize him.
Shogo Akiyama's role with the Reds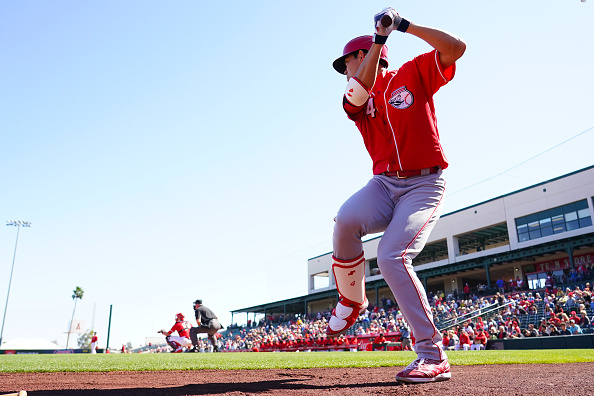 In his first game in spring training with the Reds, Shogo Akiyama got a single and made a nice running catch in centerfield.
Looking at his first game, it seems that the Reds want Shogo Akiyama to be the leadoff centerfielder. The Reds are looking to fill that spot in centerfield and Akiyama can be a good candidate.
If Akiyama can have an above average showing on offense during spring training, there's a possibility his name can be in the starting lineup come opening day.
With Akiyama at the top of the order, he provides that speed on the base path too, and that can put him in positions to score and help the offense a lot.
It will be interesting to see what the Reds decide to do with Akiyama come Opening Day.