Shohei Ohtani Might Be One of the Most Ridiculous Players of All Time
Japanese baseball star Shohei Ohtani has arrived in the majors, having signed his contract with the Los Angeles Angels and making his spring training debut. But Ohtani is no normal baseball star. His debut involved a start in which he went 1 1/3 innings, allowed two hits, one walk, and one run while striking out two batters. Just a few days later, he was starting again as the Angels' designated hitter, drawing two walks in three plate appearances.
Ohtani is the first in what is sure to be a wave of two-way players, pitching every fifth day or out of the bullpen while spending time in the outfield or as a designated hitter on other days. Cincinnati Reds prospect Hunter Greene is hoping to do the same, but he's still a ways away from the big leagues. But other players have somewhat paved the road for Ohtani, having performed as both a pitcher and a batter at a high level. Here are just a few from recent history, plus one very big name.
10. Christian Bethancourt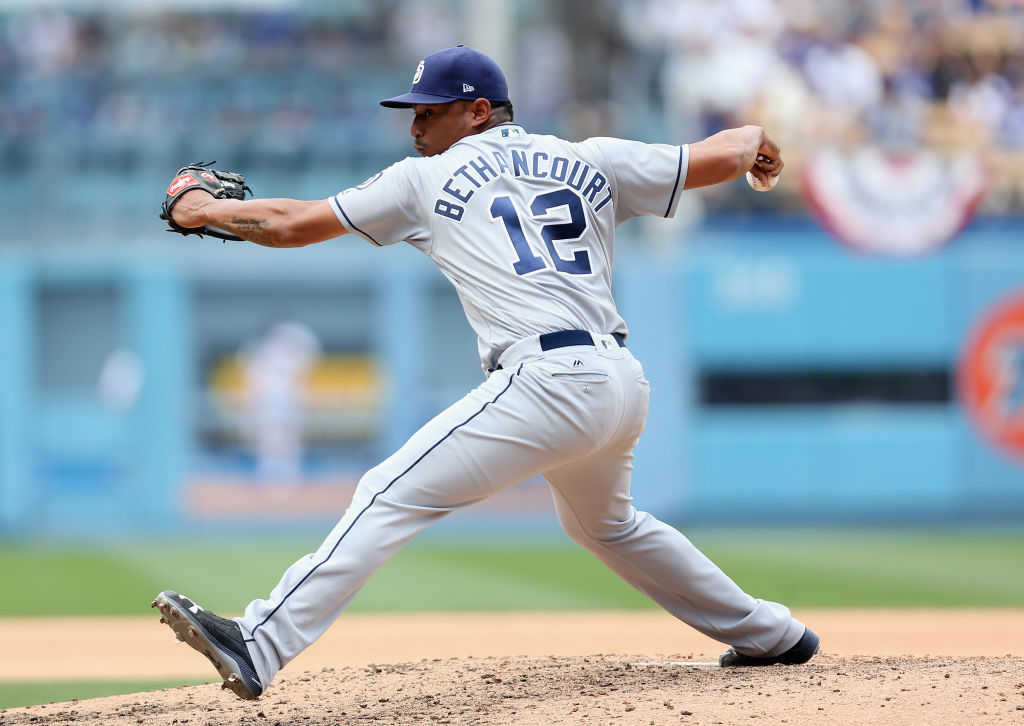 Christian Bethancourt made it to the big leagues as a backup catcher with the Atlanta Braves, later moving on to the San Diego Padres. The 26-year-old has 489 plate appearances in his major league career, batting .222 with eight home runs. In short, he's nothing special at the plate. But Bethancourt is a solid defensive catcher with a strong throwing arm, which are the major skills wanted in a reserve at that position.
In 2017, the Padres tried to make extra use of that throwing arm. They sent Bethancourt to Triple-A to work on becoming a two-way player, and he tossed 41 2/3 innings. Unfortunately, the numbers weren't good in his first go-round. He posted an 8.21 ERA in 34 games in the minors, and then allowed six earned runs in 3 2/3 innings in the big leagues. The experiment is off for now, as Bethancourt has signed with the Milwaukee Brewers to catch.
Next: A true two-way player. 
9. Brooks Kieschnick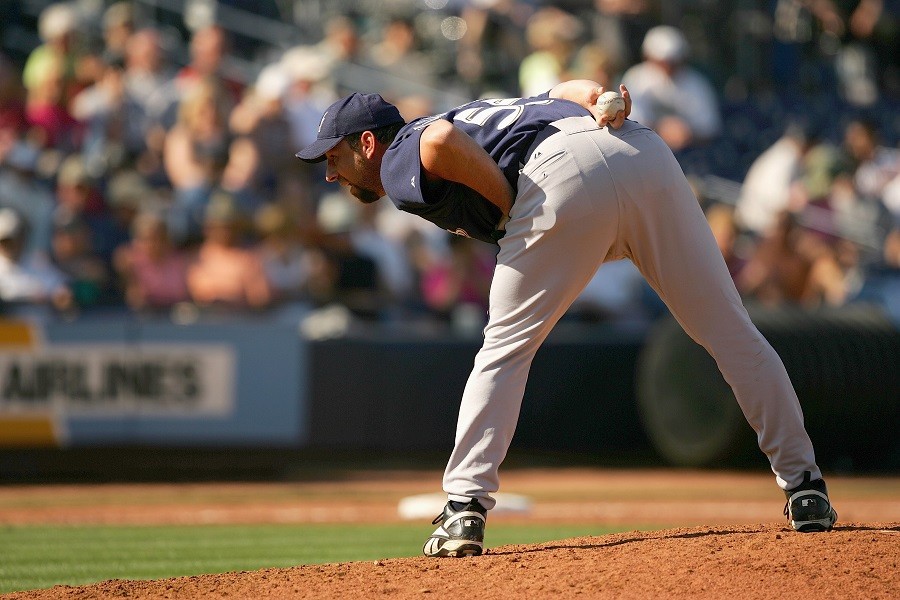 The Brewers are familiar with two-way players, however. Brooks Kieschnick was drafted in the first round by the Chicago Cubs back in 1993, a left-handed hitting first baseman with serious power. He became one of the top-rated prospects in the game shortly after, and was in the big leagues with the Cubs by 1996. But Kieschnick's numbers were pedestrian, and he found himself struggling to find a job by 2002.
Kieschnick was back in the big leagues in 2003, however, with Milwaukee. He had re-imagined himself as a right-handed reliever, pinch-hitter, designated hitter, and left fielder. For two years, the experiment actually worked. Kieschnick posted a 4.59 ERA in 96 innings during that period, and he also accumulated 144 plate appearances with eight home runs and a slash line of .286/.340/.496. He made three appearances in the outfield, four at DH, and pinch-hit 72 times for the Brewers.
Next: Making the best of a bad situation.
8. Rick Ankiel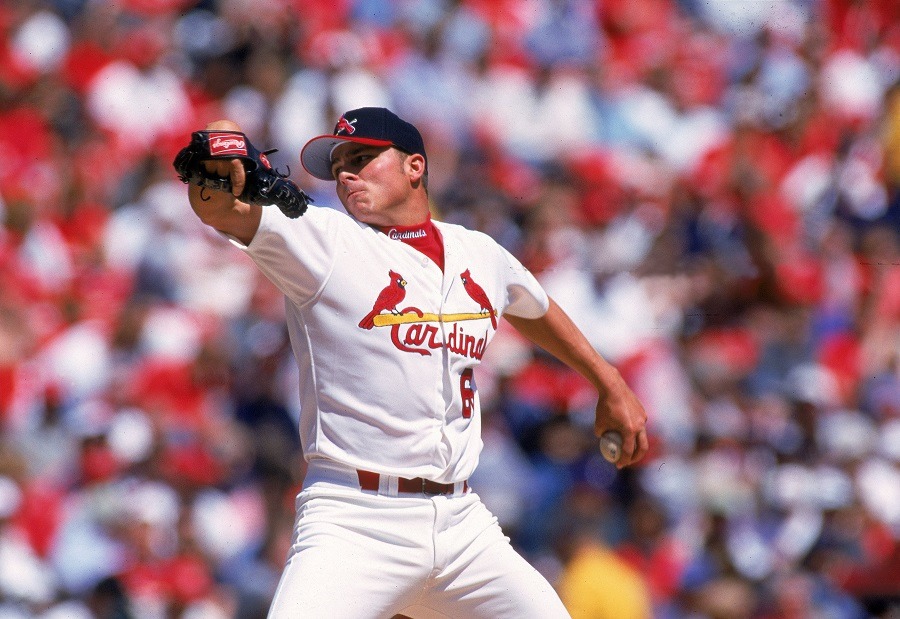 St. Louis Cardinals phenom Rick Ankiel probably would've just stayed as a pitcher, if he had his way. Ankiel was a top-prospect in the late-90s with the Cards, finishing second in the NL Rookie of the Year voting in 2000 after making 30 starts, pitching 175 innings, and posting an 11-7 record with a 3.51 ERA. Unfortunately, Ankiel developed the yips and forgot how to throw strikes that October, and he never recovered as a pitcher.
Ankiel started over again in the minors as an outfielder, and by 2007 he was back in the big leagues in St. Louis. Over the next two years, he would see 653 plate appearances with the Cardinals and club 36 home runs with 110 RBI, batting .270/.334/.515. That was the best it would ever be for Ankiel, however, who was quickly reaching the end of his prime. He retired following the 2013 season.
Next: Finding a way to extend a career.
7. Jason Lane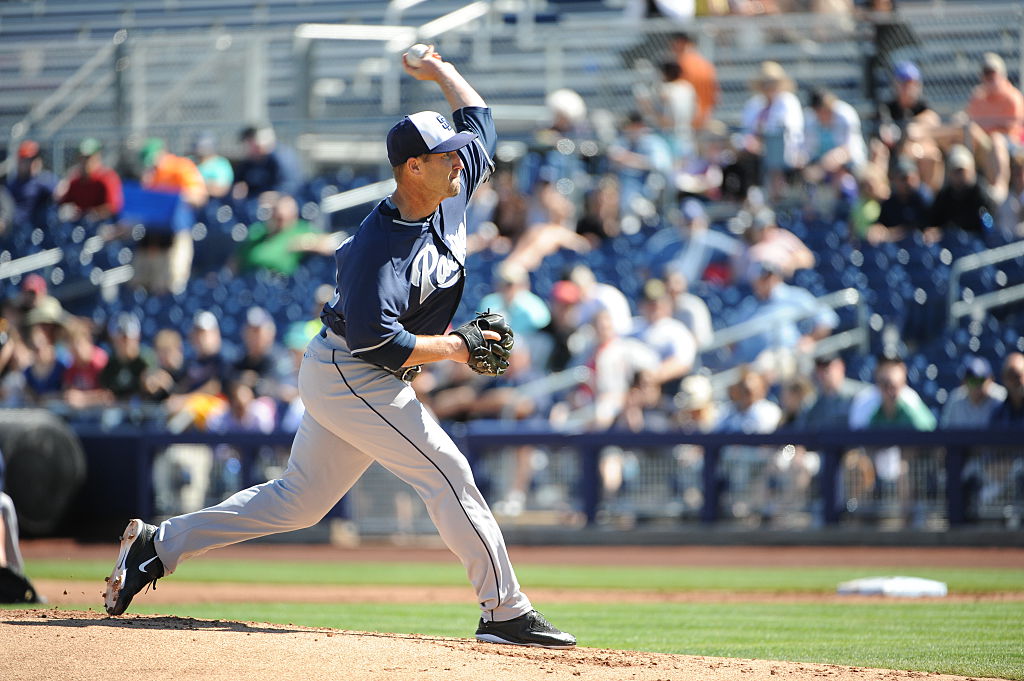 Former Houston Astros ballplayer Jason Lane went the opposite direction from Ankiel. He made it to the big leagues in 2002 with Houston as an outfielder, and he stuck around there for six years. Lane had his best season in 2005 when the Astros went to the World Series, hitting a career-high 26 home runs with a line of .267/.316/.499 in 561 plate appearances. But he quickly declined as a hitter over the next two years, and by the time he was 31 he was unable to make a major league roster.
So, Lane became a pitcher. Like with Ankiel, the process was long. He worked his way up through the San Diego Padres minor league system, and finally made it back to the majors in 2014. That year, he made three appearances for the Padres (one start), throwing 10 1/3 innings with a 0.87 ERA. Unfortunately, he was 37 years old by that time, and Lane retired after an unsuccessful season at Triple-A in 2015.
Next: Pitcher in the outfield.
6. Travis Wood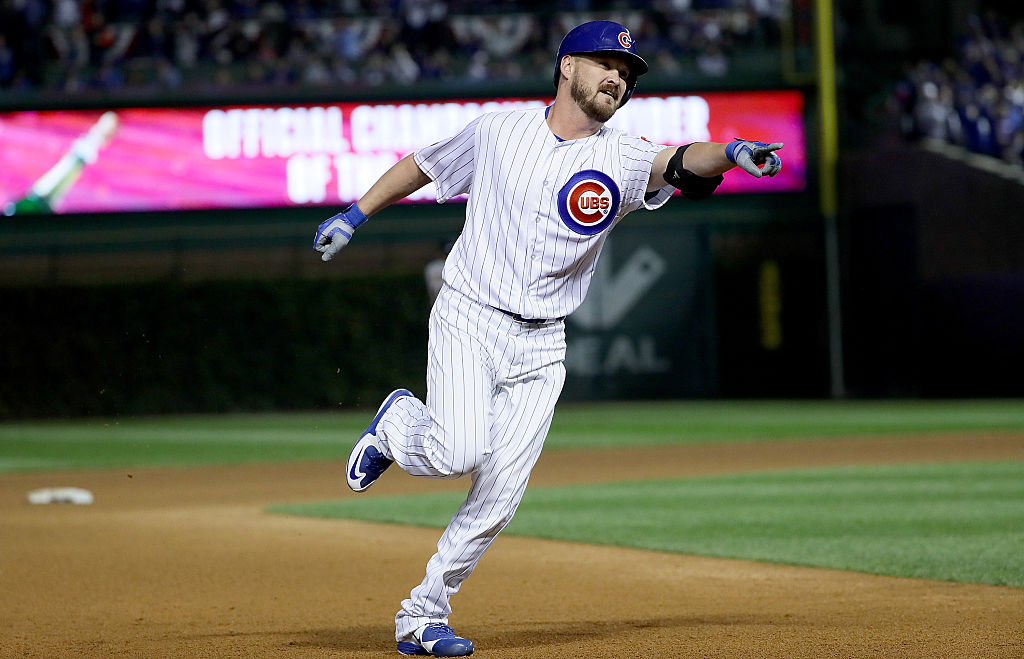 Current Detroit Tigers reliever Travis Wood has never actually been a position player, at least since the Cincinnati Reds drafted him in the second round back in 2005. But Wood is an excellent athlete, and has hit 11 career homers in the regular season. During his time with the Chicago Cubs, manager Joe Maddon would frequently use Wood in interesting ways to capitalize on his athleticism.
During five seasons in a Cubs uniform, Wood pinch-hit eight times, pinch-ran 15 times, and even played left field three times for a total of five innings in 2016. He actually made an outstanding catch up against the wall against the Seattle Mariners. Wood's run as a pseudo-two-way player was topped off when he hit a solo-homer in the fourth inning of Game 2 of the NLDS against the San Francisco Giants.
Next: A former No. 1 pick.
5. Matt Bush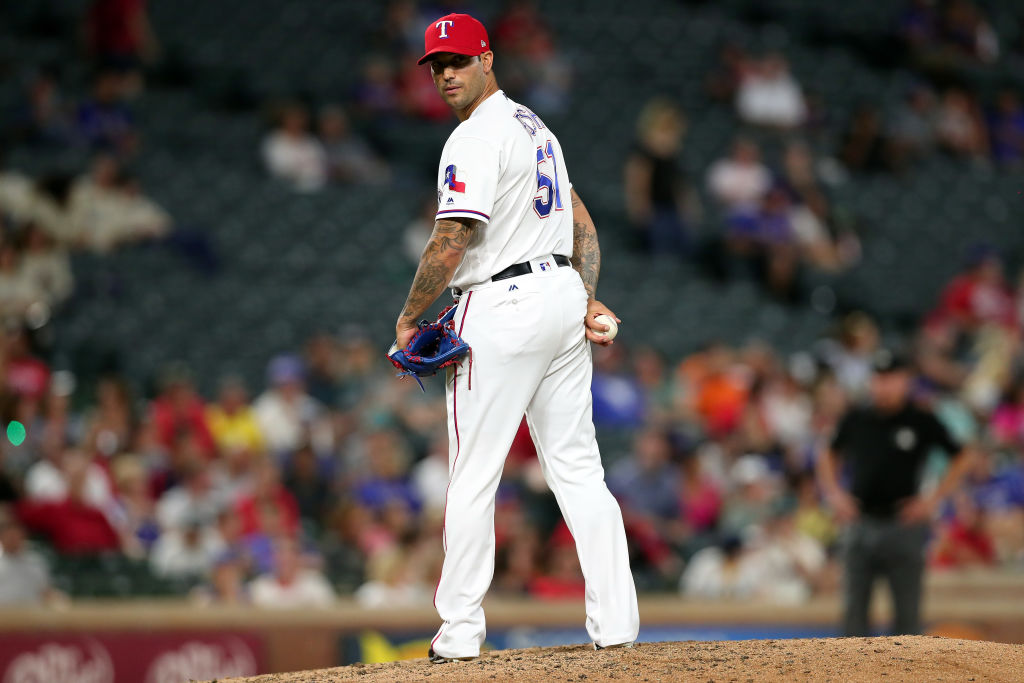 Matt Bush, like Wood, never was a position player in the big leagues. However, he still deserves to be on this list. Bush was drafted No. 1 overall by the San Diego Padres in 2004, and at the time it was to be a shortstop. However, Bush hit just .219 with a .294 OBP in 812 plate appearances in the minors, and after a brief stint in prison, he was back in the minors with the Texas Rangers as a relief pitcher.
Bush found success as a reliever, and he finally made it to the big leagues in 2016 at the age of 30. Over the last two seasons, Bush has thrown 114 innings out of the 'pen with 11 saves and a 3.08 ERA. He has struck out 9.4 batters per innings and is considered to be an important part of the backend of the Rangers bullpen.
Next: From catcher to closer.
4. Kenley Jansen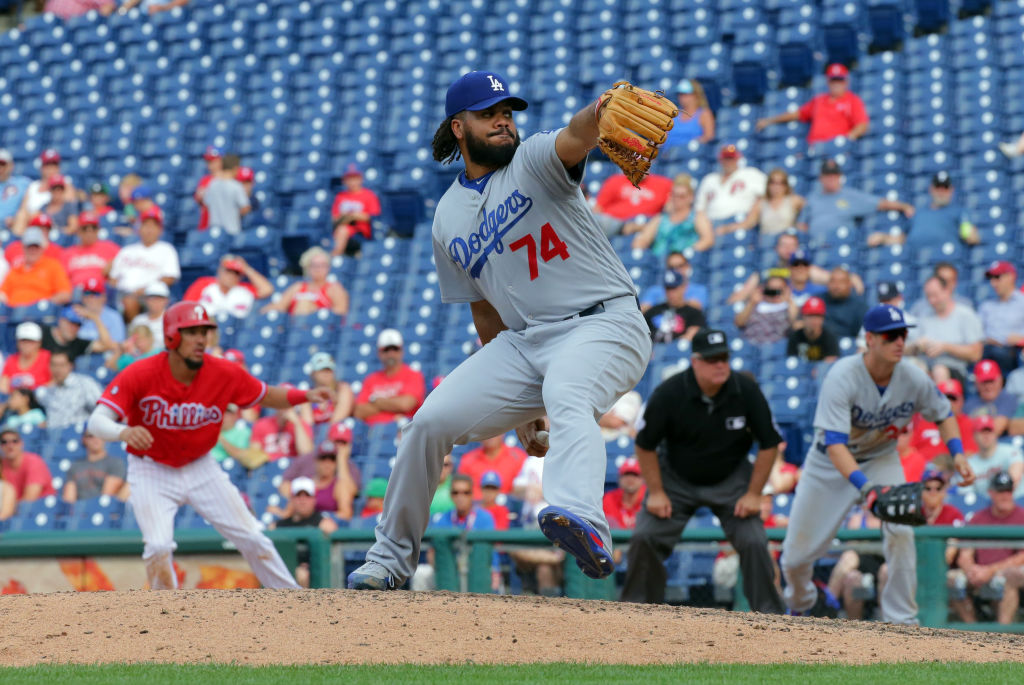 While many baseball fans are aware that star Los Angeles Dodgers closer Kenley Jansen was once a catcher in the minors, most probably didn't know that he made it all the way to Triple-A. Jansen was signed as a 17-year-old to be a catcher back in 2005, and by 2009 he was a 21-year-old playing at the level just below the big leagues. The problem? The strong-armed Jansen couldn't hit. He went just 5-for-27 with a walk and seven strikeouts at Triple-A, and in 2010 he was trying out pitching to help bolster his career.
It worked out for him, to say the least. Jansen was in the big leagues later that year, and he posted a 0.67 ERA in 27 innings with 41 strikeouts. By 2012 he was the Dodgers' regular closer, and over the course of his eight-year major league career he has made two All-Star appearances and boasts a 2.08 ERA with 230 saves in 477 innings pitched. Jansen also recently signed a five-year, $72 million contract.
Next: From slugger to lefty reliever.
3. Sean Doolittle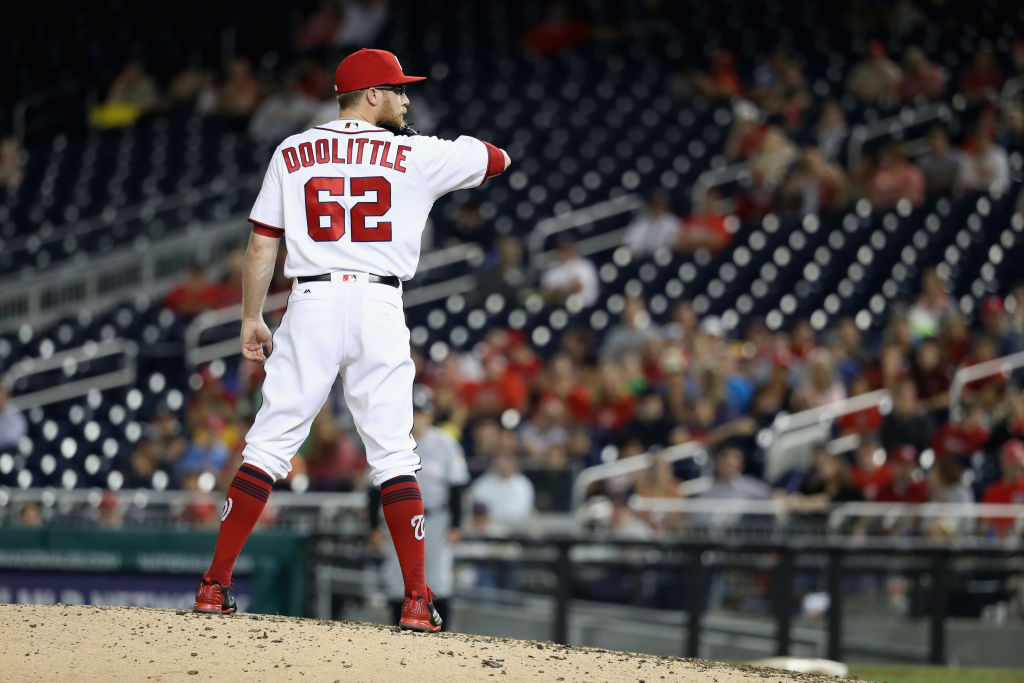 Another quality reliever that was once a position player is Washington Nationals left-hander Sean Doolittle. Unlike Jansen, Doolittle was a first-round draft pick by the Oakland A's with the intention of being a first baseman. He also has a leg up on Bush, because Doolittle actually had success at the plate in the minors. Between High-A and Double-A as a 21-year-old in 2008, Doolittle hit 22 home runs with a line of .286/.358/.495.
But the next season, Doolittle was playing at Triple-A when he suffered a right wrist injury that eventually forced him to drop his hopes of being a slugging first baseman with the A's. Doolittle was in the majors by 2013, eventually taking the job as Oakland's closer and making an All-Star appearance in 2014. In 283 career innings, Doolittle has 57 saves and a 3.02 ERA.
Next: Pitcher to outfielder to pitcher.
2. Adam Loewen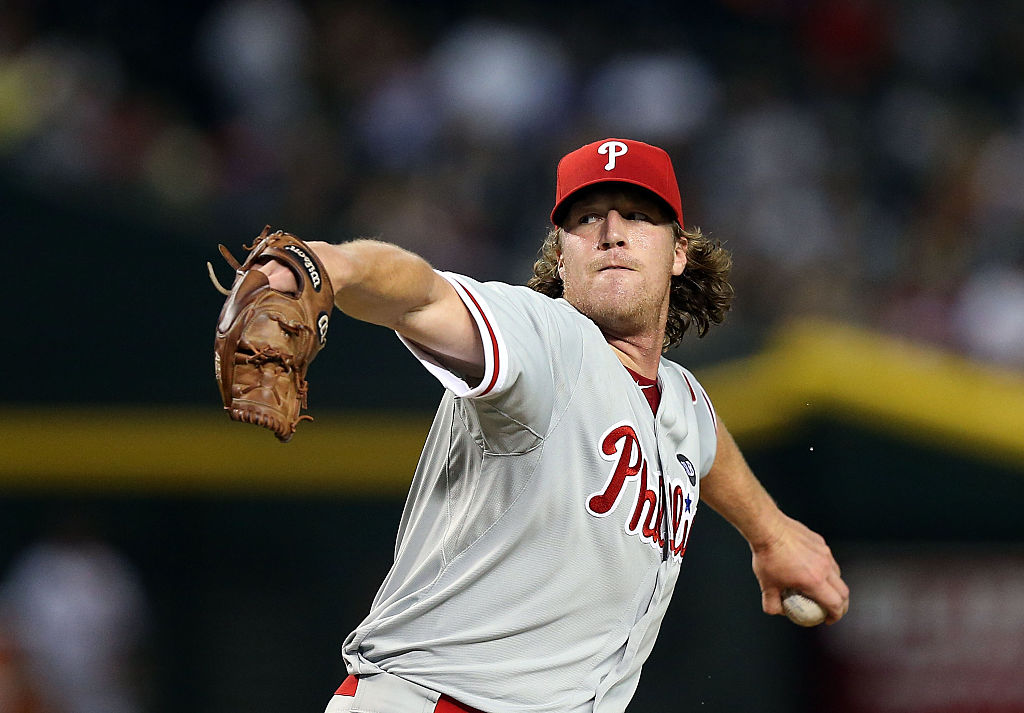 Adam Loewen has the distinction of having started out as a pitcher, made the transition to hitting, and then transitioned back to pitcher. Loewen was a first-round pick of the Baltimore Orioles back in 2002 (No. 4 overall), and he made it to the big leagues by 2006. But over three years in Baltimore, Loewen had just a 5.38 ERA over 164 innings. In 2009, he signed a minor league deal with the Toronto Blue Jays to make a switch to the outfield.
He worked his way up through the minors, eventually reaching Triple-A in 2011 and hitting .306/.377/.508 with 17 home runs that year. The 27-year-old received the call to the majors once again, but hit just 6-for-32 with a home run in his short stint with the Jays. Eventually, Loewen switched back to pitching and made it back with the Philadelphia Phillies in 2015 and Arizona Diamondbacks in 2016, but he combined to post an ugly 8.88 ERA in 25 1/3 innings.
Next: The GOAT?
1. Babe Ruth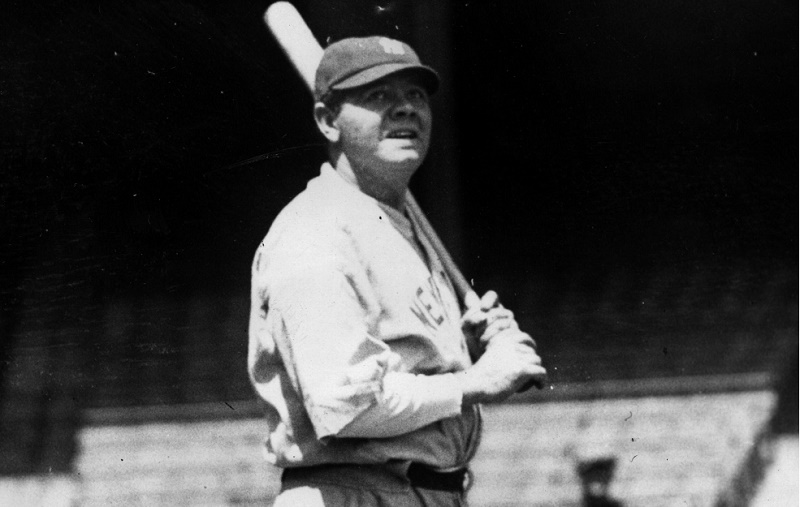 The all-time two-way star of Major League Baseball history has to be Babe Ruth. Not only was Ruth one of the greatest hitters of all time, he was actually a pretty great pitcher too. In his early days with the Boston Red Sox, Ruth was primarily a starting pitcher that made it out into the outfield somewhat infrequently. He had a 2.19 ERA in six seasons in Boston, and actually lead the league with a 1.75 ERA in 1916.
But obviously Ruth made the switch to right field, and the rest is history. He hit 714 home runs and posted a slash line of .342/.474/.690, and the latter slash number is a record that still stands for a full career. When you add to that his 105 complete games and 89 victories, it's clear that Ruth was the greatest two-way player ever. That's quite the reputation for Ohtani to live up to.
All stats courtesy of Baseball Reference.