Should Carlos Delgado Be in the Baseball Hall of Fame?
Carlos Delgado grew up idolizing former Pittsburgh Pirate outfielder Roberto Clemente, a fellow Puerto Rican who died six months after Delgado was born. And while Delgado went on to have a tremendous career that spanned 17 years, unlike his idol, the former first baseman for the Blue Jays and New York Mets was not voted into the Hall of Fame in Cooperstown, New York.

For Carlos Delgado, his path to Cooperstown included difficult obstacles, the vast majority of which were a matter of timing and bad luck.
In 2015, the Hall of Fame deck was stacked against Carlos Delgado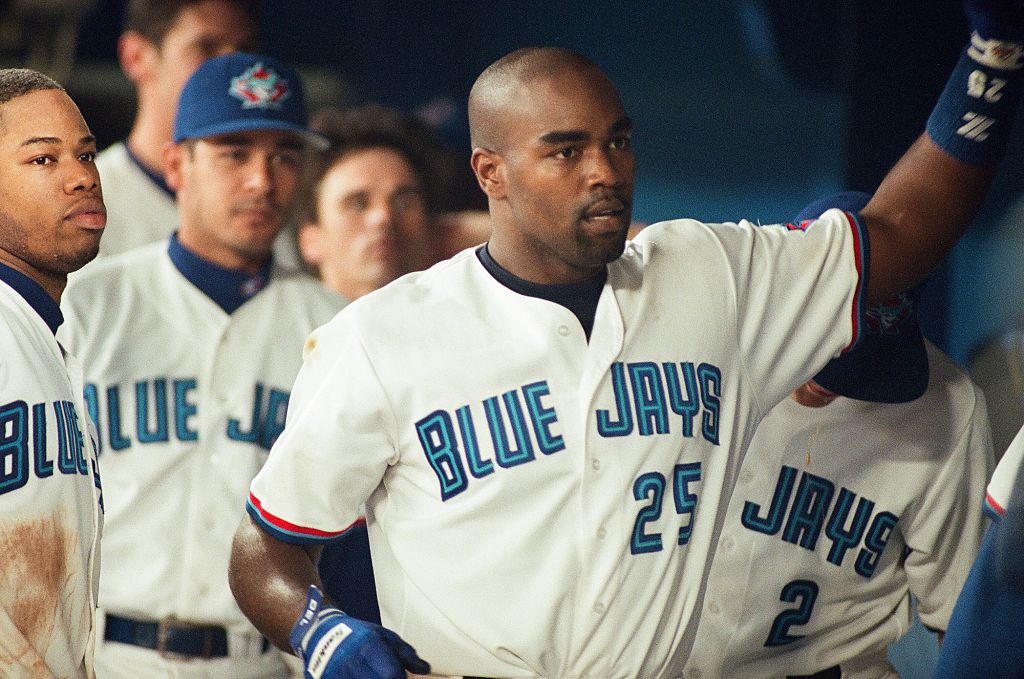 RELATED: Randy Johnson Detonated a Bird 19 Years Ago
There are players in the Hall of Fame whose stats do not compare favorably with that of Delgado's such as Harold Baines and Jeff Bagwell. Unfortunately, in 2015, when Delgado was first eligible for the Hall, his competition was overwhelming. The rule for the voting state that an individual cannot vote for more than 10 players in one year, and that dampened Delgado's chance. 
Players such as Randy Johnson, Pedro Martinez, Mike Piazza, and John Smoltz were on the ballot, all making the cut. Others, including Lee Smith, Larry Walker, Tim Raines, and Edgar Martinez did not make the cut for election to the Hall in 2015 but did so in subsequent years.
Carlos Delgado had all the right numbers except one
RELATED: What was Roy Halladay's Net Worth at the time of his death?
The rules for election into the Hall of Fame are simple: a player must have played in 10 seasons and have been retired for five. To be elected to the Hall, a player must get 75% of the vote, and to stay on the ballot for subsequent years, he must get at least 5% of the votes. If the vote falls below the 5% threshold, he is eligible for election by the veteran committee after 16 years. Against a star-studded ballot, Delgado notched just 3.8% of the votes in 2015, and he was left off the ballot the next year. That means he is eligible for the Hall via the veteran committee in 2031 when Delgado would be 58 years old.
The veterans' committee is made up of 16 voters, and to be elected in this path, a candidate must get 12 of the 16 votes. Most recently, former Cardinals catcher Ted Simmons and labor leader Marvin Miller made the Hall of Fame via the veterans' committee.
Based on his stats, Delgado was robbed
RELATED: Former MLB Slugger Jose Bautista is Attempting a Comeback as a Pitcher
In his 17 years with Toronto, the Mets, and Marlins, Delgado put up some gaudy numbers. The Puerto Rico native ended his career with 473 home runs (more than Hall of Famers Chipper Jones and Vlad Guerrero), 1,512 RBIs (more than Hall of Famers Billy Williams and Yogi Berra) and an OPS of .929 (more than Frank Robinson and Mike Piazza, both Hall of Famers).
Delgado was a three-time Silver Slugger award winner, a two-time All-Star, and finished in the top 10 in MVP numbers four times, including a second place in the voting in 2003, losing to Alex Rodriguez.
Off the field, Carlos Delgado is a hero
In 2006, Carlos Delgado received the Roberto Clemente Award, which is given to the player who displays great sportsmanship and dedication to public causes. Delgado has been involved with Puerto Rico's entry to the World Baseball Classic and in fundraising for teams in the Puerto Rico Winter League.
And while it is a small consolation, the year Delgado fell short of election to the Hall of Fame in Cooperstown, he was elected to the Canadian Baseball Hall of Fame based in Ontario. He joins such players as Vlad Guerrero, Roberto Alomar, Fergie Jenkins, and Jackie Robinson (who played for the Montreal Royals before joining the Brooklyn Dodgers).