Should Jon Jones Move Up to Be a UFC Heavyweight?
Jon Jones has been one of the most dominant fighters ever in the UFC. In his decade fighting in the UFC, he's beaten practically everyone who's stood in his way, and he's rarely had a tough fight. Because of how dominant he's been, Jones, as well as his fans, wants him to move up to heavyweight. Is that a wise move, or a bad idea waiting to happen?

Jon Jones's career so far
Few fighters in the sport are like Jones. Very few people have been able to completely dismantle their opponents through every available fighting style in the sport quite like Jones has. He's beaten people up with his striking, he's taken people down and choked them out, he's done it all in his 11 years in the UFC.

Not only is Jones the UFC's youngest champion, as he became champion at 23, but he's also practically undefeated. Jones is 25-1, and his only loss came because of a controversial call by the referee. Jones was easily winning the fight, but he landed some illegal strikes, and as a result, the referee disqualified Jones.

Because of Jon Jones's near-total dominance of the light heavyweight division, even Khabib Nurmagomedov thinks that Jones is the "Greatest of All Time." For reference, Nurmagomedov is good friends with Daniel Cormier, who's been Jones's rival for years now. Because of that dominance, Jones, and his fans, wants him to fight at heavyweight so that Jones will face new challenges.
Why Jon Jones may move up a weight class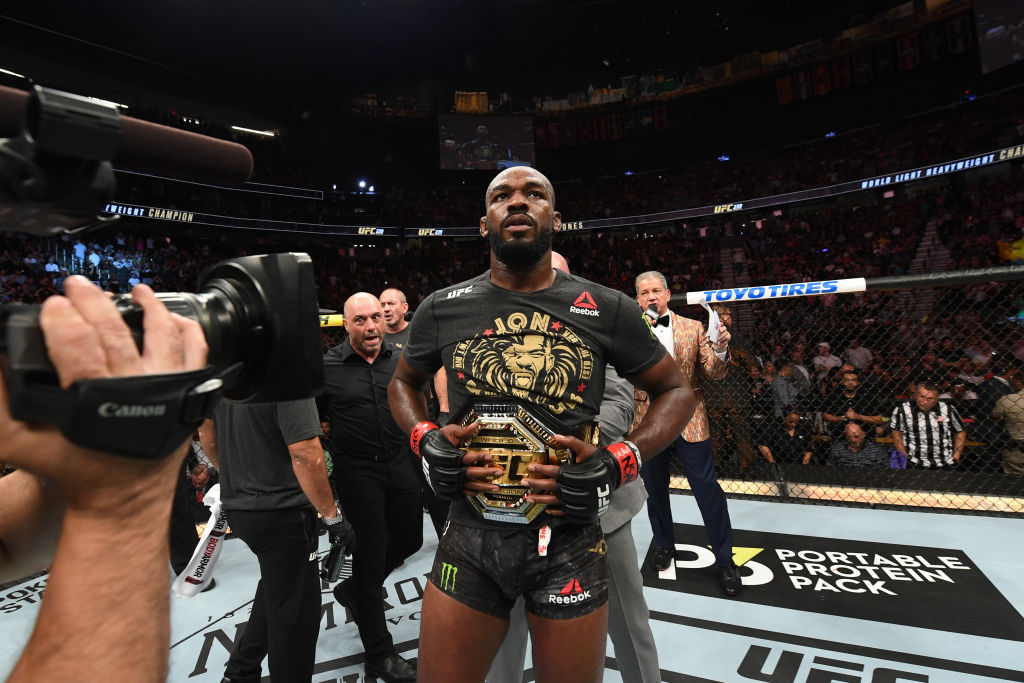 There are three ways for Jones to find new opponents and new challenges.

The first is to wait. New fighters join the UFC often, and new fighters will fight their way to the top eventually. Before Johnny Walker got knocked out at UFC 244, many fans thought that he'd be fighting Jones someday. That isn't happening anytime soon, but there are still some fresh faces at light heavyweight that will be fighting Jones soon.

Another way is to cut weight and fight at middleweight, the division below light heavyweight. Jones is actually feuding with the current middleweight champion, Israel Adesanya, and the two men have been exchanging words for months now.

That said, Jones doesn't want to cut weight to middleweight because it would be nearly physically impossible for him to lose that much weight. Adesanya meanwhile, says that he wants to move up to light heavyweight and fight Jones in a year or two. So Jones will have to wait for Adesanya to come for him.

The other way is to move up in weight class. The heavyweight division is for men who weigh in at over 206 pounds and under 265 pounds. As Bloody Elbow reported, Jon Jones has expressed interest in moving up to heavyweight. It isn't the first time he's expressed interest either, as he's said multiple times in the past that he wants to fight heavyweights eventually.

Why moving to heavyweight is a bad idea for Jones
Jones has talked about moving up to heavyweight for years now, but he's never actually done it. That is probably for the best, as there are a couple of reasons why a move to heavyweight will be bad for Jones. For example, Bloody Elbow found that most fighters who change weight classes don't exactly find a lot of success.

Jones may be an exception to that, but it's not very likely. He is a tall man, but he's always been pretty skinny. His nickname has been "Bones" for a reason. In comparison, the elite heavyweights are all as tall as he is, but far more muscular. Men like Francis Ngannou, or the current champion, Stipe Miocic, will have a considerable weight advantage over Jones.
Additionally, one of the reasons why Jon Jones has been successful is because of his long arms. At heavyweight, however, he'll face men with arms as long as his, but with bigger muscles on them. The result of Jones fighting at heavyweight, as many fans predict, will probably be Jones getting knocked out by a heavyweight.