Should Kyler Murray Win NFL Rookie of the Year Instead of Josh Jacobs?
Who will be this year's NFL Rookie of the Year? There is a lot of buzz surrounding Arizona Cardinals rookie quarterback Kyler Murray, but he's not a shoo-in for this year's title. Oakland Raiders running back Josh Jacobs is also having a solid season, and his odds of claiming the title seem strong too. But should Kyler Murray win NFL Rookie of the Year over Josh Jacobs?
Kyler Murray's rookie season
The No. 1 pick in the 2019 NFL Draft, Murray was expected to elevate an Arizona Cardinals team that had only won three games the year before. To say that expectations for Murray were high would be an understatement.

Even with the Cardinals less-than-spectacular 3-7-1 record going into Week 13, Murray's career is off to a very promising start. The young Cardinal quarterback has a pass completion percentage of 64.6% for 2,703 yards. He's thrown for 14 touchdowns and five picks, which give him a passer rating of 91.2. Murray has thrown 10 touchdown passes and just one pick over his last seven games. He's carried the ball 67 times for 418 yards and three touchdowns this year while only fumbling the ball once.

Since the award began in 1967, the Cardinals have had two Offensive Rookie of the Year winners. Running back Ottis Anderson won in 1979. Wideout Anquan Boldin won in 2003, a year when the team finished 4-12.
According to the official Arizona Cardinals' website, Murray smiles when asked about potentially receiving the Rookie award. He explains that awards like that normally coincide with winning seasons.

Those victories he expected haven't happened yet. He said it would be a great accomplishment if he won the award. While he says a lot of great players have won it in the past, he wants to be one of the greatest ever to play football. Murray says for him, it's "bigger than rookie of the year."
Josh Jacobs makes his case for Rookie of the Year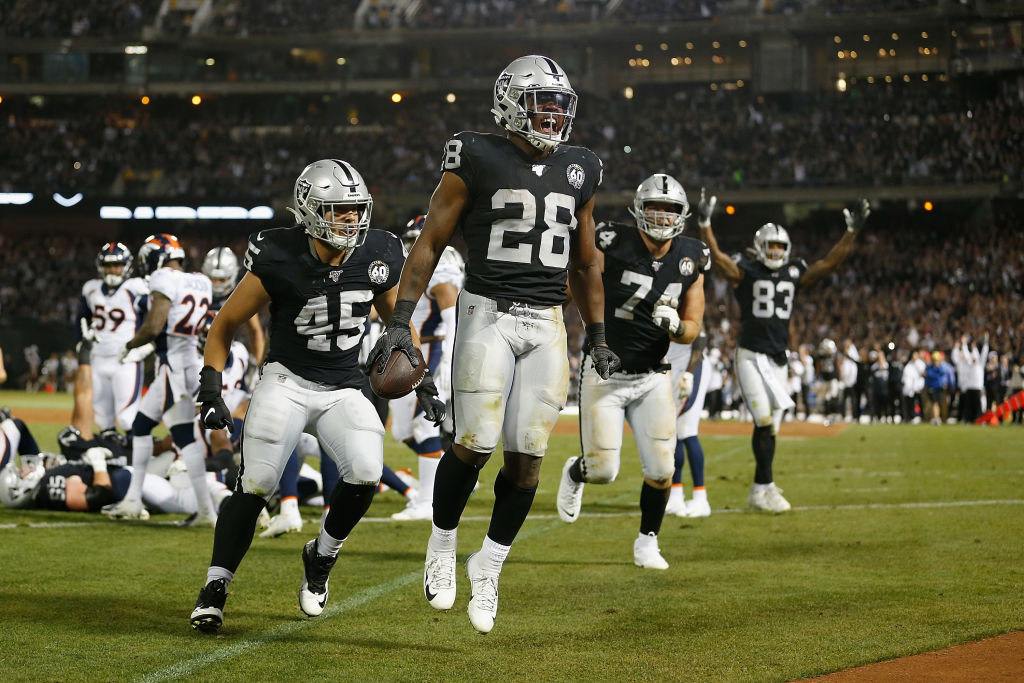 While many consider Murray to be the favorite for the award, he has stiff competition. Oakland Raiders running back Josh Jacobs is averaging the fifth-most rushing yards per game this season at 88.6. Thanks to his efforts, that's a huge turnaround from 2018 when the Raiders' ground game averaged the eighth-fewest rushing yards each game.

Kevin Patra of NFL.com thinks Josh Jacobs will win the Rookie award. He explains that the Raiders have relied on Jacobs as they have no other rookie. Jacob is an important player in Jon Gruden's offense.

Jacobs has 957 rushing yards, which put him in the top-10 in the NFL this year. With a good eye for finding a hole, Jacobs has an impressive one-cut ability and the skill set he needs to leave his defenders in the dust. He has agility and power that's rarely seen in NFL rookies and can catch passes too.
Could Murray take the title?
Murray has won awards. He won the Heisman Trophy in Oklahoma last year, and the award meant a lot to him. The award brought him a measure of validation.

Murray admitted to not having a great freshman year at Texas A&M even though he and everyone around him, he says, knew what he was capable of. Before last season began, he said he set goals for himself. He wanted to make the playoffs, win it all, and capture the Heisman.

It was that personality and confidence that Murray has brought to the NFL, and it's served him well. Murray was ready for the NFL from the very beginning. In a single season, the change in the Cardinals' offense is substantial, ranking in the top 10 in advance metrics. That's something for the lowest-rated team in 2018.

Tackle D.J. Humphries said you just have to look at the numbers he's putting up and his performance level. Humphries explains Murray is positioning them to win. "It's hard to argue [against giving him the Rookie award]," Humphries said.