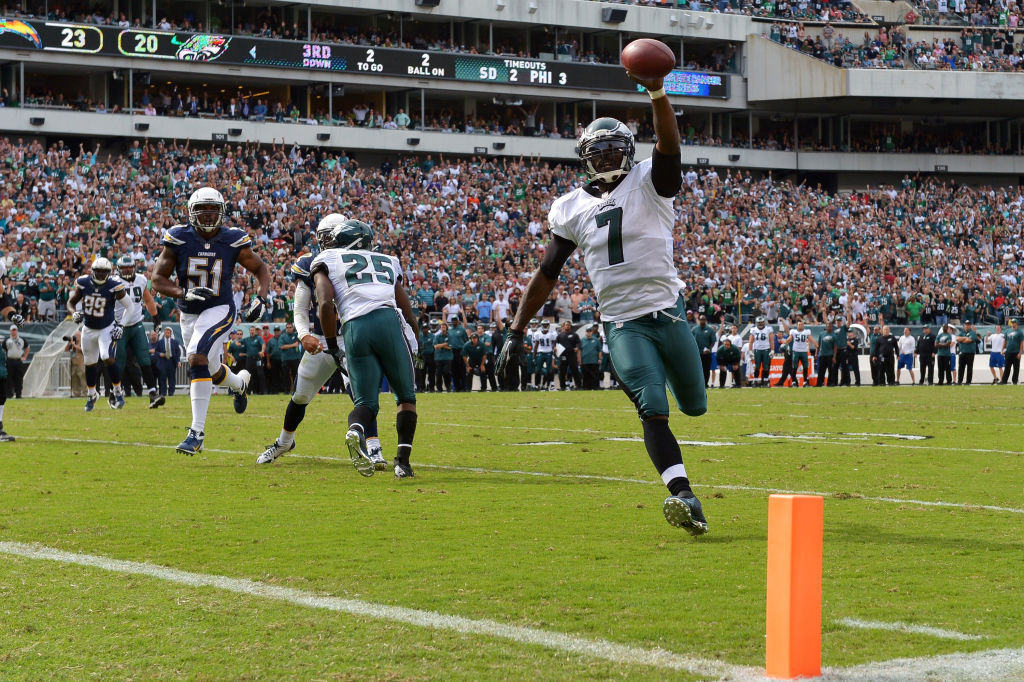 Should Michael Vick Earn Hall of Fame Consideration?
Michael Vick is one of the most influental players in modern NFL history. Will that help his Hall of Fame case next year?
Michael Vick defined the NFL for a generation of fans. The Atlanta Falcons didn't have the mainstream draw that the Indianapolis Colts or New England Patriots had in the mid-2000s, but they nonetheless became must-see TV with Vick at quarterback. The former Virginia Tech star possessed an excellent arm and dominated opposing defenses on the ground. Although Vick's peak was cut short because of a 2007 conviction for dogfighting, his days with the Falcons and Philadelphia Eagles live on years later.
Because Michael Vick last played in 2015, Vick is eligible for the Hall of Fame next season. What does Vick's resume look like and will he earn serious Hall of Fame consideration? Let's take a look.
Michael Vick's influence goes beyond the field
Put kindly, Michael Vick's overall numbers aren't impressive, especially for a No. 1 overall pick. He went 61-51-1 as a starter and completed 56.2% of his passes for 133 touchdowns and 88 interceptions. Vick is still best known for his rushing ability and explosive gains on the ground. Vick ran for 6,109 yards and 36 touchdowns on seven yards per carry and became the first NFL quarterback to run for over 1,000 yards in a season in 2006.
Those numbers alone, coupled with a 2-3 playoff record, won't get him into the Hall of Fame. But Vick's case could be helped by two things, the first being his legacy as one of the greatest rushing quarterbacks in NFL history. The second is Vick's cultural impact on the sport. Vick brought a new generation of fans to football with how dangerous he was in the Madden NFL games — Vick appeared on the cover of Madden NFL 04 and his ratings effectively broke the game – and he was genuinely fun to watch.
Vick's video game skills may not mean much for a voting committee that still hasn't elected linebacker Zach Thomas or safety John Lynch. But when the ballot's logjam ends, Vick's legacy will present an interesting conversation for Hall of Fame voters.
Vick's dogfighting conviction is still a sore spot for many football fans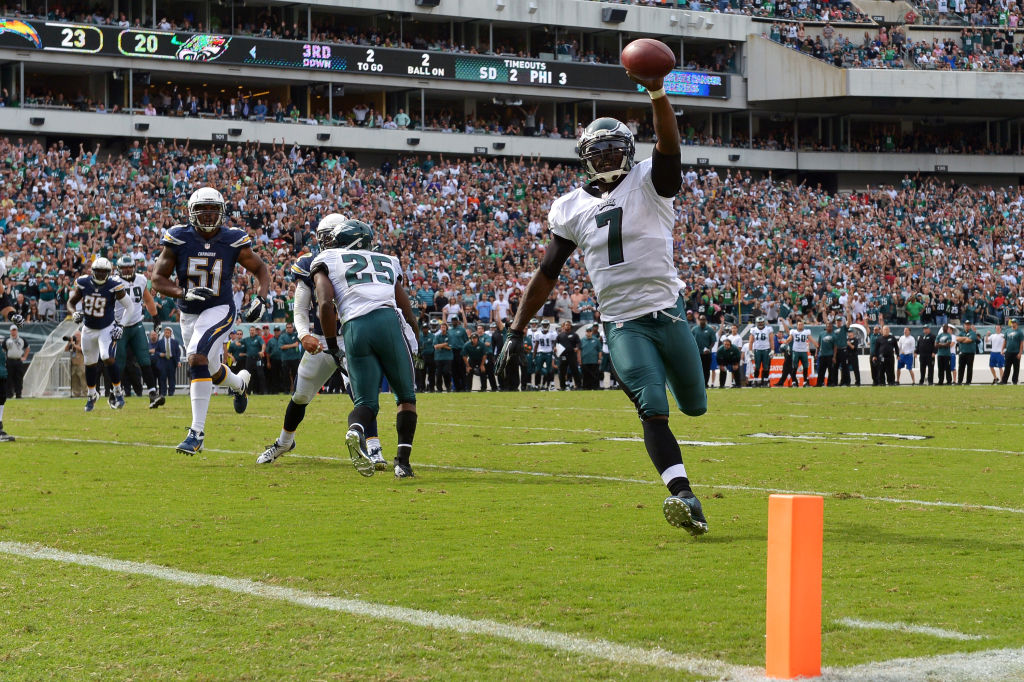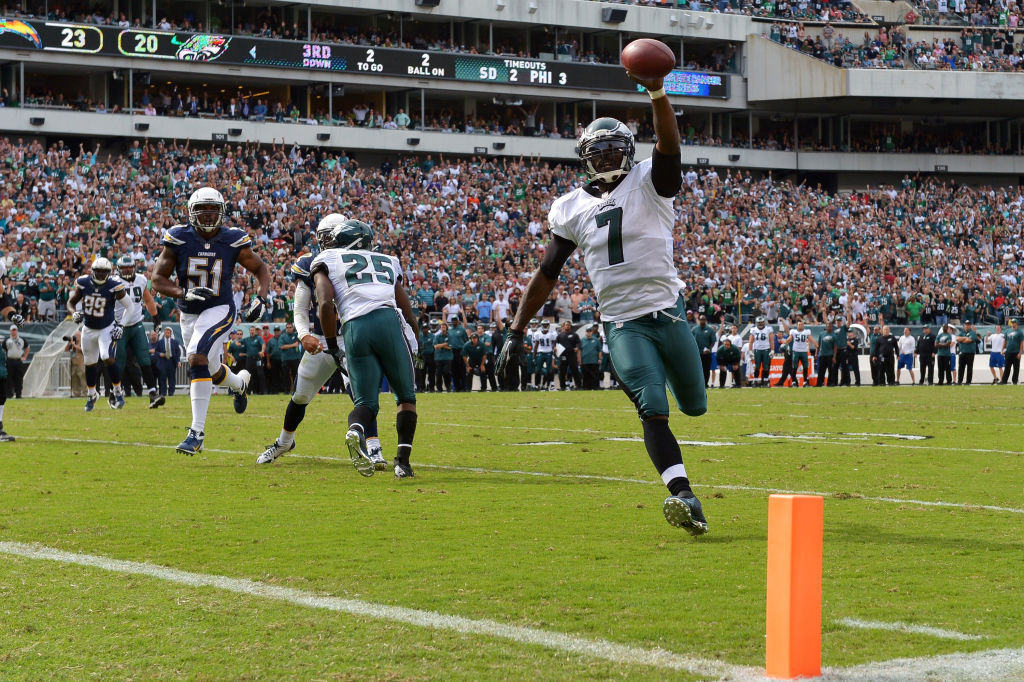 It is impossible to talk about Michael Vick's football legacy without mentioning his 2007 conviction for dogfighting. Vick was sentenced to 23 months in prison for running a "cruel and inhumane" dogfighting ring. Vick was released in the summer of 2009 for good behavior and almost immediately resumed his career with the Philadelphia Eagles.
Vick's apologies and attempts at redemption might be the straw that pushes some voters to strongly consider him more than they would have before. But is is clear football fans haven't forgotten about Vick's involvement in animal cruelty.
An online petition requesting Vick not serve as an honorary captain at the 2020 Pro Bowl earned nearly 900,000 signatures. Vick nonetheless attended the game as the honorary captain. NFL Commissioner Roger Goodell defended Vick and the progress he's made since leaving prison.
"We have supported Michael Vick in his recognition of the mistake he made. He's paid a heavy price for that. He's been accountable for it."
Michael Vick's Hall of Fame chances are limited by his stats
Michael Vick almost certainly won't be inducted into the Hall of Fame next year. Quarterback Peyton Manning is a lock to enter the Hall of Fame next year and defensive back Charles Woodson should join him. Detroit Lions legend Calvin Johnson was the league's best receiver in his prime, but only played nine seasons before retiring. That may cost him a chance at such an early induction.
Statistically, Michael Vick best compares to the likes of Alex Smith and Randall Cunningham. Smith will have his own Hall of Fame conversation when he retires, though he's unlikely to earn induction. Cunningham, like Vick, was one of the league's best rushing quarterbacks in his prime but is held back by a short peak.
If Cunningham, who threw for 307 touchdowns and ran for another 35 scores, isn't getting into the Hall of Fame, it's hard to see Vick earning a bust in Canton.