Should Peyton Manning Take a Pay Cut to Go Out on Top?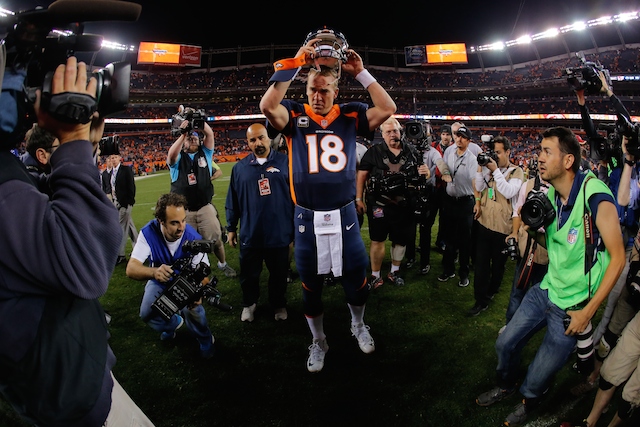 As quarterback Peyton Manning continues to mull over his decision on whether or not to return for an 18th NFL season, the Denver Broncos are in the beginning stages of re-tooling their roster to make another Super Bowl run in 2015. On Thursday, the team sent owner Pat Bowlen's private jet to New Orleans to fly Manning into Denver so the five-time NFL MVP could have face to face meetings with general manager John Elway and CEO Joe Ellis. The meetings reportedly went well and erased any doubt that the team wasn't fully sure that they wanted their record-breaking quarterback back for a fourth season in Denver, but there still has yet to be any official announcement on Manning's intentions.
New head coach Gary Kubiak and new offensive coordinator Rick Dennison have maintained that they will give Manning all the time he needs to make a decision. However, with the NFL Scouting Combine less than a week away, the Broncos will need to kick the tires on potential quarterback prospects if they are truly unsure that Manning will be under center in 2015. With that being said, if they feel confident that Manning will return for another season, they can shift their focus to adding the players they need to make a Super Bowl run in 2015, which is something that would be made exponentially easier if the quarterback was willing to restructure his contract and take a pay cut.
Manning is set to earn $21.5 million in 2015. The Broncos are expected to have $26.7 million in salary cap space, but that figure doesn't include probable contract extensions for wide receiver Demaryius Thomas, defensive tackle Terrence Knighton, safety Rahim Moore, left guard Orlando Franklin, and tight end Julius Thomas. If the team opts to re-sign all of them, their new contracts will eat up most of the team's salary cap space before the offseason really gets going.
With Demaryius Thomas being the only free agent who is a near lock to return to Denver in 2015, the Broncos will need as much salary cap room as they can possibly find. Julius Thomas will likely be playing for another team in 2015, so the need for an every-down tight end, such as impending Baltimore Ravens free agent Owen Daniels, will become one of the team's highest priorities. Knighton is another player the Broncos want back, but it will have to be for the right price.
The number one factor that should encourage Manning to consider a pay cut is the fact that the offensive line that would be protecting him needs to improve at multiple positions. Left guard Orlando Franklin is an excellent run blocker, but will likely be overpaid by another team on the free agent market. That means the team will be looking for a new right tackle, a new center, and a new left guard; a task that would be virtually impossible with limited salary cap flexibility.
If Manning's return is based solely on his desire to win another Super Bowl ring before he retires, his best option would be to take a pay cut and free up valuable salary cap space. If Manning was willing to restructure his deal to free up an extra $8-10 million in cap space, the team could conceivably make a run at players such as defensive tackle Ndamukong Suh, offensive tackle Bryan Bulaga, offensive guard Mike Iupati, free safety Devin McCourty, and linebackers David Harris and Rey Maualuga. While they wouldn't be able to land all of them, they could certainly have a chance at two or three of them. Couple that with their upcoming 2015 Draft class, and the Broncos would be in excellent shape to compete for the Super Bowl 50 title, and let's be honest, does a guy who has already earned nearly $230 million during his career need to be among the highest-paid players in the league in 2015? Probably not.