Should Philip Rivers Retire Sooner Rather Than Later?
Philip Rivers is in the final year of a four-year, $83.3 million contract with the Los Angeles Chargers this season. He has spoken in the past about his plans after retirement, to stay around the game that he loves in some other capacity, such as coaching a high school football team. But when will that day come?
Rivers and the Chargers enter their Thursday night matchup against the Oakland Raiders with a 4-5 record on the season. Even if they are able to manage to climb out of 11th place in the AFC and into a playoff spot this season, this year's team doesn't seem to be built for a legitimate run. Rivers will turn 39 years old in December, and he's got some interesting decisions about his future coming up this offseason.
Physically, Philip Rivers is still clearly capable
Philip Rivers leads the NFL in passing yards this season with 2,609 yards through his first nine games of the season. If he keeps this pace over the team's last seven games, Rivers is projected to finish the season with 4,638 passing yards; a total that he has eclipsed only twice before in his 13 years as the Chargers' starting quarterback.
The 38-year-old has a completion percentage of 67% that would also be the third-best mark of his long career. The only real blemish on Philip Rivers' resume this season is his touchdown total, which is at 12 and on pace for only 21. But some of the blame for that falls on offensive coordinator Ken Whisenhunt's play-calling through the first half of the season.
Whisenhunt was fired after Los Angeles's 17-16 win over the Chicago Bears in Week 8. The Chargers offense responded well to the change with a 26-11 win over the Green Bay Packers the following week. Rivers didn't have any touchdown passes in the game, but he did complete 75% of his throws for 294 yards in the victory.
Rivers doesn't want to play into his mid-40's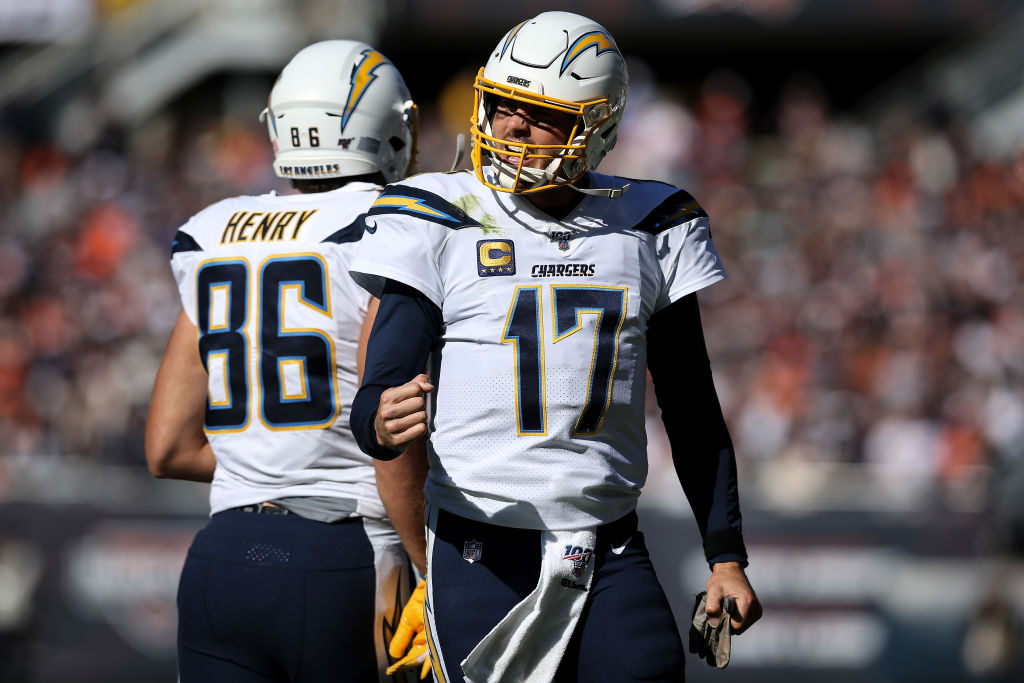 Before he entered the 2018 season, Philip Rivers talked about what his future held in store for him with SI.com's Albert Breer. In addition to expressing his desire to be a high school football coach shortly after his retirement, Rivers was also quick to point out that he wasn't trying to play deep into his 40s like some of his colleagues.
"I'm super excited about a handful more years," Rivers said in the interview. "I don't have a number in my head. I laugh when I hear Drew [Brees], [Tom] Brady's already 41, when I hear them say mid-40s, I go, 'Y'all can have that. I have no desire to get there.'"
The veteran quarterback should be in no rush to retire
Philip Rivers has dealt with his share of injuries over the years, but none have kept him out of action to date. Since taking over as the team's starter in 2006, Rivers has made 217 consecutive regular-season starts; the second-longest streak ever behind only Brett Favre's 297 games.
Considering that he has managed to stay healthy, that the league is doing a better job than ever at protecting quarterbacks, and that he's still playing at an elite level, there is no reason for Rivers to retire just yet. He seems to have a healthy attitude about the game, playing while he's excited to while not setting any goals in stone that might keep him playing past the point that he wants to.
The Los Angeles Chargers will be happy to work with Rivers on short-term contracts, leaving the quarterback freedom to retire whenever he feels that the time is right. But with no clear decline in sight at the moment, Philip Rivers should stick around to keep earning money and chasing that elusive Super Bowl title for a few more years.