Should Sammy Sosa Be in the Baseball Hall of Fame?
Things are not looking good for retired Chicago Cubs superstar Sammy Sosa for making it into the MLB Hall of Fame. 2020 marks Sosa's 8th year on the ballot, and after receiving only 13.9% of the vote, he's close to running out of time to make it through the front door of the Baseball Hall of Fame.
A player can stay on the ballot for 10 years, giving Sosa two more shots at gaining the 75% of voters' approval before he gets relegated to possible inclusion down the road by the veteran's committee. It may be puzzling why a player with over 600 career home runs is having difficulty obtaining the ultimate baseball honor, but it may also be easy to see why Sosa will never get elected by the Baseball Writers Association of America.
After a slow start, Sammy Sosa's career goes boom
Sammy Sosa grew up in the Dominican Republic in rather dire circumstances. His father died when he was seven, and Sosa took to odd jobs such as washing cars and selling oranges to support his family. Sosa's older brother encouraged Sammy to refine his raw baseball skills, and in 1983 Sosa signed with the Phillies — a contract later voided because Sosa was underage.
At age 16, Sammy Sosa signed with the Texas Rangers for a signing bonus of $3,500, most of which he gave to his mother. The Rangers brought Sosa to the majors when he was 20, but he played only 25 games for the AL West team before being traded to the Chicago White Sox. His tenure with the White Sox was marked with steady improvement, but the Southsiders felt it was time for him to move on. Before the 1992 season, the White Sox traded Sosa to the Chicago Cubs. Sosa's breakout year was 1993 when he hit 33 home runs and stole 36 bases, becoming the Cubs' first 30-30 hitter in franchise history.
Sammy Sosa becomes a Cubs superstar
From 1995 through 2004, Sosa never hit less than 35 home runs a season for the Cubs. From 1998-2001, Sosa hit 66, 63, 50, and 64 homes in successive years, twice leading the National League in round-trippers. In 1998 and 2001, he also led the NL in RBIs with 158 and 160, respectively. During this hot streak, the Dominican native was among the league leaders in walks, intentional walks, total bases, and strikeouts.
Sammy Sosa was a seven-time all-star and won the MVP in 1998. He finished in the top 10 in MVP voting seven times and was awarded a Silver Slugger six times. After 13 years on the Cubs, he was traded to the Baltimore Orioles, where he played one season, after which he became a free agent. After taking one season off, Sosa ended his career where it started — with the Texas Rangers. Ending on a high note, Sosa hit 21 home runs with 92 RBIs for Texas.
For Sosa, a black cloud stands between him and Cooperstown
While many observers argue that Sosa's lack of support for induction into the Hall of Fame is due to him being a one-dimensional player, there's little evidence to back up that claim. Sosa averaged 16 stolen bases per year, with five seasons of 20 or more steals. In OPS rating, Sosa is 105th all-time, in such current company as Josh Donaldson and Christian Yelich. While Sosa has no Gold Gloves to his credit, he was a versatile outfielder playing all three positions.
The black mark against Sammy Sosa is his rumored use of PEDs, which would have boosted his power numbers at the height of his home run prowess. In 2003, the New York Times ran a report that Sosa, along with 104 other MLB players, failed a drug test. At that time, MLB did not have penalties for first-time violators of its drug policy.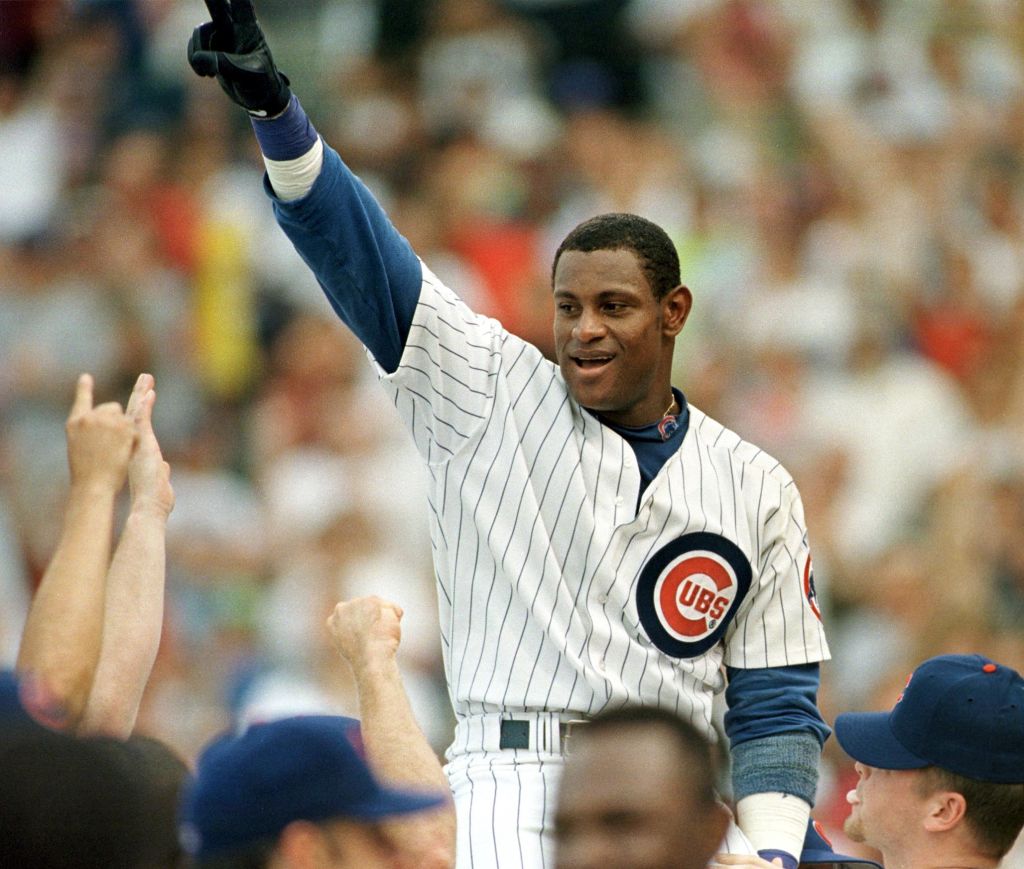 As reported by ESPN, Sosa testified in front of a House committee, claiming he never broke the laws of the U.S. or the Dominican Republic: "I have never injected myself or had anyone inject me with anything," he told the House Committee on Oversight and Government Reform on March 17, 2005. "I have not broken the laws of the United States or the laws of the Dominican Republic. I have been tested as recently as 2004, and I am clean."
None of the players implicated in the PED scandal have been elected into the Hall of Fame, although Roger Clemens (61%) and Barry Bonds (60.7%) have two more years to get the necessary 75% tally for entry into Cooperstown.