Should the Dallas Cowboys Seriously Consider Moving on From Ezekiel Elliott?
The Dallas Cowboys are experiencing one of the worst seasons in franchise history. Through 11 games, they hold a dismal 3-8 record, with virtually no postseason hopes. Pundits are eager to assign blame, pointing fingers at everyone from owner Jerry Jones to coach Mike McCarthy. A significant number of commentators have also highlighted Ezekiel Elliott's poor year.
Some analysts have even suggested that it's time for the Cowboys to move on from their star running back. Let's look at Elliott's NFL career, his poor performance this year, and whether Dallas needs to consider letting him go.
Ezekiel Elliott's NFL career so far
Dallas selected Elliott with the fourth overall pick of the 2016 NFL Draft. At the time, he was considered among the best running back prospects of the last decade. Not only was he fast and strong, but he also had a preternatural gift for pulling down passes — and blocking opponents. Those high expectations proved totally justified during Elliott's rookie year.
That season, he made 322 rushing attempts for 1,631 total yards (best in the NFL), with 15 touchdowns and 95 first downs. He compiled a whopping 108.7 rushing yards per game, while also catching 32 passes for 363 passing yards. His dominant season earned Elliott both Pro Bowl and First-team All-Pro selections.
Elliott's second season was marred by a six-game personal conduct violation. He bounced back in years three and four, racking up 1,434 and 1,457 rushing yards, respectively. The 2018 season also saw Elliott catch a career-high 77 passes, for 567 yards and an 81.1% catch percentage. Elliott earned his second and third Pro Bowl selections in those years, while once again leading the NFL in rushing yards in 2018.
Elliott's lackluster performance in 2020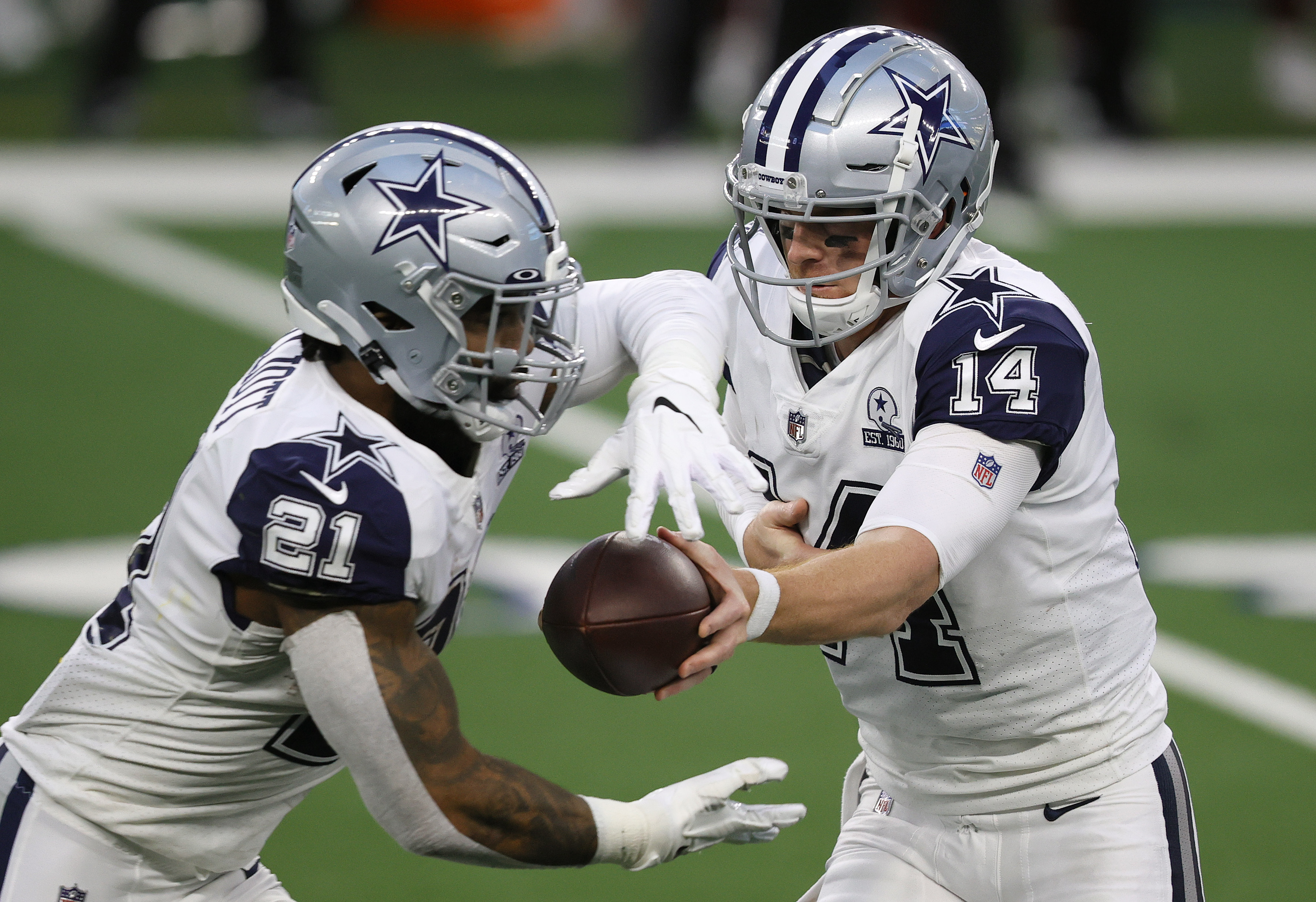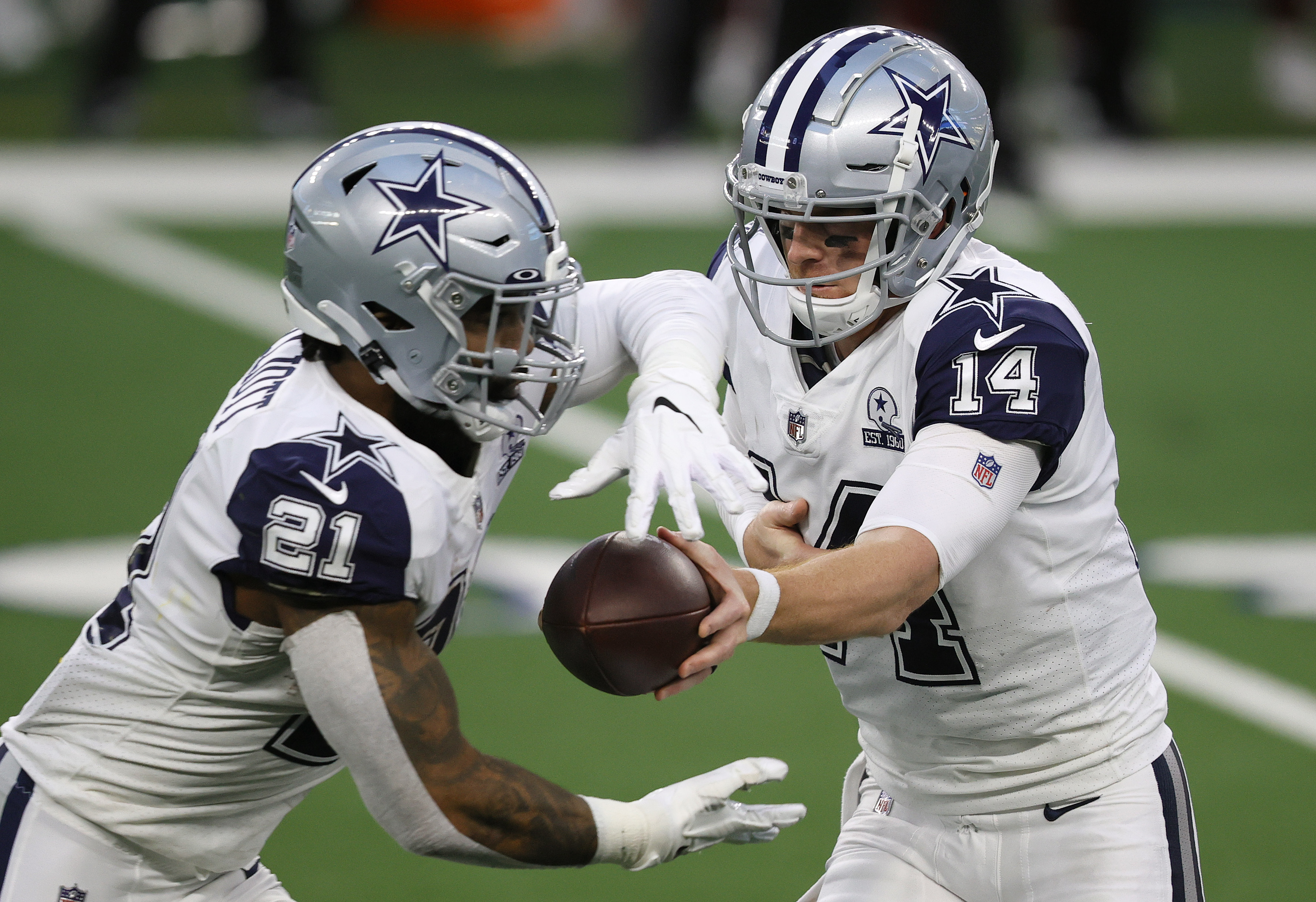 Elliott's numbers this season have gone down significantly from his prior years. Through 11 games he has totaled just 707 rushing yards. He's rushing for just 64.3 yards per game, down over 20 yards from his performance just last season. Meanwhile, he's making just two less rushing attempts per game — not enough to account for such a big drop-off in performance.
Elliott's yards per touch stat is also at a career-low at just 4.4 yards per touch, meaning he's not making up for his lost rushing efficiency when it comes to receiving. That fact is borne out by Elliott's 72.2% catch percentage, which is down significantly from his numbers in both 2018 and 2019. Meanwhile, Elliott has already fumbled the ball six times, which matches his career-worst total.
Should the Cowboys move on from Ezekiel Elliott?
Elliott's declining performance becomes more concerning when you consider that he signed a six-year contract extension in September 2019. That deal means Elliott will remain under contract with the Cowboys all the way through the 2026 season. By that point, he'll also be earning a staggering $16.6 million, details Spotrac. This is why Cowboys fans are so nervous about his apparent dropoff in play.
The question then becomes: How real is Elliott's decline? On the one hand, the numbers make it clear that Elliott is no longer capable of putting up the eye-popping numbers he did early in his career. Numbers aside, Elliott is also failing even the simple eye-test, with fans and commentators alike pointing out how sluggish he looks on the field.
Yet there are also a lot of mitigating circumstances at play. For one thing, Elliott is playing in the absence of star quarterback Dak Prescott, who suffered a season-ending injury in Week 5. The Cowboys offensive line has also suffered a debilitating rash of injuries, meaning Elliott has had a harder time than usual finding space to run.
Finally, coach Mike McCarthy is not known for emphasizing the running game, and indeed Elliott's rushing attempts per game are at a career-low. Most analysts believe that, even if his contract is a burden, Elliott still has the skills to be impactful on the field. But if Dallas can't commit to implementing him in the right way, perhaps they do need to start thinking about finding a trade partner for Elliott.