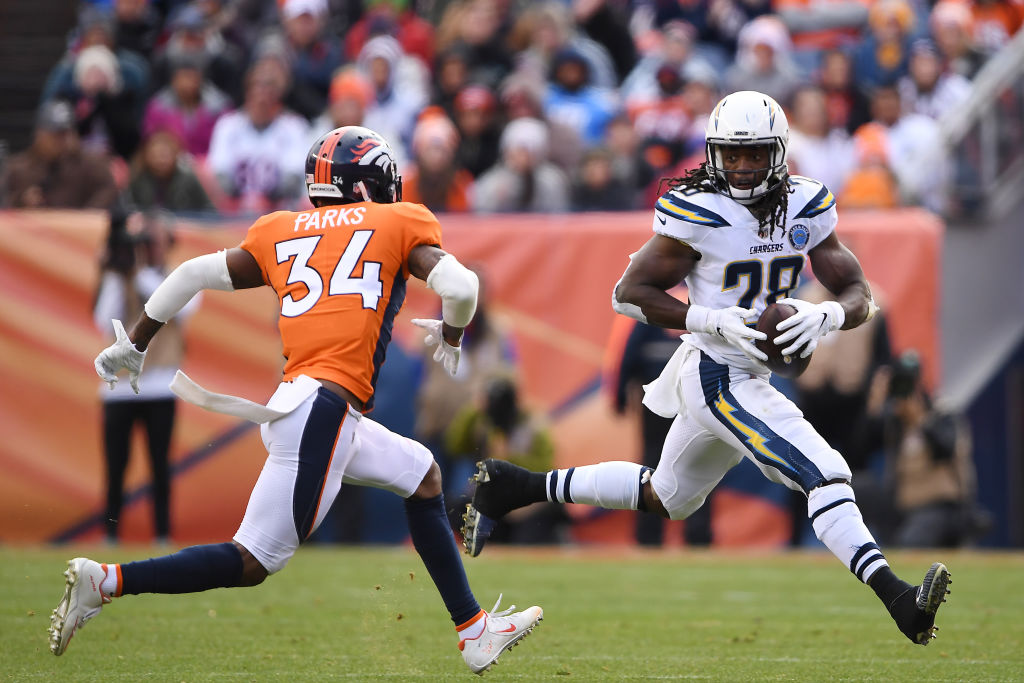 Should the LA Chargers Give in to Melvin Gordon's Contract Demands?
Melvin Gordon has demanded that the Los Angeles Chargers either sign him to a big extension or trade him. What should the Chargers do?
Melvin Gordon is coming off of a career year for the Los Angeles Chargers in 2018. Since having a disappointing rookie season back in 2015, Gordon has developed into a productive tailback and a key cog in the Chargers offense over the last three years. He is due to make $5.6 million this season in the final year of his rookie deal.
In Gordon's eyes, this isn't enough. Through his agent Fletcher Smith, Gordon announced his decision to hold out for a new contract this season. The 26-year-old wants to be given an extension that pays him a salary in the same neighborhood as the top running backs in the NFL are receiving. If he isn't going to receive such a contract from the Chargers, he has demanded to be traded, or he will sit out the entire year.
So what should Los Angeles do? Let's take a look at the cases for the Chargers giving in to his demands or cutting ties with their star back.
The case for paying him
Melvin Gordon had his best season to date in 2018. Despite missing four games with injury issues, Gordon still managed to accumulate 885 rushing yards on 175 rushing attempts (good for 5.1 yards per carry) with 10 rushing touchdowns. He also caught 50 passes for 490 yards and four touchdowns. The 114.6 yards per game that he averaged from scrimmage last season ranked fifth best in the league.
Thanks in part to Gordon's efforts, the Chargers are coming off of an impressive 12-4 campaign last season and are hoping to build on that momentum to make a run at their first Super Bowl win in franchise history. Losing Gordon would severely hamper this year's Super Bowl prospects.
Franchise quarterback Philip Rivers isn't getting any younger. Rivers had a great season last year passing for 4,308 yards and 32 touchdowns with only 12 interceptions and one fumble. He will turn 38 this upcoming season, and historically most quarterbacks (those not named Tom Brady) see a sharp decline in production when they hit 40.
There really isn't any way to spin giving a massive contract to Melvin Gordon as a good idea in the long term. But in the short term? It would be far better to have him on the field than on the sideline or on another roster. If the Chargers genuinely feel that they are the team to beat in 2019, sacrificing the future for a better shot at the championship this season or next season could make sense.
The case for letting him go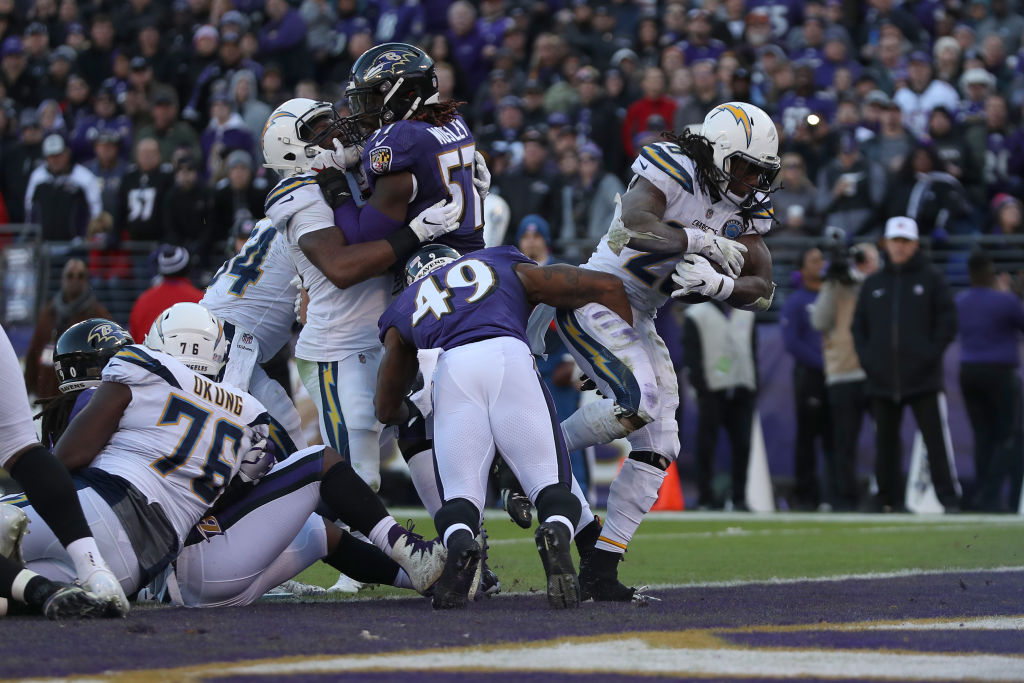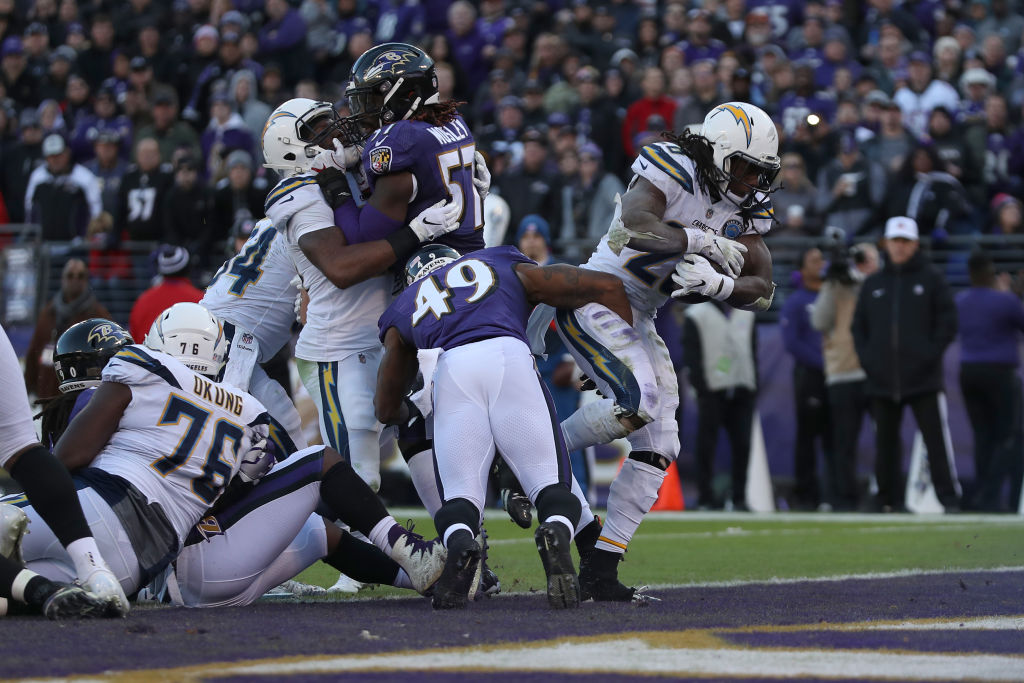 Last season, Melvin Gordon missed four games due to multiple injuries including a hamstring sprain and a knee MCL sprain. Gordon missed the final two games of his rookie season with a knee tear in 2015 and the final three games of 2016 with a knee PCL sprain.
Even without factoring in his injury history, Gordon had never averaged more than 3.9 yards per carry (or ranked higher than 18th in this category) before 2018. If the Chargers knew for sure that they'd be getting a healthy Melvin Gordon playing at last year's level for the next five years, they'd happily sign him to a market value extension. But they can't know this; and in reality, it's far more likely not to be the case.
Los Angeles can afford Gordon now, but the finances get complicated quickly after this season. Philip Rivers and his center Mike Pouncey are due for new contracts at the end of this season, and a handful of key players including Keenan Allen, Joey Bosa, Melvin Ingram, and Russell Okung are set to become free agents at the end of 2020. Tying up Gordon now would likely mean losing at least two of these players and would leave little room for future improvements.
Lastly, the Chargers have a pair of capable backups on their roster now in Austin Ekeler and Justin Jackson. Ekeler rushed for 554 yards on 106 carries last season (averaging 5.2 yards per game) and caught 39 passes for 404 yards and three touchdowns. As James Conner filled in admirably for Le'Veon Bell last season, perhaps Ekeler and Jackson could do the same this year.
The verdict
The Chargers shouldn't meet Melvin Gordon's demands.
Running back is one of the most brutal and physical positions in the league, and Gordon isn't wrong to want a payday before the short window of his prime comes to a close. With that said, he is clearly overestimating the market; even Le'Veon Bell, an elite back that is arguably the best in the league, had only a couple of teams interested in his services at the price tag he desired.
It may not be fair to running backs, but the prudent thing for most franchises to do is to invest their big money in other places, such as quarterback and defense. Los Angeles should avoid panicking and do the same, looking to trade Gordon as soon as possible if he is unwilling to come back to the table to negotiate a more reasonable deal.