Should the Mets Trade Pitcher Noah Syndergaard?
The Mets appear to be a train with no direction. After making the World Series in 2015, they've failed to return to glory, and they appear headed toward their third straight year looking at the playoffs from the outside in. Because of this, some may argue that it is time for the Mets to clean house and look toward the future, and what better way to attract some big-time prospects than to let go of ace pitcher Noah Syndergaard?

Debate rages on over whether or not it's time to trade Syndergaard, but it is a possibility which should not be ignored. The trade deadline is looming, and teams are going to have to start making some tough decisions. Syndergaard has provided many good years from the Mets, but if their best move is to move on, it could be a shorter relationship than previously believed.

Noah Syndergaard's 2019 season
Syndergaard is not having one of his greatest seasons, but it is not a bad year, either. He has pitched to a 7-4 record, although a telling stat about the sort of help he's getting from his field and bats may be the fact that he has already pitched seven no-decisions halfway through the season. His 4.50 ERA could be a concern, but he still appears to be getting things done, and in a new park, his woes may soon be appeased.
On top of this, the pitcher has shown a feisty streak with the team he currently plays for, slamming the team's travel arrangements before the season even started. Although not unreasonable, it must also be noted that Syndergaard's early-season request to have Tomas Nido be his catcher could be seen as a knock on the other options, but it also was the right call.

Where to go?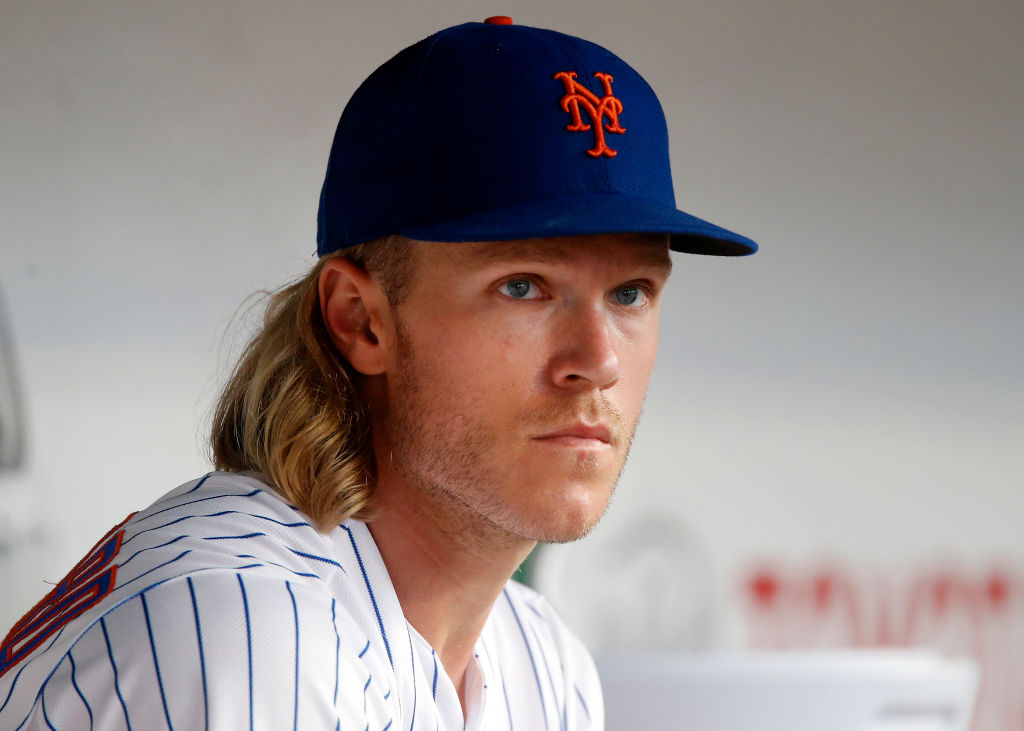 Fringe teams and top-tier who need to strengthen their starting pitchers may be willing to part with prospects to get some help this season. Noah Syndergaard would prove to be a great addition to any staff that needs some strengthening. He is still only 26 years old, has only had one significant injury in his career, and could still have his best years ahead of him.

Will Thor's hammer soon be in another hand? These teams could have interest.

San Diego Padres
The Padres have a farm system that is rich with pitchers, and if they need experience, they could theoretically do so without risking their future. Their depth in the farm leagues means that they could be front runners for any big names who might be on the trading block, and they have reportedly been seeking a veteran arm since last season.

Houston Astros
With Gerrit Cole possibly exiting during the coming offseason, the Astros could be looking for possible insurance with Noah Syndergaard. He is on a cheap deal, and it would not be a massive financial risk, and if he worked out, it could work in their favor to get him while he is still going for cheap. With Justin Verlander being the only long-term deal of the current core, the Astros can be expected to pursue Syndergaard.

San Francisco Giants
After struggling during the first half of the season, the Giants have recently begun to turn things around. Could this mean that they swing for the fences at the trade deadline and try to strengthen their hobbled and inconsistent pitching? Syndergaard would add some insurance from the pitcher's mound on nights when the bats aren't working for the Giants, and he would also add a potential long-term star if the team does, in fact, part ways with Madison Bumgarner in the near future.