Should the Pelicans Worry About Anthony Davis?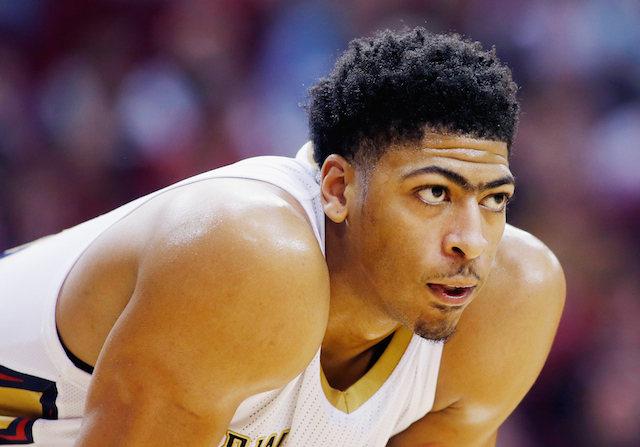 Earlier this week basketball fans learned that New Orleans Pelicans' star forward Anthony Davis has a season-ending knee injury that will keep him off the court for the next three to four months. It was also revealed that he has dealt with a torn labrum in his left shoulder that won't require surgery.
On Sunday, Davis disclosed that he has played through the injury since his rookie campaign. According to NBA.com, this injury hasn't prevented the 23-year-old from performing at a high level through the first four seasons of his career, as noted by Dr. Neal ElAttrache in the medical report:
Anthony initially sustained a posterior labral tear of his left shoulder ?three years ago. He reports only mild soreness in his shoulder which occurs very infrequently after games. Anthony has not missed any playing time due to his shoulder. He denies recurrent instability, feels that his shoulder is strong, he has no apprehension and feels that he is able to perform at 100% of his capacity regarding his shoulder.

We would recommend surgery for recurrent instability or pain that limits training, performance or playing time. Currently, Anthony is doing a good job of maintaining his shoulder without surgery and it is safe to play in his current condition. We would recommend a conservative approach for players like this. If he develops problems which affect his performance, we would repair his labrum at that point.
Although the injury won't require surgery, it's a huge revelation and testament to The Brow's mental fortitude and ability to play at an elite level despite such a serious ailment. Davis hasn't let it hinder his quick development as one of the game's best all-around players.
He is a game-changer on both ends of the floor, averaging at least 20 points, 10 rebounds, 2.0 blocks, and 1.3 steals in each of the last three seasons while receiving three straight All-Star Game nods, an All-NBA First Team selection (2015), and an NBA All-Defensive Second Team nod (2015).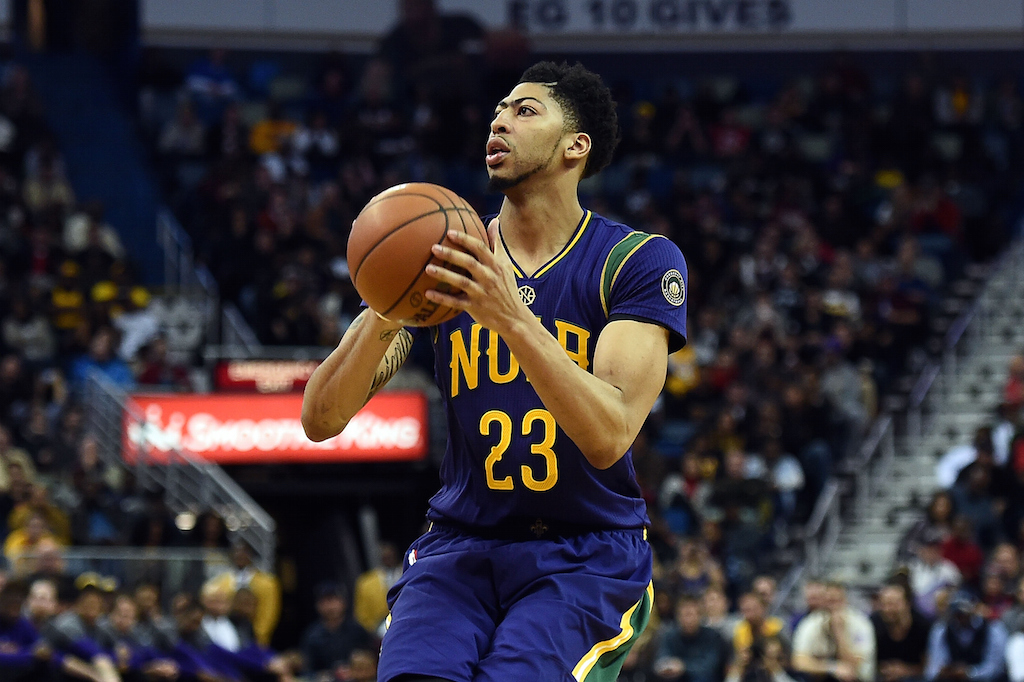 Prior to shutting it down this season, Davis put together another highly productive campaign, which saw him become the first NBA player this season to record at least 1,000 points, 500 rebounds, and 100 blocks. Davis was the only player in the league to be inside the top 10 for points per game (seventh), rebounds (ninth), and blocks (third). He was also the only player in the NBA to average at least 20 points, 10 rebounds and two blocks per game.
Davis's fourth season was highlighted with the best game of his young career as he scored a career-high 59 points along with grabbing 20 rebounds against the Detroit Pistons on February 21. He became just the third player in NBA history to record at least 55 points and 20 rebounds in a game, joining Wilt Chamberlain (four times) and Shaquille O'Neal (once).
No. 23 is only the fourth player in the last 40 years to record 50 points and 20 rebounds in a game, joining Moses Malone (1982), O'Neal, and Chris Webber (2001). Davis is the second youngest player in NBA history to record at least 50 points and 20 rebounds in a game (The youngest is Bob McAdoo at 22 years and 160 days old).
Davis has been nothing short of phenomenal through his first four years, but injuries have forced him to miss at least 14 games in each campaign. According to NBA.com, Dr. Neal ElAttrache furthered explained:
Alternatively, Anthony is however, experiencing pain in his left knee secondary to patellar tendinopathy and a stress reaction of his knee cap which is limiting his ability to play. This has become very symptomatic over the 2nd half of the season. He is unable to play through this pain any longer … Anthony will immediately start a rehab and training program for both his shoulder and knee with the expectation that he will be ready for the start of the 2016 NBA regular season.
It causes some to wonder whether or not he will be riddled with injuries throughout his career. However, the fact that Davis has played 60-plus games in each campaign should show that he has a high pain tolerance. It will keep him on the court in a similar fashion to Kobe Bryant, who has a strong reputation built on his ridiculously high level of mental toughness.
There's certainly a lot riding on Davis's shoulders regarding not only his personal health but the team's dependency since signing him to a monster five-year, $145 million contract extension last summer. Davis is a top talent who, prior to Stephen Curry's meteoric rise, many tabbed to be the next face of the league and a sure-fire Hall of Famer.
Regardless, he can make an everlasting impact on the game if he's able to stay healthy throughout the rest of his career. Yes, the news of his physical issues is disheartening, showing that he is more injury-prone than many thought. His extended offseason could be a blessing in disguise as it will allow him to get his body right and further hone his craft on the offensive side of the floor.
There will inevitably be doubters who are concerned about his long-term future, but taking this summer to recover physically could be what he needs to make these fears a thing of the past in what could be an illustrious NBA career.
Statistics courtesy of Basketball-Reference.com and ESPN.com.