Should the San Francisco Giants Trade Madison Bumgarner This Year?
If Thursday night's game against the New York Mets was Madison Bumgarner's last home game in a San Francisco Giants uniform, it wasn't a bad send-off for the veteran ace. Bumgarner needed only 94 pitches to complete nine innings of work against the Mets, leaving the game in a 1-1 tie after having given up only five hits and one run.
Madison Bumgarner's next scheduled start is at home against the Chicago Cubs. Will he still be on the team to make that start? Or will he have been traded away by then?
The situation
Less than a month ago, it was a foregone conclusion that Madison Bumgarner would be traded. The Giants were 12 games under .500 as recently as June 29 with a record of 35-47 and were well out of contention for a playoff spot. It made sense for San Francisco to be a seller at the deadline to collect draft picks and prospects for the future. Bumgarner is easily the team's best trade asset.
But over San Francisco's last 15 games, the Giants are 13-2, including a current stretch of six straight wins. Their recent surge has moved them to within just 2.5 games of a wild card playoff spot.
So what should the Giants do now? Keep the team intact to try to ride this hot streak to a playoff spot? Or keep their eyes on the future and trade Bumgarner and other assets away?
The case for keeping Madison Bumgarner
Madison Bumgarner doesn't want to go anywhere else. "I'm trying to win games for the Giants," he told reporters after Thursday night's win. "We're trying to make it to the postseason. We're making a push; we're coming."
Most players who have a no-trade clause in their contract choose bad teams or undesirable locations for their no-trade lists in the hopes of assuring a trade to a top contender should one occur. Bumgarner did the opposite, listing eight of the best teams in the league on his no-trade list to try to force the Giants to keep him.
Bumgarner is a World Series hero for the San Francisco Giants. He has a career 2.11 ERA and a 0.90 WHIP in 102.1 postseason innings and just a 0.25 ERA in the World Series, helping lead the Giants to three championships in 2010, 2012 and 2014.
The velocity on Bumgarner's fastball has been dipping in recent years, and he is no longer the dominant ace that he was earlier in his career. But his 3.65 ERA, 1.18 WHIP and 9.1 K/9 ratio suggest that he can still be an effective top-of-the-rotation starter moving forward. He doesn't want to leave; why not keep him and extend his contract this offseason?
The case for trading him away
For as nice as San Francisco's recent hot streak is, this Giants roster isn't talented enough to make a legitimate World Series run. Even making the playoffs will be a long shot.
The Giants went 64-98 in 2017 and 73-89 in 2018. They have the third oldest roster in the majors with an average age of 29.7. This group desperately needs a rebuild with an influx of young players and prospects.
Madison Bumgarner is easily the team's best trade asset. Teams looking for starting pitching depth for the stretch run would love to have a player with Bumgarner's proven track record in the postseason.
Sentimentality often gets in the way of making the best business decisions. San Francisco likely needs a full 3-5 year rebuild before it will be legitimately competitive again. Instead of keeping Bumgarner past his expiration date during the rough seasons to come, the Giants could acquire some assets that could be a part of the long-term solution.
The verdict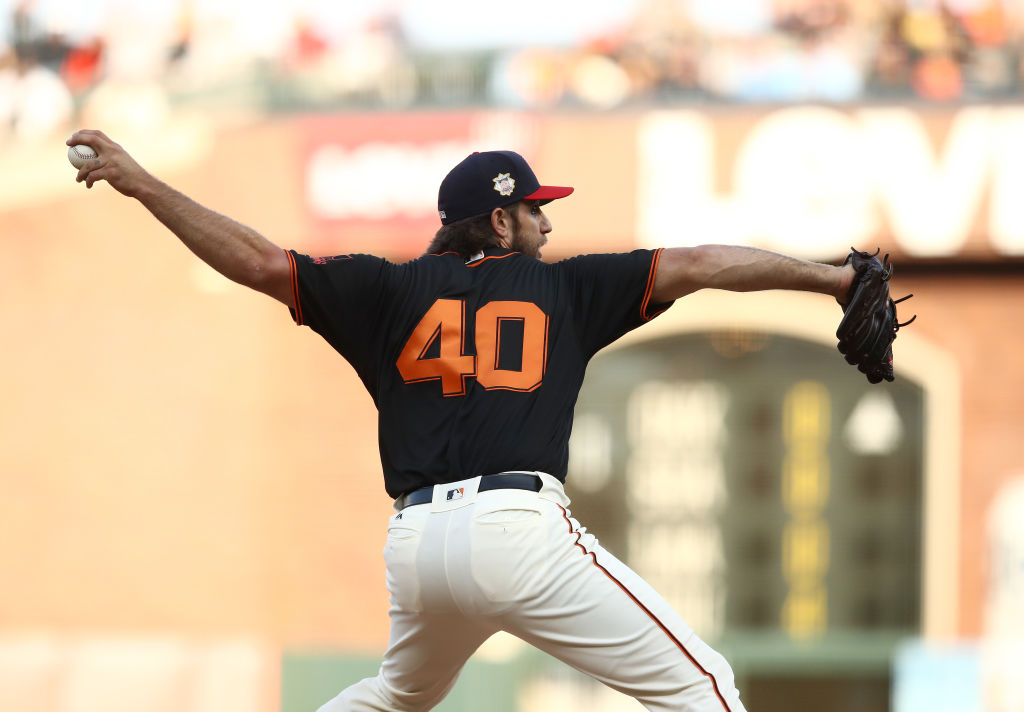 This is a tough call, but I think I'd lean towards keeping him if I were the San Francisco Giants. That is if they don't mind paying him this offseason; if they plan to cut costs, they should get something for him now instead of letting him walk away for nothing.
If another team comes in with a fantastic offer before the July 31 deadline, the Giants should happily take it. But given the market limitations caused by Bumgarner's no-trade list and the fact that most teams aren't going to want to give up an attractive package for a two-month rental, a great haul seems pretty unlikely.
Bumgarner is well-respected in the locker room and loves being a San Francisco Giant. If he doesn't mind being a part of the rebuild and wants to sign an extension this offseason, let him be one of the veteran leaders in the clubhouse.