Should the Steelers Want Troy Polamalu to Retire?
It's always sad to see the good ones in sports call it a career. But it's even more tragic when those same players opt to stay in the game longer than they should. Unfortunately for the Pittsburgh Steelers, this is the position they now find themselves in with regards to Pro Bowl safety Troy Polamalu, and how they choose to handle the situation will say a lot about the storied franchise.
The future Hall of Famer is undecided about whether or not he's going to suit up for the 2015 season. This was reiterated when Polamalu's agent, Marvin Demoff spoke with tribLive's Mark Kaboly about the matter. "Troy is still determining whether he wants to retire or try and play in 2015," said Demoff. "We will make a decision fairly soon, but (it is) not imminent."
However, should the former All-Pro choose to give it a go, it will not be with The Black and Gold, as the Steelers appear ready to move on from the player who has been one of their defensive stalwarts for the past 12 seasons. As a result, the organization is hoping that Polamalu chooses to retire because they'd rather not be forced to release a player that has meant so much to the Steelers' family. Unfortunately, this is the nature of the beast and, as we've seen recently, football is first and foremost a business. Despite how unpopular it might be, the Pittsburgh Steelers may be forced to make the smart business decision by cutting loose their long-time safety.
The only way this doesn't turn out to be the end result is if Troy Polamalu does in fact choose to hang up his helmet and call it a career. Given how much he's done for the game, is this really what the Pittsburgh Steelers should want to happen?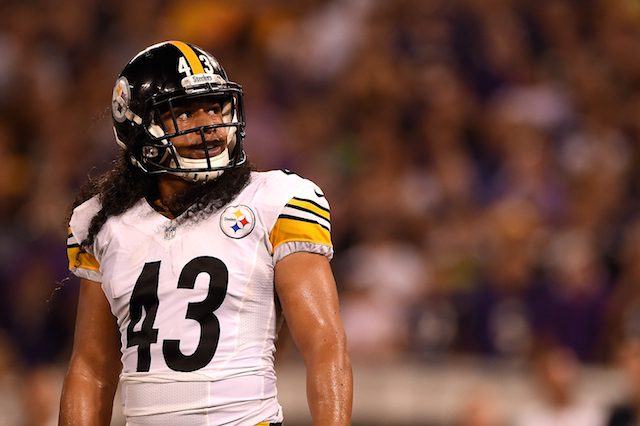 The Steelers drafted the USC standout 16th overall in the 2003 NFL draft, and he's been patrolling their secondary ever since. In his illustrious career, Polamalu has been selected to eight Pro Bowls and been named a First-Team All-Pro four times. On top of that, in 2010, he won the AP Defensive Player of the Year award. There is no doubt that Polamalu has nothing left to prove on the gridiron. Between his individual honors, unrivaled play, impressive leadership skills, and two Super Bowl rings, Polamalu has cemented his place in history; his legacy as one of the best safeties of all time is secure. But that doesn't mean his play hasn't dropped off as of late.
Last season he had no interceptions and no sacks, which hasn't happened since his fifth season in the league. But that shouldn't be surprising, as Polamalu will be turning 34 this year, and there is certainly a lot of mileage on that body. He was also limited to 12 games in 2014, and only played in 7 contests in 2012. It's clear that Polamalu's production has gone down, and the Steelers can't afford not to get younger on the defensive side of the ball. And then of course, it's impossible to leave out the financial dilemma.
Polamalu still has two years remaining on his contract and counts for $8.25 million against the salary cap this season. Has his recent play warranted that kind of financial commitment? Probably not. So it would make sense that the Steelers would believe the cost to keep him around would be too steep. But the thought of Polamalu finishing his career in a different city has to be a hard pill to swallow. And that's why this is such a delicate situation — and one that Pittsburgh hopes to avoid.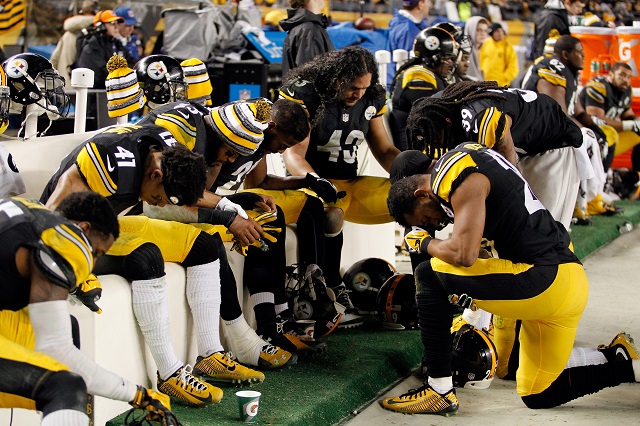 On the one hand, it wouldn't be the worst thing in the world for Troy Polamalu to retire from the sport of football. He's done it all and has nothing left to prove. There's no reason for him to lace up his cleats and get back out there when it's clear that his skills aren't what they used to be. But it's not for us to decide when he should or shouldn't choose to call it a career. And the Steelers shouldn't wish that upon him either.
It seems like the Steelers are merely looking out for No. 1 in this situation. They know the smart football move would be to release Polamalu, but they don't want to come across like the bad guy. However, wishing that one of the faces of your franchise opts to retire so that you don't have to make this difficult decision is cowardly. If Troy Polamalu wants to play again, then that's his prerogative. Maybe he still has it, or maybe he doesn't, but the Steelers owe him better than that. If the organization has to cut ties with one of their greats, then so be it. We should let Polamalu make up his own mind without any pressure from outside parties. He's earned at least that much.