It's Time To Show Some Respect to the Green Bay Packers' Most Important Offensive Weapon…and It's Not Aaron Rodgers
Aaron Rodgers is a three-time MVP for the Green Bay Packers, and he's in the running for a fourth. Davante Adams has been playing like the best wide receiver in the league. Aaron Jones is one of the most dynamic all-around running backs in the NFL. David Bakhtiari, soon to be returning from injury, is considered the best left tackle in football.
There are many on-field reasons the Packers boast one of the NFL's most impressive offenses, but their most important offensive weapon seems to hardly get its due.
Head coach Matt LaFLeur is the glue that holds not just Green Bay's offense together but the team as a whole together.
Since Green Bay took a chance and hired him as a relative unknown after 13 seasons of Mike McCarty, all LaFleur has done is prove to be one of the best coaches in the NFL nobody seems to talk about.
All Matt LaFleur does with the Green Bay Packers is win football games.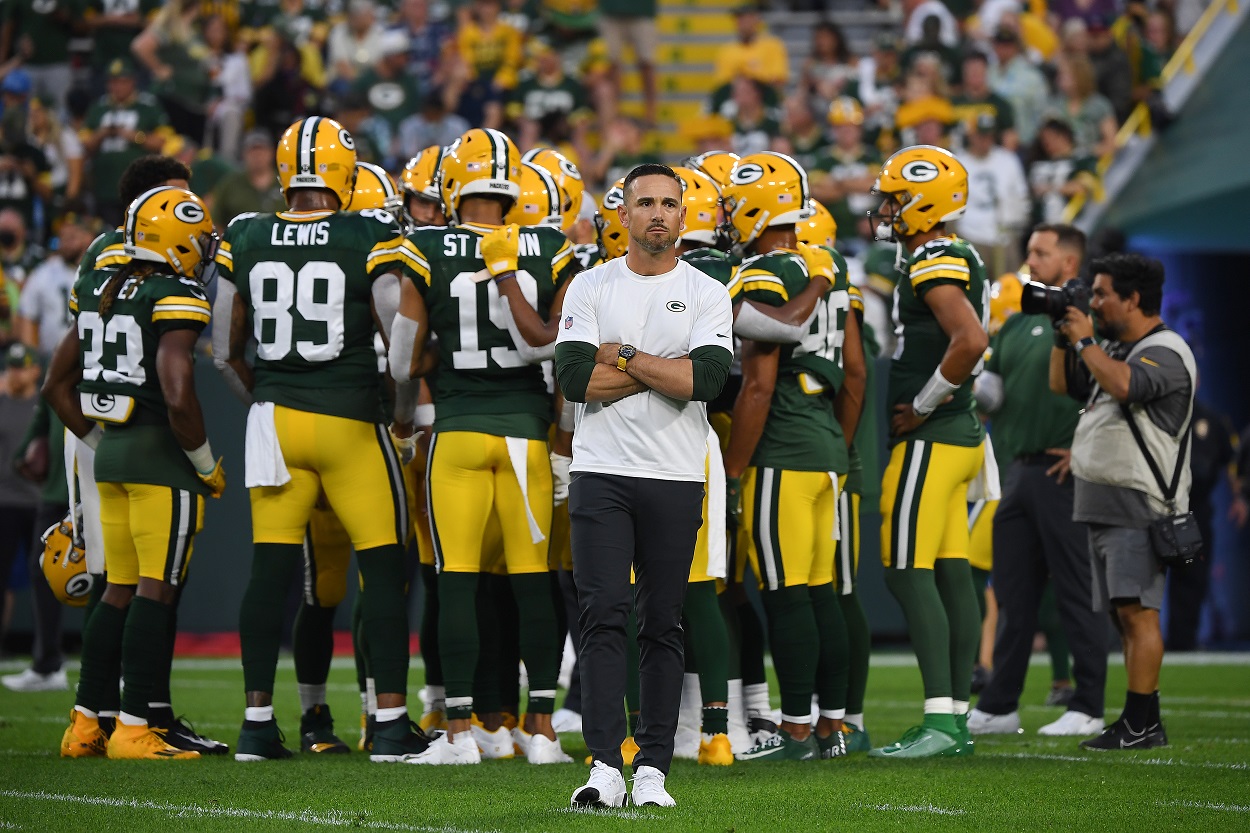 Green Bay undoubtedly took a chance by hiring LaFleur after a 2018 season that saw the Packers finish 6-9-1 and fire McCarthy midway through the campaign.
LaFleur had no head coaching experience and only one season of play-calling under his belt. He was the offensive coordinator for the Tennessee Titans in 2018, leading the Titans to an offense that finished just 25th in the league in total yards and 27th overall in points. LaFleur's biggest claim to fame at the time was being the offensive coordinator for the Los Angles Rams the season before. However, with Sean McVay as head coach, he was less calling plays and more so helping orchestrate the offense. 
Still, Green Bay felt comfortable taking a shot on the young head coach, and he's done nothing but prove the Packers right since.
Coming off a last-second win over the Arizona Cardinals on Thursday Night Football, LaFleur is now 33-7 in his first 40 games as head coach of the Packers. That's the best record of any head coach in the Super Bowl era, and he boasts an incredible winning percentage of .825.
LaFleur's greatest contribution has been rejuvenating Aaron Rodgers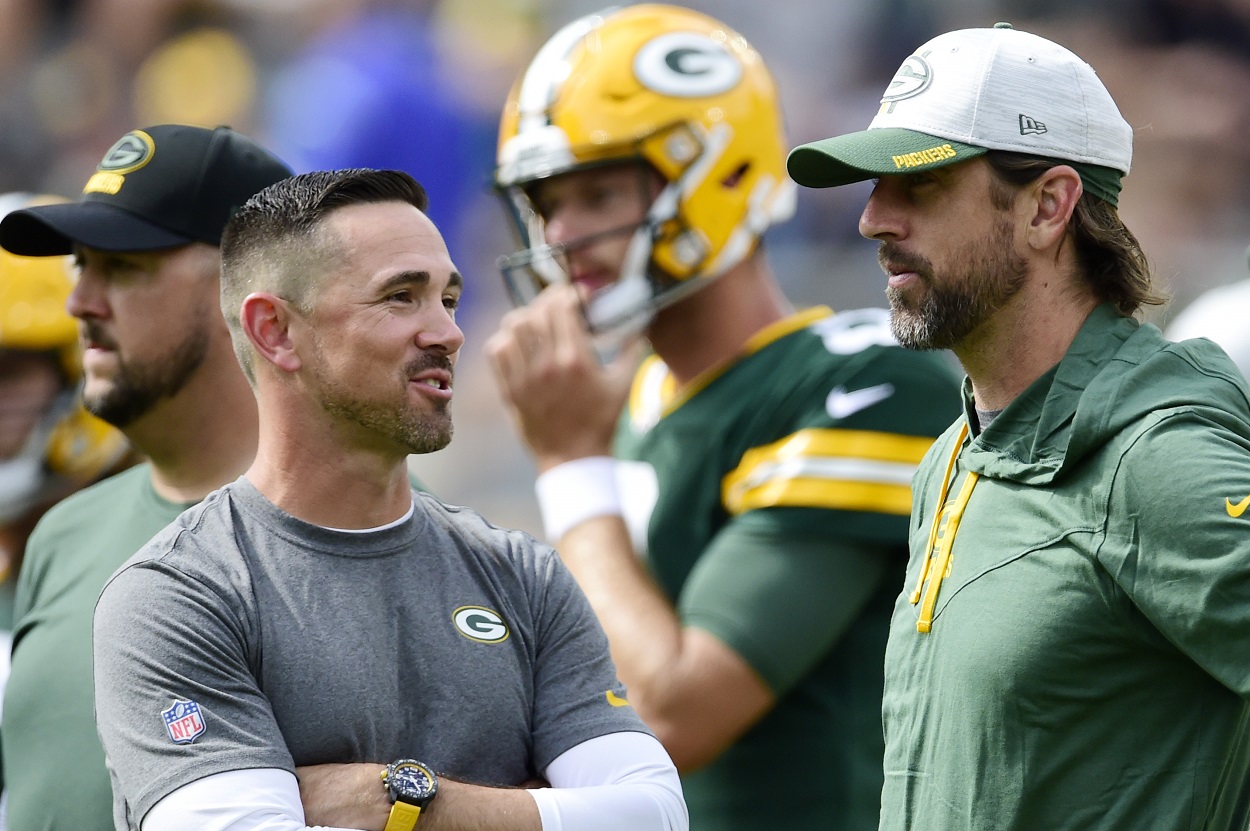 One of the most important things that LaFleur has done for the Packers is rejuvenate Rodgers and give him an equal as a play-caller.
The MVP quarterback never came out and said it, but McCarthy's once Super Bowl-winning offense had gotten rather stale in Green Bay and Rodgers was starting to look like he was on a slow decline. Injuries, of course, played a factor for the quarterback, but he was starting to hold on to the football too long, throw inaccurate balls, and look overall frustrated with his play-caller.
LaFleur was largely hired because of his offensive scheme. He comes from the Kyle Shannahan coaching tree, which means he prefers to set up the passing game with a solid running attack. He also likes to use pre-snap motions and misdirections to keep a defense on its toes. While on the surface, hiring a run-first coach seemed a bit counterintuitive for a Rodgers-led team, the scheme has actually fit the MVP quarterback perfectly. LaFleur has also been flexible enough to incorporate things Rodgers used to do well under McCarthy to put together a dangerous hybrid of both schemes.
Rodgers won his third MVP award in 2020, throwing for 4,299 yards and 48 touchdowns with just five interceptions. He boasted the highest completion percentage of his career, completing 70.7% of his passes. His 48 touchdown passes were three more than the amount he threw in his 2011 MVP season nearly 10 years earlier.
LaFleur has been proving his undeniable worth to the Packers in 2021
Green Bay's Thursday Night Football win over the Cardinals was one of LaFleur's most impressive moments as head coach in Green Bay.
Not only were the Packers on the road and on a short week, but they were down multiple key players. Wide receiver Allen Lazard joined Adams on the reserve/COVID-19 list, as did defensive coordinator Joe Barry. Bakhtiari hasn't played all season, though he is expected to play soon, and rookie center Josh Myers has been out of the past few weeks. Marquez Valdes-Scantling missed another game due to injury, taking away Green Bay's deep threat.
On defense, with Barry back at home, the Packers were down star pass rusher Za'Darius Smith and all-world cornerback Jaire Alexander. Kevin King, though often criticized by Packers fans, is a starter, but he was also out.
All LaFleur did was draw up a scheme that made it easy for Rodgers to find elevated practice quad player Juwann Winfree for four catches and 30 yards. Seldom-used tight end Josiah Deguara caught two passes for 20 yards. Randall Cobb has found new life for his NFL career back in Green Bay, and he stepped up in Adams' absence and became Rodgers' top target. He notched three receptions, including two touchdowns.
The Packers were 6-of-14 on third down and 2-of-4 on fourth down. They controlled the time of possession by well over ten minutes and didn't turn the ball over.
Defensively, LaFleur enabled defensive backs/passing game coordinator Jerry Gray and inside linebackers coach Kirk Olivadotti to co-coordinate the defense in the absence of Barry. The Packers' defense forced three turnovers from an otherwise explosive Arizona offense, including the game-winning interception of Kyler Murray with 15 seconds to go and Arizona five yards away from the end zone, down just three points.
Overall, it was a masterclass in coaching from LaFleur.
Green Bay has been one of the most banged-up teams in the NFL (the Packers just loss tight end Robert Tonyan to a torn ACL), but all LaFleur has done is lead the Packers to a 7-1 record and a seven-game win streak. 
His offensive game plans are impeccable, and he's used a strong running game led by Jones and backup A.J. Dillon to take a ton of pressure off Rodgers.
He should be one of the top candidates for NFL coach of the year, and he's undoubtedly proven to be the most explosive weapon for a Green Bay offense that features plenty of them. 
Stats courtesy of ESPN and Pro Football Reference.
RELATED: Aaron Rodgers Finally Has a Defense That Can Lead the Green Bay Packers to the Super Bowl