1 Sign Bears QB Mitchell Trubisky Isn't Cut Out for the NFL
Mitchell Trubisky showed promise as the quarterback of the Chicago Bears last season, but 2019 has left Chicago's fans a lot to be desired. He's struggled to score, and he is failing to get the job done for the quarterback-thirsty franchise compared to last year. A few fans are clamoring for a drastic change at QB in 2020. Some blame the coaching, and there is merit to those claims. But Trubisky isn't absolved after a disappointing season in which he's lucky to throw for a single touchdown in a game.

The rise of Mitchell Trubisky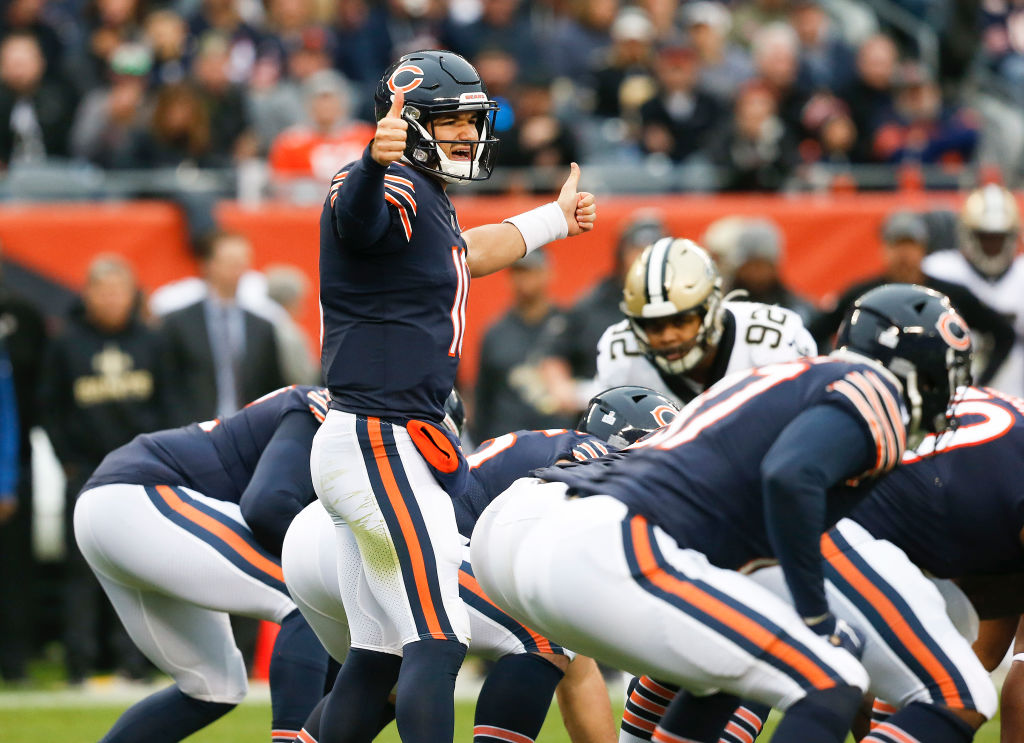 Trubisky isn't a stranger to digging holes that he had to overcome. His rookie season, in which he started all 12 of his games, didn't do much to instill hope. Trubisky threw for seven touchdowns, a number that was matched by his seven interceptions. Overall, his 2,193 yards and 196 completions as he compiled a 4-8 record showed the promise of an average quarterback, at best.

By the next season, however, Trubisky was a different player. In 14 games, he increased his touchdown output nearly threefold, throwing 24 on the season against 12 interceptions. His completion rate also went up, throwing 289 completions for 66.6% and 3,223 yards. The Bears had an 11-3 record in his starts, and while Trubisky wasn't breaking records, the promise he showed as the 2nd overall pick in 2017 had its moments.
In two seasons, Trubisky showed that he could come out of the trenches and improve as a player, and it wasn't unfair for the fans, media, and teammates to expect another level heading into his third season with the team. Unfortunately for them, that didn't happen.

Trubisky starts to stumble
The start of 2019 was borderline disastrous on an individual basis, although the coach Matt Nagy and the Bears won three of their first four games despite Trubisky's start. Through the first seven games of the season, Mitchell Trubisky only threw for touchdowns in two of them.

So far this season, he has completed 62.4% of his passes for 176 completions and 1,580 yards. It took four touchdowns in his last two games to get to nine overall against his four interceptions.

It is, in many ways, a baffling season. While Trubisky's stats don't pop out, his completion rate isn't a catastrophe, and he isn't throwing interceptions left and right. Despite that, he has not shown the ability to light a spark under the Bears like he did last year. Matt Nagy's stagnant offense isn't helping out Trubisky, but the QB has not shown an ability to be a consistent presence in the red zone unless the Bears' running game helps him out.

Why Trubisky might not be cut out for the NFL
Part of being an NFL quarterback is being able to handle the pressure that comes with the position. Trubisky has not shown that ability.

Being able to avoid throwing the ball into the other team's hands only gets you so far when you're not able to get the ball into the end zone. Trubisky has only surpassed a 100 quarterback rating twice, and he has only surpassed 80 three times.

Mitchell Trubisky reportedly told the media that he requested all the TVs at the practice facility be turned off so that the team doesn't hear the criticisms coming from them. That is fine, but Trubisky cannot try to force the lack of criticism, he has to do so with his play. TVs can be muted, but fan noise and the media cannot. He should be drowning out the outside noise and focusing on what he needs to do to get back to last year's form, but he appears to be taking extreme measures to do so rather than drowning them out himself.

If Trubisky doesn't want criticism, he needs to respond with good play, not artificial means of censorship. Until he does, he cannot get back to the man we saw last year.