Simone Biles' Boyfriend, Following Her Olympics Withdrawal: 'Imma Ride With You Through Whatever'
Simone Biles is an Olympic juggernaut. At only 24 years old, she has won 32 gold medals, tying with Larisa Latynina as the highest-winning gymnast ever. Biles and her sister Adria were raised by her grandmother and grandfather after her mother struggled with substance abuse. Out of these humble beginnings came one of the Olympics' most decorated and renowned gymnasts. Biles' success has been long and storied, but recent events at the Tokyo Olympics have fans guessing whether the gymnast's competition days are over. Here is a look at why Simone Biles withdrew — along with the support she received from her boyfriend, fans, and teammates in the wake of the surprising decision.
Why did Simone Biles withdraw from the Tokyo Olympics?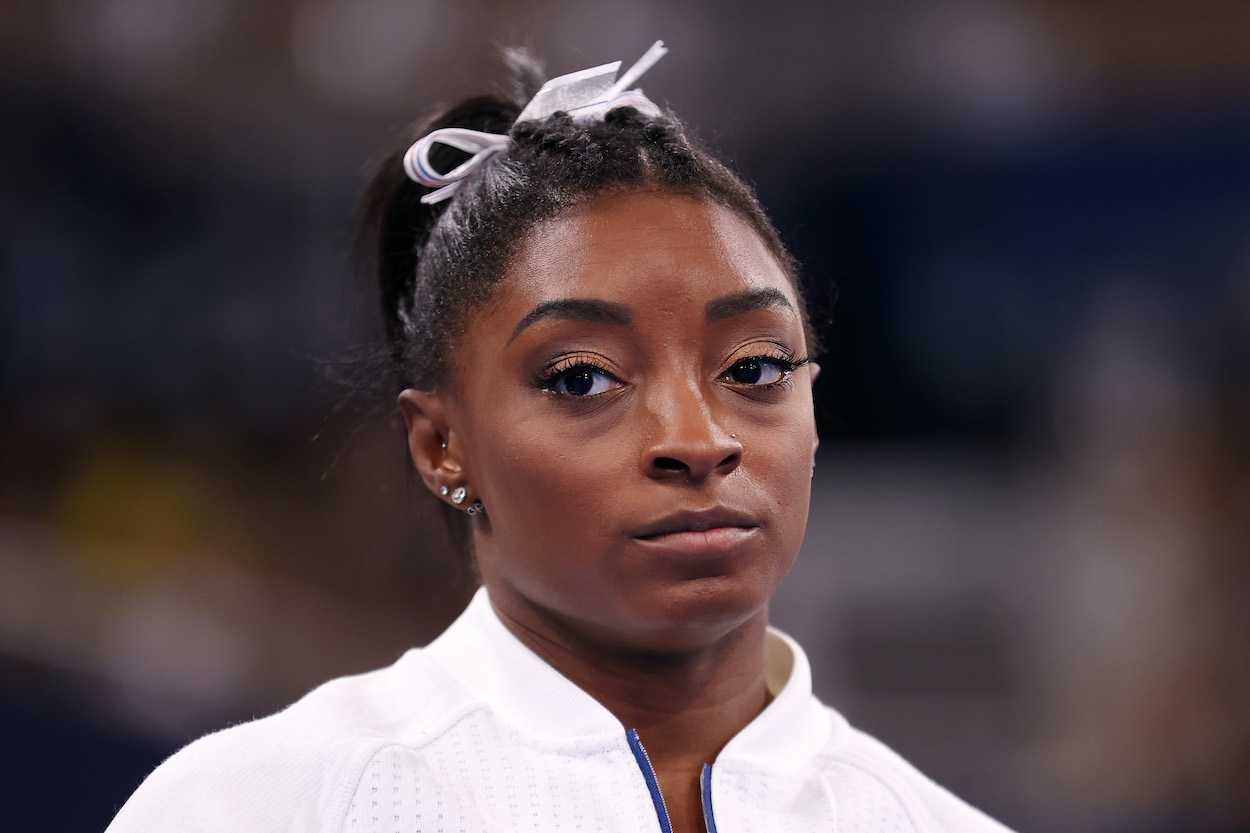 Biles uncharacteristically withdrew herself from the team competition. After withdrawing from the team and individual all-arounds, Biles said she became disoriented while on the vault, using a term known to gymnasts as "the twisties." Known for her tenacity and her see-it-through-to-the-end attitude, it was a shock for fans everywhere. However, she had a good reason: She was prioritizing both her mental and physical health.
The pressure of competing in the Olympics is something that requires a healthy mind and a healthy body. The body and mind need to be in the right space in order to perform at their peak. Simply put, one cannot perform without the other. In competitive sports, having the ability to know when to push your body and when to give it a rest is something that Biles has learned through the years. One could make the argument that the decision to quit was tougher than actually trying to power through. Luckily, Biles knew when to throw in the towel.
Simone Biles' boyfriend has publicly supported her following her withdrawal
Biles' boyfriend, Jonathan Owens, has made it very clear that he is going to support her no matter what. The pair met in 2020 on a celebrity dating app called Raya, and they have been together since. In an Instagram post, Owens professed his love for the gymnast, writing, "Imma ride with you through whatever baby." The touching message was sweetened with pictures of them sprinkled throughout his Instagram feed, showing pictures of her accomplishments through the years.
Biles also received support from athletes and fans alike
Biles continued to sit on the sidelines and cheer on her fellow teammates after withdrawing. She could be seen cheering them, helping them get chalk, and hugging them. Biles stated in a tweet that the support she has received from everyone following her withdrawal has made her realize she is more than just her accomplishments — something she hadn't realized until now.
In addition to the unending support of her boyfriend Jonathan Owens, she received support and adoration from celebrities — like Andy Cohen, Rosanna Arquette, and Loni Love — who commended Biles for her courage in admitting that she needed to take a break. It's easy to forget that athletes are still human. They accomplish tremendous feats of skill and strength and press their bodies to the limits of human endurance. Biles took the opportunity to realize that she is being watched by the world and that what she does will be indelibly imprinted on the minds and hearts of millions of Olympic hopefuls. It's comforting to understand and realize that it's OK to prioritize mental health and take a step back when you feel overwhelmed.
Simone made us all realize that you can still be the best and take care of yourself at the same time. She gave us all a gift by letting her vulnerabilities show and taking the steps to make herself well even under the most strenuous circumstances. By these standards, that makes her a champion through and through.