Simone Biles and Her Siblings Spent Time in Foster Care as Children Before They Were Adopted
At just 24 years old, Simone Biles has already proven herself as a national treasure and the GOAT of gymnastics. While she has had to take a step back from competition at the Tokyo 2020 Games to focus on her mental health, Biles has still proven herself as a dominant force in the world of gymnastics. However, the road to the top was far from easy for Biles. Read on to discover more about Simone Biles and her siblings' complicated childhood, along with the athlete's rocky path toward becoming an Olympian. 
Simone Biles is an adoptee 
This superstar gymnast had anything but a picture-perfect upbringing. According to In Touch Weekly, Biles first entered the foster care system when she was just 3 years- old. At the time, her biological mother was suffering from drug and alcohol addiction and was frequently in and out of jail. During her time on Dancing with the Stars in 2017, Simone opened up about her traumatic childhood experiences. Regarding her biological mother, Simone shared, "I never had mom to run to … I do remember always being hungry and afraid." 
After going in and out of the foster care system in Ohio, Biles and her younger sister, Adria, were sent to Texas and were placed in the care of their maternal grandfather, Ron Biles, and his second wife, Nellie. Ron and Nellie Biles officially adopted the two girls in 2003. When Simone was 6 years old, her adoptive parents decided to enroll her in a local gymnastics class — and her talent was recognized immediately. 
Get to know the GOAT's family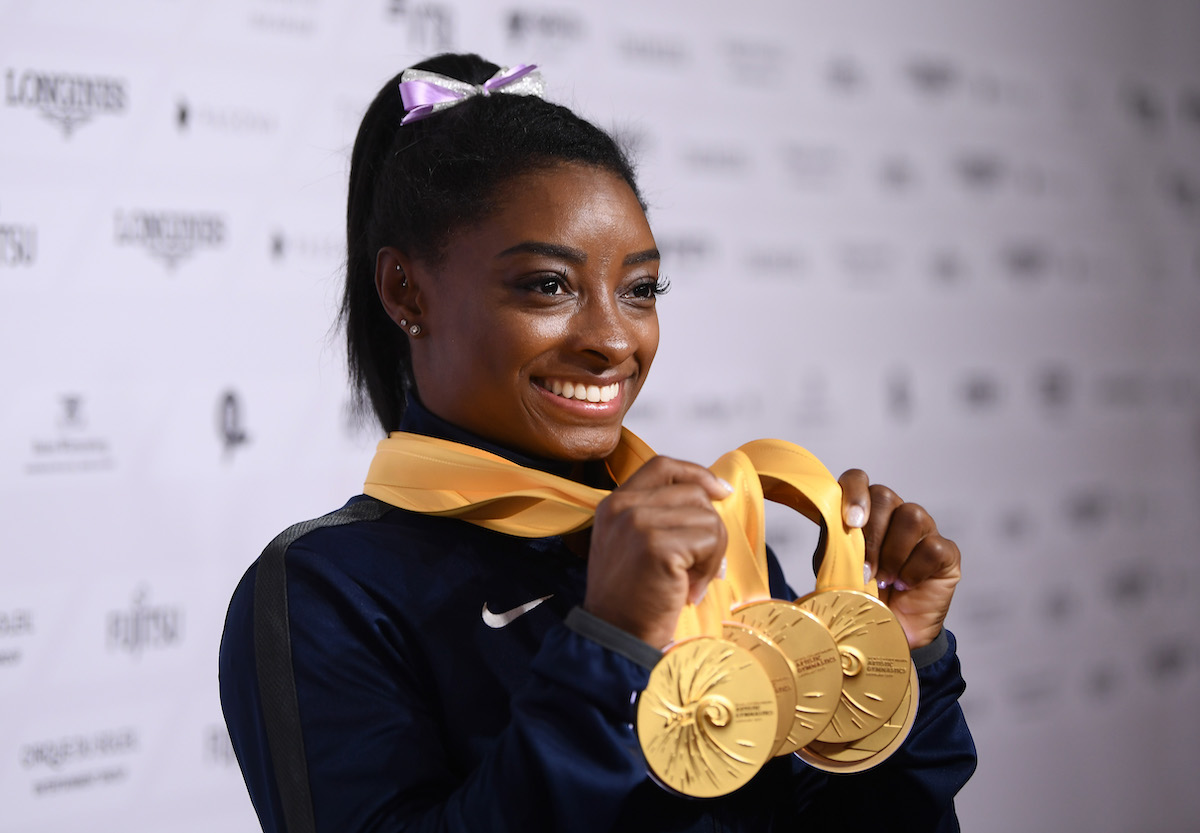 Biles, a seven-time Olympic medalist and the GOAT of gymnastics, comes from a fairly large family. Of course, her adoptive parents have played a significant role in her upbringing and path toward the Olympics. (After all, they were the first people to get young Simone into the sport.) However, Simone comes from a large family, all of whom helped shape her into the champion she is today. 
From her biological mother, Shanon Biles, Simone has four biological siblings. These siblings include Adria, Ashley, and Tevin. Simone and Adria were raised together, with both girls being adopted by Ron and Nellie. People reports that Simone's two other biological siblings, Ashley and Tevin, were placed in the care of Ron's sister, Harriett, in Ohio. In addition to her biological siblings, Simone gained two adoptive brothers, Ron Jr. and Adam Biles, from Ron and Nellie. 
There has been legal trouble for one of Simone Biles' siblings
While Biles has dedicated her life to chasing gold, not everyone in her family has found a way to stay on the straight and narrow. In 2019, Simone's brother, Tevin Biles-Thomas, was taken into police custody in Georgia on three counts of murder. After the news broke, Simone took to Twitter, writing, "eating my feelings don't talk to me."
At the time of the arrest, Tevin was an active duty U.S. Army member based in Fort Stewart, Ga. He was accused of killing three men at a 2018 New Year's Eve party in Ohio. One of the victims was Devaughn Gibson, a cousin of Biles. Fortunately for Tevin and the Biles family, he has been acquitted of all charges related to the murders. Yahoo! Sports reports that all charges against Tevin were officially dropped in June 2021 due to insufficient evidence. Biles has not publicly commented on her brother's situation since the initial arrest in August 2019.  When the charges against Tevin were officially dropped, Simone already had her sights fully set on the Olympic Games.