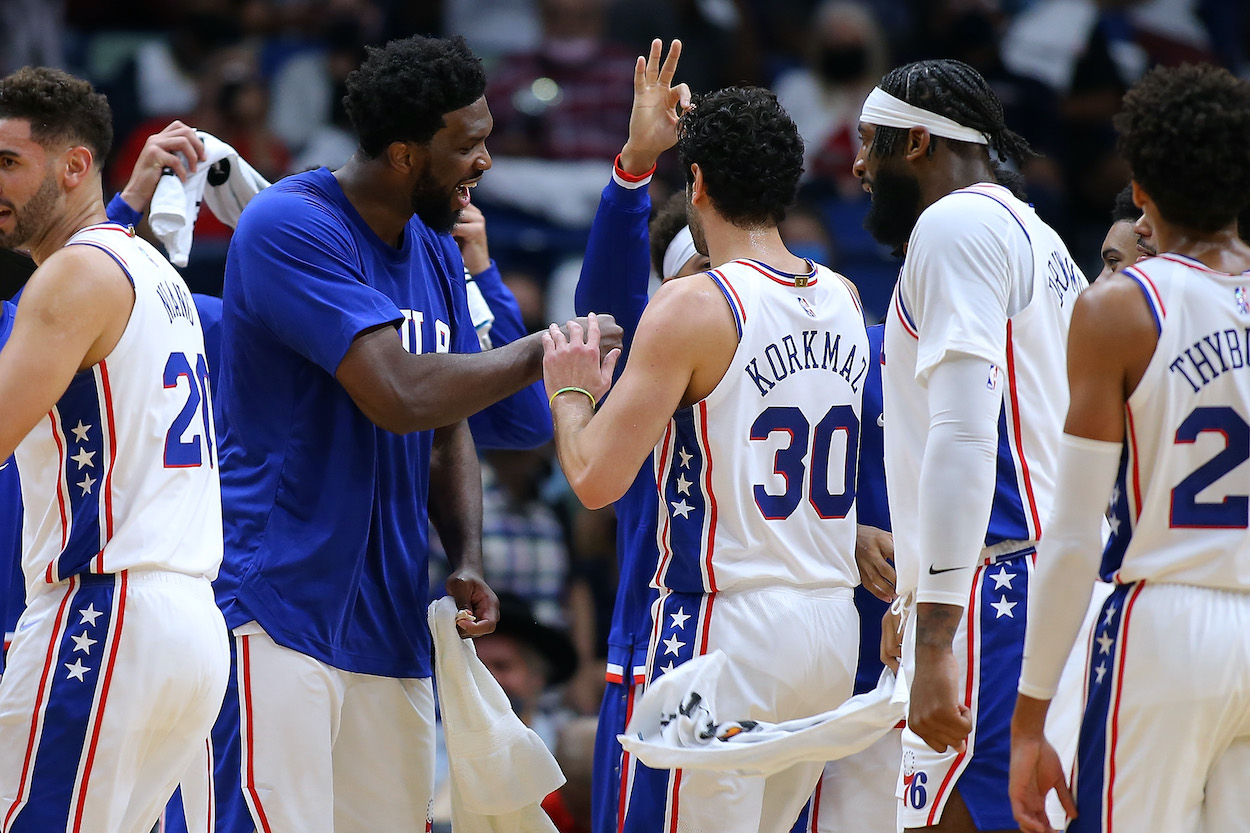 A Simple Act of Solidarity Helped the 76ers Foil Ben Simmons' Spiteful Attempt to Burn the Franchise to the Ground
Ben Simmons' childish antics have only made the 76ers stronger.
Ben Simmons is on a mission to destroy the Philadelphia 76ers.
The disgruntled point guard only returned to the team to preserve his paycheck, and he's been acting like a spoiled child at practice in an attempt to force a trade. But Joel Embiid and the 76ers aren't going to let Simmons' antics tear them apart. Before destroying the New Orleans Pelicans on opening night, the Sixers committed a simple act of solidarity that foiled Simmons' master plan and proved they don't need him anymore.
Ben Simmons is trying to burn the 76ers to the ground
The Simmons saga took another turn this week when 76ers head coach Doc Rivers had to kick him out of practice for refusing to participate in a defensive drill. Simmons has reportedly been disengaged ever since he ended his holdout from the team earlier this month, and his lethargic attitude at practice every day just proves the only reason he returned to Philadelphia was to avoid any more fines coming his way.
That plan quickly backfired when the Sixers suspended Simmons for Wednesday's season opener against the Pelicans. The point guard's availability for Friday's primetime tilt against the Brooklyn Nets is still unknown, but it wouldn't be surprising to see the 76ers continue to suspend him game-by-game until he shows an interest in playing for the team.
In essence, what Simmons is attempting to do is force the 76ers to trade him as soon as possible so they don't have to deal with his drama anymore. The problem with that strategy? Simmons' trade value is sinking lower and lower as teams start to realize he's a selfish, immature player who needs to be praised and can't handle an ounce of criticism.
Simmons is trying to burn the franchise to the ground from the inside, but the rest of the roster isn't going to let him.
A simple act of solidarity foiled Ben Simmons' plans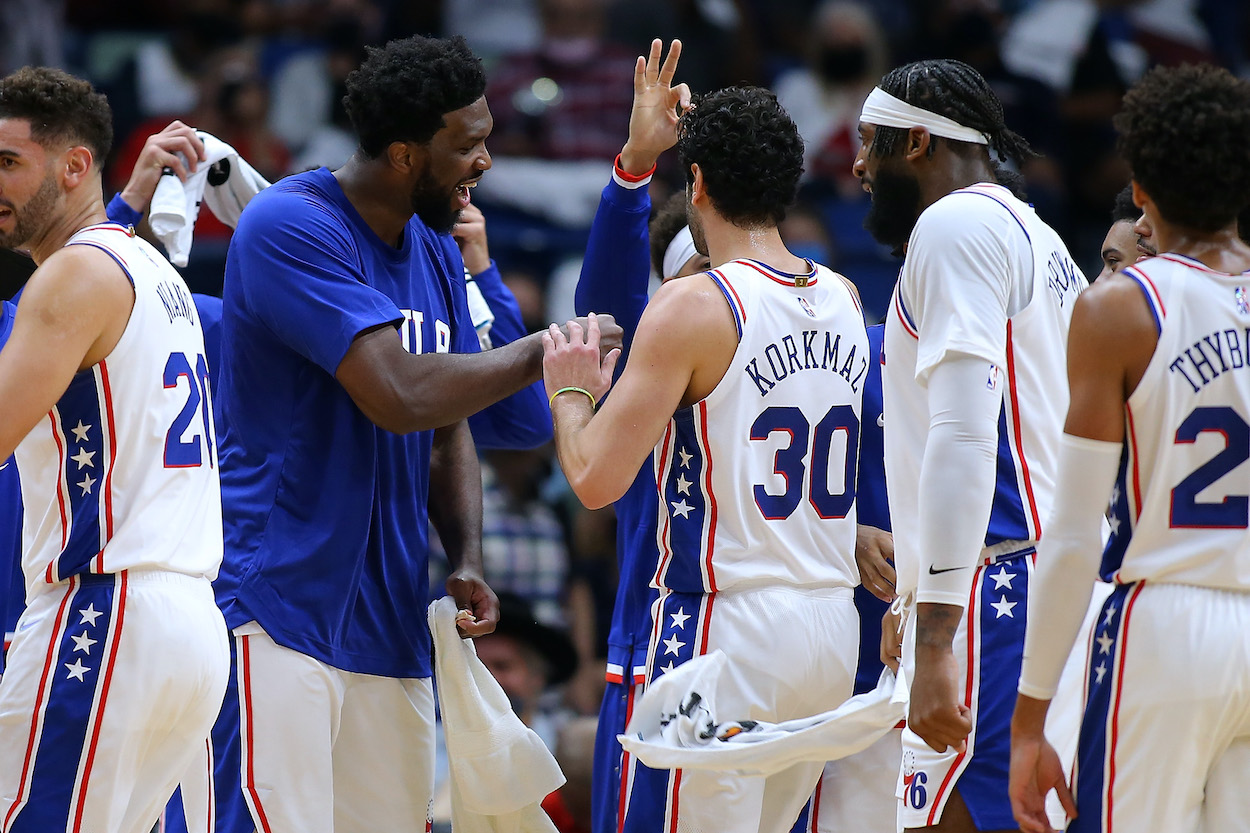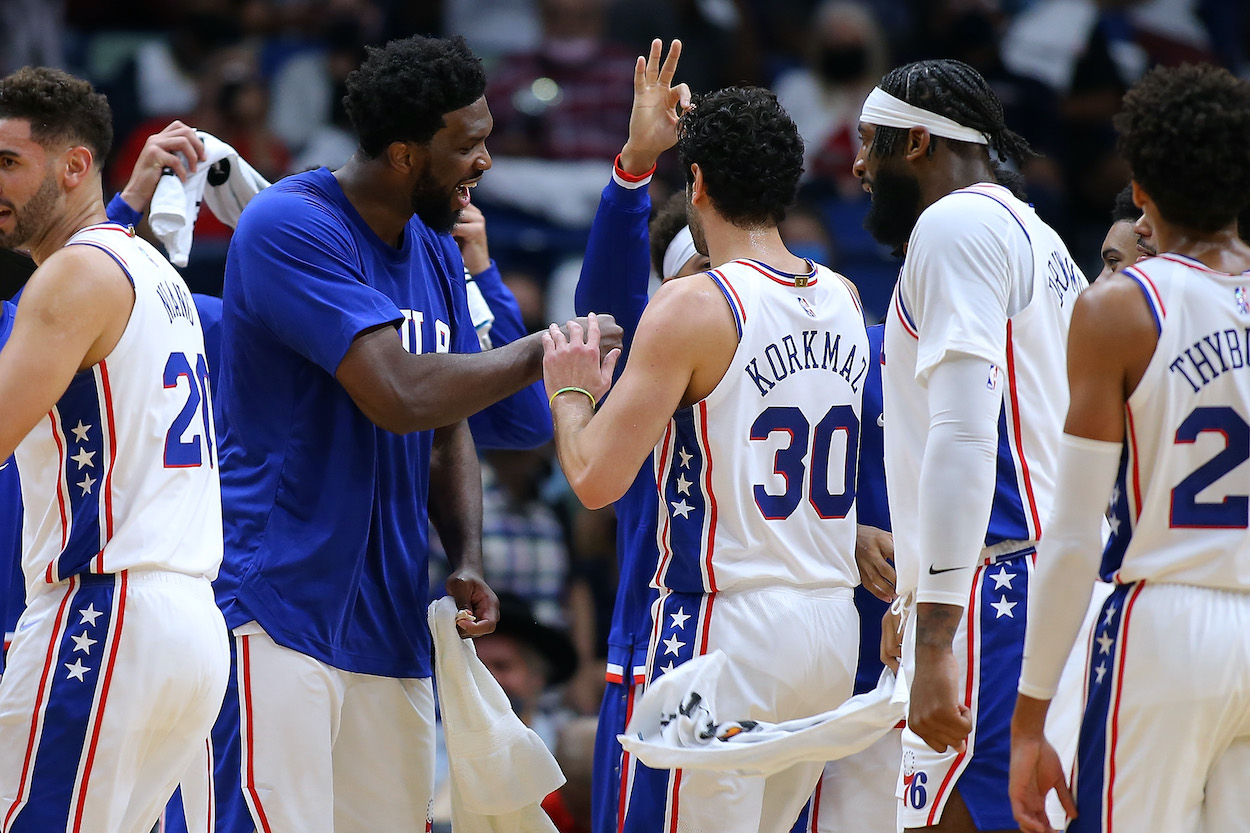 After a bizarre Tuesday in which Simmons was kicked out of practice and Embiid threw him under the bus afterward, the Sixers realized they needed to refocus themselves and tune out the cancer lurking inside their own locker room.
So, Embiid, who's taking on a bigger leadership role this season, set up a rare team dinner once the Sixers landed in New Orleans for their season opener the following night. This hasn't been the norm for the Sixers in years past, as players usually stuck to themselves the night before an away game and rested up in their hotel rooms.
But Embiid knew they needed to get their minds off basketball for one night.
"It's good to just go out and kinda not talk about basketball and talk about life," Embiid told reporters after the Pelicans game Wednesday night. "That's also an evolution for me, because I usually — when I used to go on the road — I'd just like to stay in my room and be on the phone and play video games."
The 76ers came together as a family this week in a way they haven't done since Embiid joined the team seven years ago. And the following night, they sent a strong message that Simmons' spiteful attempt to tear this team apart will go unsuccessful.
76ers prove they don't need Simmons
It was easy to count out the 76ers in their season opener against the Pelicans on Wednesday. Philadelphia had just gone through a whirlwind of a week that saw its All-Star point guard get exiled from the team building for acting like a moody 10-year-old.
How were they going to be ready for a game with all that distraction going on?
But the Sixers banded together in New Orleans, blocked Simmons out of their minds, and destroyed the Pelicans in their season debut, 117-97.
Joel Embiid played like his dominant self for most of the night, Tyrese Maxey filled in admirably as the starting point guard, and the reserves were excellent off the bench in the second half. And the best part? They looked like they were having a whole lot of fun doing it.
It was a complete team effort on Wednesday night that was a direct result of their all-important team dinner the night before. The Sixers proved in just one game that they don't need Simmons to contend for the Eastern Conference crown, and if he doesn't want to be involved, they'll happily do it without him.
Like Sportscasting on Facebook. Follow us on Twitter @sportscasting19.