James Harden Trade: 3 Sixers Who Will Benefit the Most
James Harden has arrived. The newest member of the Philadelphia 76ers has put a cap on the dramatic and long-lived Ben Simmons drama, and he'll be welcomed with open arms by a fanbase hungry for another shot at a championship.
No doubt, Harden will have impacts on the entire team and, assuming health prevails, increase those championship odds. But what about individual players?
Adding new players to a roster, especially in a sport with roster sizes as intimate as 15, rubs off on individual players in a big way. Who will benefit the most?
Let's take a look at the top 3. We considered all players who have been with the team since the start of the season and have averaged 20 minutes per game or more. That gives us this pool to choose from:
Tyrese Maxey
Tobias Harris
Matisse Thybulle
Shake Milton
Furkan Korkmaz
Georges Niang
Danny Green
Tyrese Maxey is a James Harden prototype
Tyrese Maxey's best ceiling comparison is James Harden, and inadvertently, the Sixers may have found the perfect mentor for Maxey in his young career.
Daryl Morey was adamant about keeping Maxey and Matisse Thybulle, so it's clear the team understands the potential these players have and views them as building blocks for the team's future. Young players like Maxey present opportunities for a lot of flexibility since he's highly skilled yet still being paid under the confines of his rookie deal. He is vastly out-performing his salary cap hit.
In just his second year, Maxey already displays a proficiency handling the ball that is reminiscent of Harden. His first-year confidence has allowed him to step up in opportunities where someone needs to command the offense, and he's shown flashes of becoming an elite scorer in both isolation or catch-and-shoot scenarios.
In practice scenarios, Harden can mentor Maxey, giving him the tools he needs to become an elite starting guard in the league.
On the court, Maxey can play off ball and take advantage of the open opportunities that will materialize from Harden's gravity and ability to collapse the defense.
Maxey has the team's second-best 3-point percentage (41.4%) on looks categorized as "open" by stats.nba.com, and it looks he'll likely be getting more of those, especially if he's sharing the floor with both Embiid and Harden, masters of collapsing the defense.
Danny Green is a catch-and-shoot player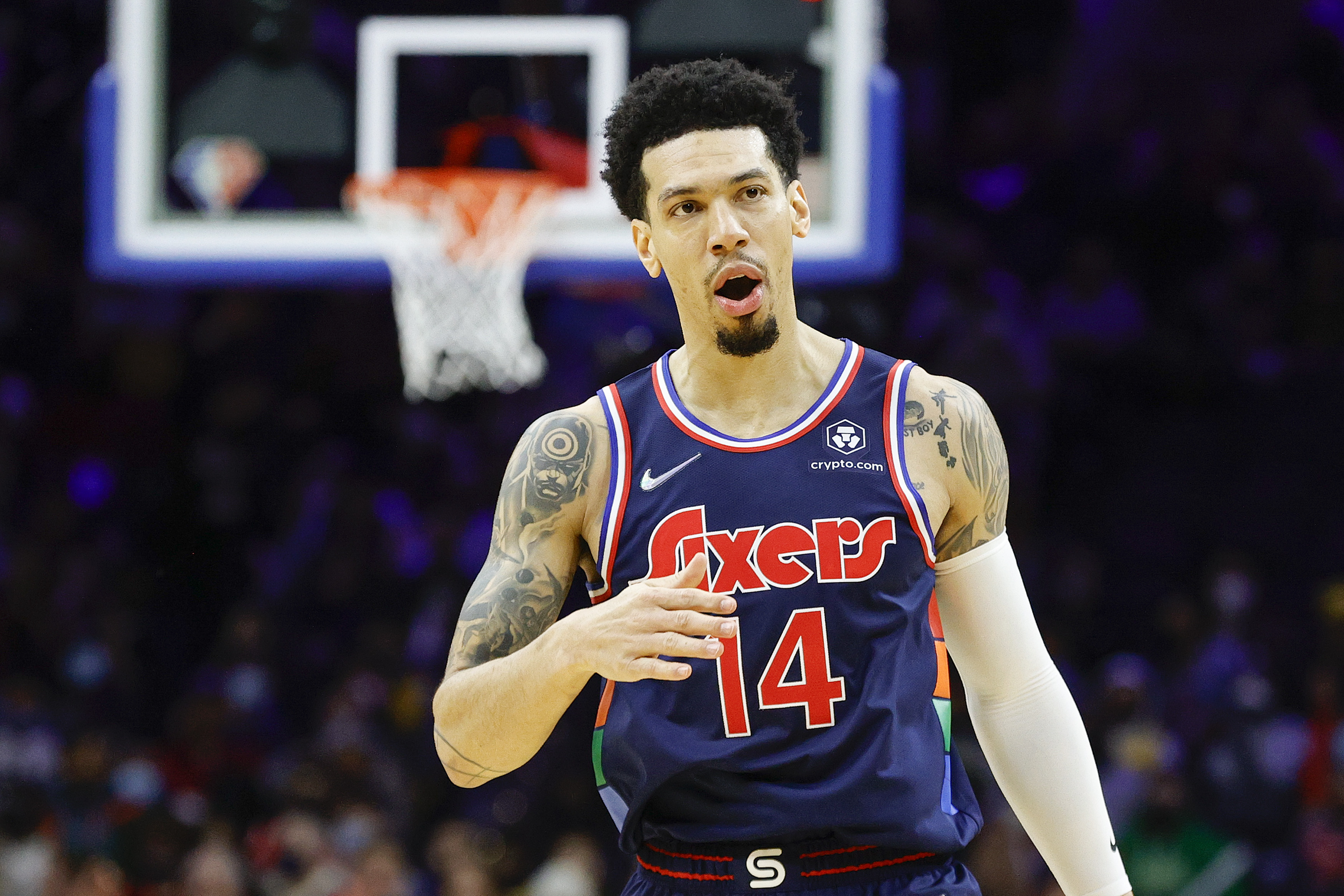 James Harden is creating 18.3 potential assists per game and 10.2 actual assists per game, second to only Chris Paul at the All-Star break.
Danny Green is a solid career shooter, having averaged 40% from beyond the arc throughout his career. This season, he's shooting 37.6%, a decline from his 40.5% efficiency last year. The big difference? No Ben Simmons. Green sunk a 3-pointer per game last year on passes from Ben Simmons, getting 2.1 looks per game from his passes, more than any other player.
This year, the most shots he's getting off of passes from a singular player is 1.1 (via Tobias Harris). Green has not built a partnership with a passer without Simmons. It's one of the reasons Daryl Morey was willing to do anything to get Ben Simmons to come back if he wasn't able to strike a deal before the trade deadline.
Oh, and Green sure is ready for it. According to SixersWire, here's what he had to say about the first interaction with his new teammates:
"It was him, Paul (Millsap), both great guys who have been in the league for a while now, veterans. They brought some good energy and some refreshing vibes. I think a lot of excitement from our group around our team so it was good to have them in the gym."

– Danny Green
In reality, many of the team's players who aren't as proficient in isolation (Milton, Korkmaz, Niang) will benefit from Harden in similar ways, but Green stands to gain the most.
Joel Embiid needs a star partner
Bless Joel Embiid's heart. He's putting up MVP numbers — 29.6 points, 11.2 rebounds, 4.5 assists per game — up to the All-Star break and keeping the Sixers competitive amidst Ben Simmons' absence. Philly heads into the All-Star break with a 35-23 record, third in the Eastern Conference.
Much of Philadelphia's offense involves or runs through Embiid. His usage% is 37.2, highest in the league and highest of his career. While the big man is more than capable of the burden, having an equally talented offensive player joining him to absorb some of the responsibility will be huge.
The Sixers haven't been without weapons altogether. Tobias Harris is averaging 18.7 points per game. Tyrese Maxey is chipping in 16.9. But Harden is on another stratosphere. He's one of the best ball handlers and offensive initiators in the league, and even this year, in a down year, he's averaging 22.5 points per game.
Additionally, Harden may be the nexus for involving some of Philadelphia's idle skillsets. While Embiid is a strong passer for a big, his court vision isn't the same as a guard, and Philly lacks an elite passer. Remember, last season Ben Simmons was the team's best passer at 6.9 assists per game. This season, Maxey leads the team in assists at 4.6 per game, and Joel Embiid has had to increase his assists per game by over 2 from last season.
Harden is second in the league in assists per game as mentioned earlier, and he can help activate a more equitable, less strenuous system for Embiid.
RELATED: Why Isn't James Harden Playing for the 76ers and When Will He Make His Debut?