Sixers News: Daryl Morey Reveals Details That Suggest He May Have Actually Won the James Harden Trade
Daryl Morey is known as a jewel negotiator. He's landed stars like Chris Paul, James Harden (twice), and Russell Westbrook over his years running both the Houston Rockets and Philadelphia 76ers.
Typically, we only get to see the outcomes of those deals, which leaves a ton of room for fans and analysts to debate the validity of his transactions and to apply a heavy dose of uninformed subjectivity to the acquisitions he's made.
At times, though, Morey has been loose-lipped and gestured his intentions, enough to even get hit with some tampering penalties. After the 2022 NBA trade deadline, Morey revealed an interesting nugget about what almost came of the Sixers' desire to move Ben Simmons.
Sixers news: Team traded Ben Simmons to the Brooklyn Nets in exchange for James Harden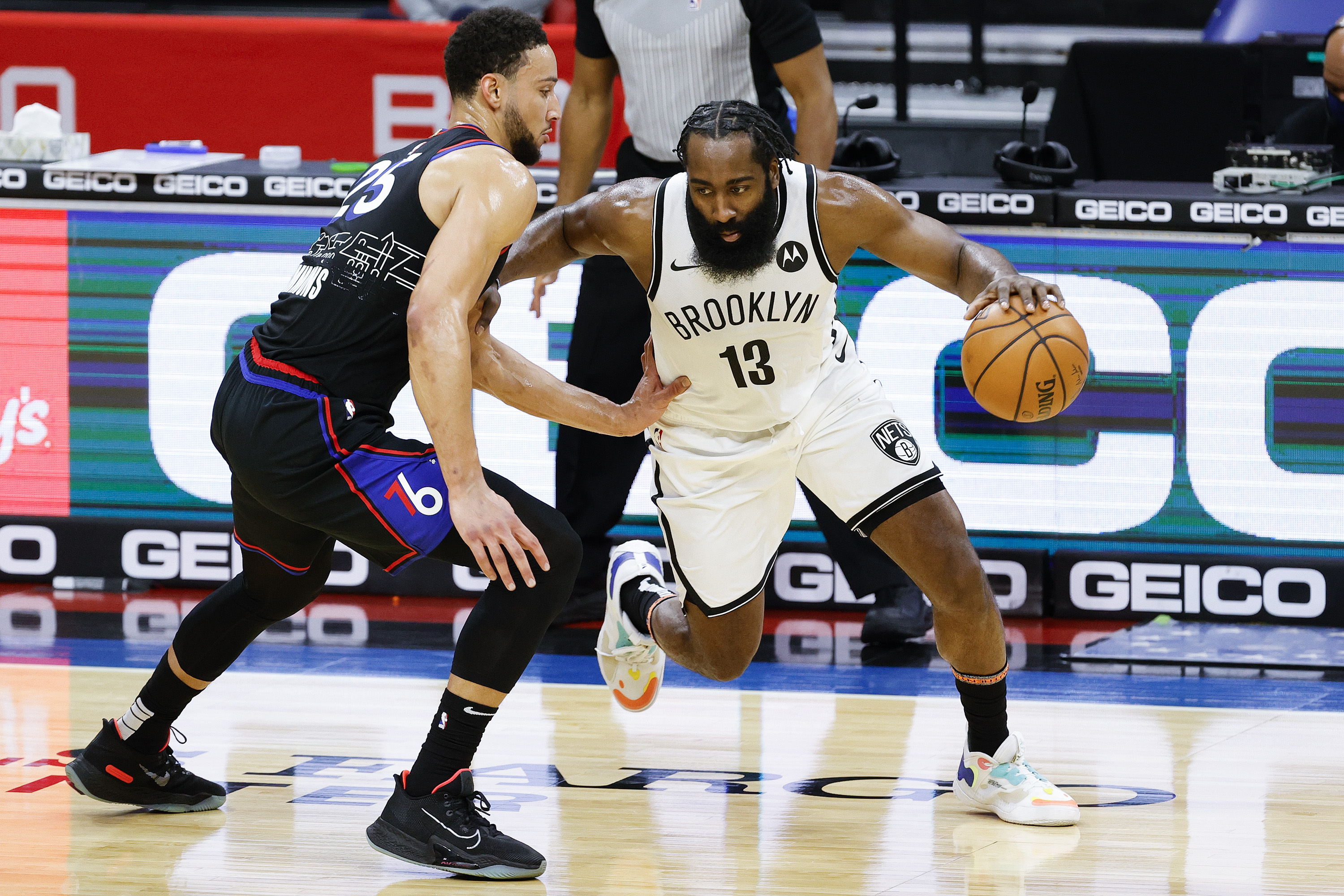 The reality of what transpired on deadline day related to Sixers news was that Ben Simmons — along with Seth Curry and Andre Drummond — was traded to the Brooklyn Nets in exchange for James Harden. In the end, Morey eyed his guy, Harden, and got him. Plain and simple.
In turn, Philly adds a player who is averaging 22.5 points, 8.0 rebounds, and 10.2 assists per game, and it shed Ben Simmons, who hasn't played a game for the team yet this year.
Morey also had to surrender draft capital (two first-round picks) to the Nets to make the deal happen.
But we now know the draft capital was in play with a different team just days before the transaction with the Nets went through, as Morey would reveal a few days after the deadline.
Executives are exploring all options when looking to make a deal, so it's not necessarily a surprise that it was more than just the Nets in the running for Ben Simmons. But the price Philly and Morey offered a mystery team is intriguing.
Daryl Morey reveals another team was offered a similar package but turned it down
So, we know what the Sixers got at the deadline and what they had to spend to make it happen. But Morey revealed this return was actually greater than what was on the table just days earlier for a supposedly lesser player from another team.
Daryl Morey, speaking to Colin Cowherd on The Colin Cowherd Podcast, said a similar deal was offered in the Western Conference.
He detailed that the Nets were "steadfast" on the Sixers including two first-round picks and went on to tell a story about the options the Sixers had before they struck a deal with Brooklyn.

"We're debating whether we give up two first-round picks, and I'll rewind a couple of days, and I was talking to a Western Conference team who, we liked a player on their team, we offered one first for that player and they said no and I got a little bothered with the GM, I'm like, 'This guy is never going to give this player up, but I'm just going to offer two firsts just to see, see what happens.' And very quickly he's like, 'no' to two firsts. This is a player by the way that every 2K player, Colin Cowherd, Nick Wright, every human on earth would have said, 'Oh my god, you have to give that player up for two firsts.' So I just did it just to like, see, and he said no immediately.'"


– Daryl Morey on The Colin Cowherd Podcast
Morey went on to reveal that it was a profound moment when the front office was debating whether to give up two firsts for Harden and a member of Morey's team pointed out they were ready to send two firsts for a far inferior player.
"Like three days ago we couldn't even get this player for two firsts! Why are we debating this? Why are we talking about this?" Morey said to Cowherd.
To read between words, too, Morey said the claim in the front office at the time was, "Why are we even talking about this? We can get James Harden. He's a Hall of Fame player."
Who is the mystery player Daryl Morey is referring to?
We know Morey is referring to a Western Conference player. It feels safe to assume they're an All-Star-caliber player. But maybe they're not a Hall of Fame player, or at least not a Hall of Fame lock?
We also know they're a supposed "lock" for a draft package including two first-round picks.
Damian Lillard of the Portland Trail Blazers? He had been loosely connected to the Sixers, even in just speculative scenarios, for months. Is Lillard perceived as a universal lock for two first-round picks, though? Some might look at his elite scoring ability, winning mentality, and All-Star resume and suggest that's not a clear-cut "have to trade" situation.
Regardless of who the mystery player is — which Morey will likely never reveal for sure, because, you know, tampering — we know one thing: Morey offered two first-round picks for a player he viewed as inferior to James Harden and then got Harden for the same package three days later.
Winning a deal is all about getting more for the same amount or less. Call it an overpay for Harden if you want, but by that barometer, Morey won the deal.
All stats per Basketball Reference unless otherwise noted.
RELATED: James Harden May Have Unsurprisingly Lied to Force a Trade From the Nets: 'For Sure That Was a Topic of Conversation'