Sixers Had Plan to Convince Ben Simmons to Play if James Harden Trade Didn't Happen
For several months, the situation with Ben Simmons and the Philadelphia 76ers was an intense staring match. Simmons was reluctant to return to the team after requesting a trade in the offseason, and Daryl Morey was holding out for a deal that met the value of the All-Star point-forward.
It was a strange situation — isn't everything surrounding the Sixers pretty strange? — that Jack Dougherty summed up well here.
Eventually, Simmons returned to Philadelphia and the team's practice facility, but cited mental health struggles holding him back from being fit to play in games, even suggesting that the Sixers contributed to worsening his condition per a report from Shams Charania of The Athletic.
And so, Morey's assignment was to find a trade that worked. And he did! Philly landed James Harden, one of the league's most productive isolation scorers, and based on the market and team's desired cost to move Simmons, it's appropriate to say that Morey probably would give himself a strong self-assessment with the outcome of the trade. It was more or less a win for both sides — the Nets and Sixers — given that each team was able to move a player who didn't want to be there.
While the team will have to wait a bit before Harden himself makes his debut, there's no doubt that the franchise has a more optimal slate of resources now than they did just a week ago.
What if James Harden trade didn't come to fruition for Sixers?
According to reports, the James Harden trade materialized fairly quickly during trade deadline week. Morey suggested the team offered a similar package to what they gave up for Harden to a Western Conference team just days before the deal went through with the Nets.
But what if the trade for the 10-time All-Star didn't materialize? Holding a roster spot for any player who is unable to contribute is a tough pill to swallow, much less a player with a $33 million contract, per Spotrac.
According to Morey, the team had a full-fledged contingency plan for such a scenario to convince Simmons to return to the court.
"There was a lot of planning. What will be said, who will say it, you know, what meetings… Trying to convince Ben to come back. It would have been very demeaning, I mean I would have done whatever it took, let's just put it that way."

– Daryl Morey on the The Rights to Ricky Sanchez podcast
Morey clarified that by saying "demeaning," he meant he would pretty much beg for Simmons to return.
"There would have been a lot of persuasion attempted," Morey said.
Daryl Morey would have done anything short of PowerPoints to get Ben Simmons to play
If the trade didn't come to fruition, Morey would have done whatever it took. Well, except for PowerPoints.
"I've gotten the Sixers off PowerPoints. I'm very proud of myself. We're bullet points now. Bullet points and spreadsheets. PowerPoints I find to be a waste of time," Morey said to qualify the Simmons contingency planning.
Would the plan have worked? It's hard to say. Simmons seemed steadfast in his decision not to play in light of his condition. But the trade deadline serves as a significant signpost and point of no return. There would have been no other options for moving Simmons until after the season if the deadline were to have come and gone without a deal. For Simmons, that's an entire season away from the game, potentially creating inertia in his career development.
It's possible priorities could have re-arranged in that case for both the organization and the defensive stalwart leading to an arrangement in which Simmons returned to play.
The mental fortitude to hold true to such a deadlock scenario and know that the trade deadline could pass without a clear solution speaks to the eclectic psyche and managerial philosophy Morey has operated with throughout his career. Anything but conventional, Morey has always done things his own way and had a tolerance for putting up with the complexities of dealing with star players who have significant bartering power.
It all comes down to a focus on one specific goal for Morey and the Sixers. Continuing to speak on The Rights to Ricky Sanchez, Morey said from the moment they got the trade request their focus was on building around Joel Embiid, and that a deal involving Simmons would need to return value that gave Philadelphia an authentic, improved shot at winning the championship.
To that end, Morey got a player who is aligned with that focus. The Sixers only have so much time to build around Embiid and win a title. Harden, now 32 years old and still without a title, is also seeking a championship to finalize his Hall of Fame resume, which includes three scoring titles and an MVP award. There's a sense of urgency for the organization and Harden.
Daryl Morey assigns blame to himself for Ben Simmons situation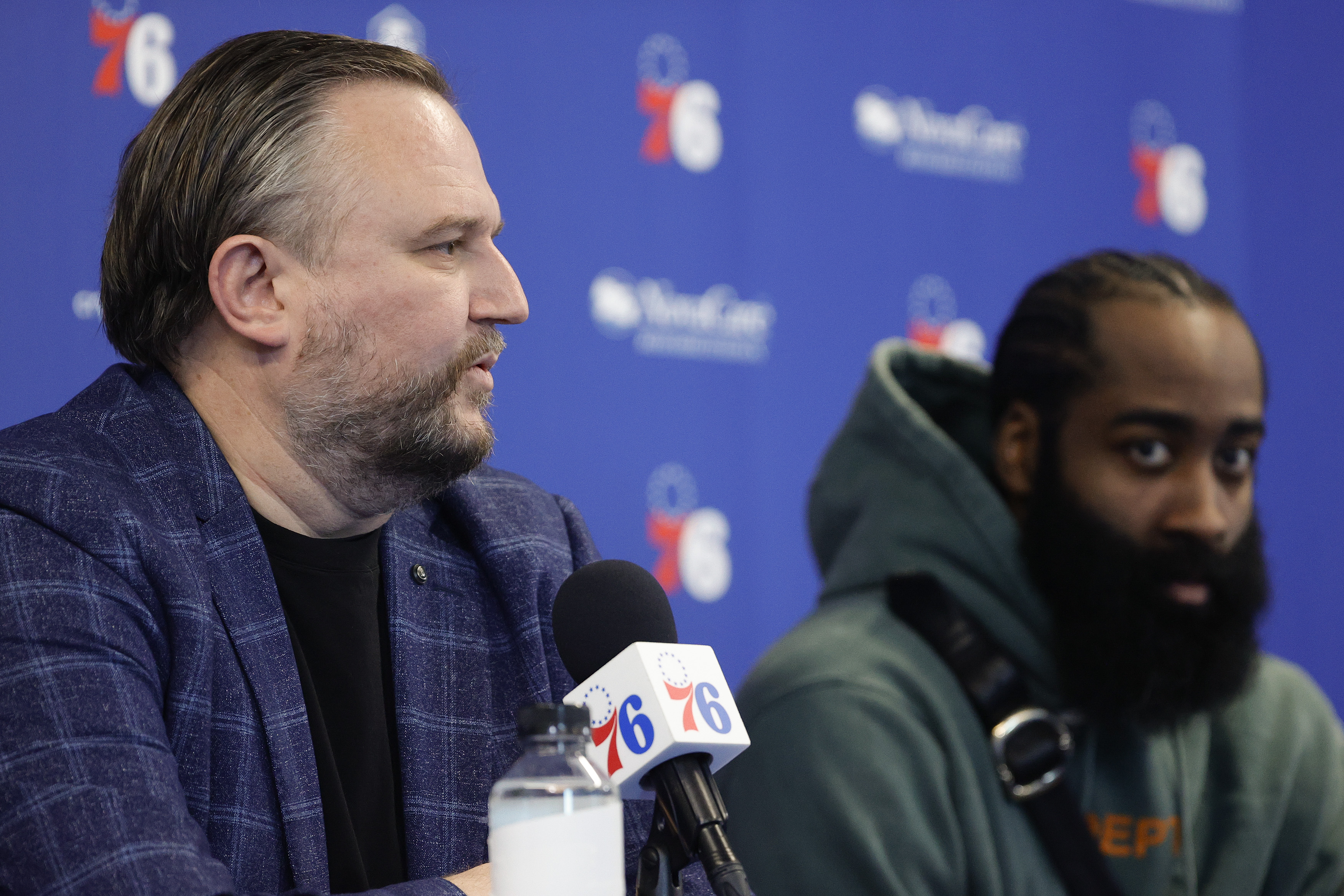 Morey recognizes the fact that he could have done more along the way to help the Simmons situation as it was unfolding and beforehand.
"I should have had a better relationship with Ben, I really believe that. That's on me."

— Daryl Morey on The Rights to Ricky Sanchez podcast
"I could have done a lot better," Morey concluded.
Morey isn't pointing fingers at anyone but himself, and for what it's worth, he also affirmed his belief in the claim of being mentally unfit to play.
In reality, there's probably more to assigning blame for the Simmons situation, but moving forward, it doesn't matter much with the situation finally in the rearview. The Sixers are ready to move forward and focus on integrating James Harden in preparation for a title run this summer.
RELATED: Daryl Morey Reveals Details That Suggest He May Have Actually Won the James Harden Trade