Skip Bayless Calls Aaron Rodgers a 'Smug Diva' and a 'Lousy Leader' While Saying Three-time MVP Cost Packers a Win
Skip Bayless is at it again, and his latest hot take involves the one person nobody can stop talking about right now: Green Bay Packers quarterback Aaron Rodgers.
Rodgers has been the talk of the proverbial town this week, and to be fair, he's earned it. Last week, it came out that Rodgers had tested positive for COVID-19, and he was actually unvaccinated. This, despite the fact that he misled the media in training camp into thinking that he was. The three-time MVP then went on a long and winding diatribe on the Pat McAfee show that won't be soon forgotten.
Rodgers has been widely criticized for many of his takes, and he's earned much of it.
But did he cost the Packers their game against the Kansas City Chiefs? Bayless seems to think so.
Skip Bayless thinks Aaron Rodgers cost the Green Bay Packers their game against the Kansas City Chiefs
With Rodgers at home because of the positive test, Jordan Love was given the start for Green Bay. Despite a herculean showing from the Packers' defense, which continues to improve every game despite missing key players, Green Bay lost,13-7, with Love under center.
There are many reasons the Packers lost in Arrowhead, and much of it can be boiled down to the actual nitty-gritty of the football game. It's more simple than that for Bayless, though.
"Obviously, Aaron Rodgers cost his team that game today," he wrote on Twitter. "With him, they win fairly easily, considering how the Green Bay defense shut down Mahomes."
Bayless went on to call the quarterback a "smug diva" and wrote that he's a lousy leader because he only cares about himself and his glory rather than the teams.
Rodgers' selfishness in this situation has been noted, but it's impossible to say how things would be different if he played instead of Love.
Bayless' argument doesn't make much football sense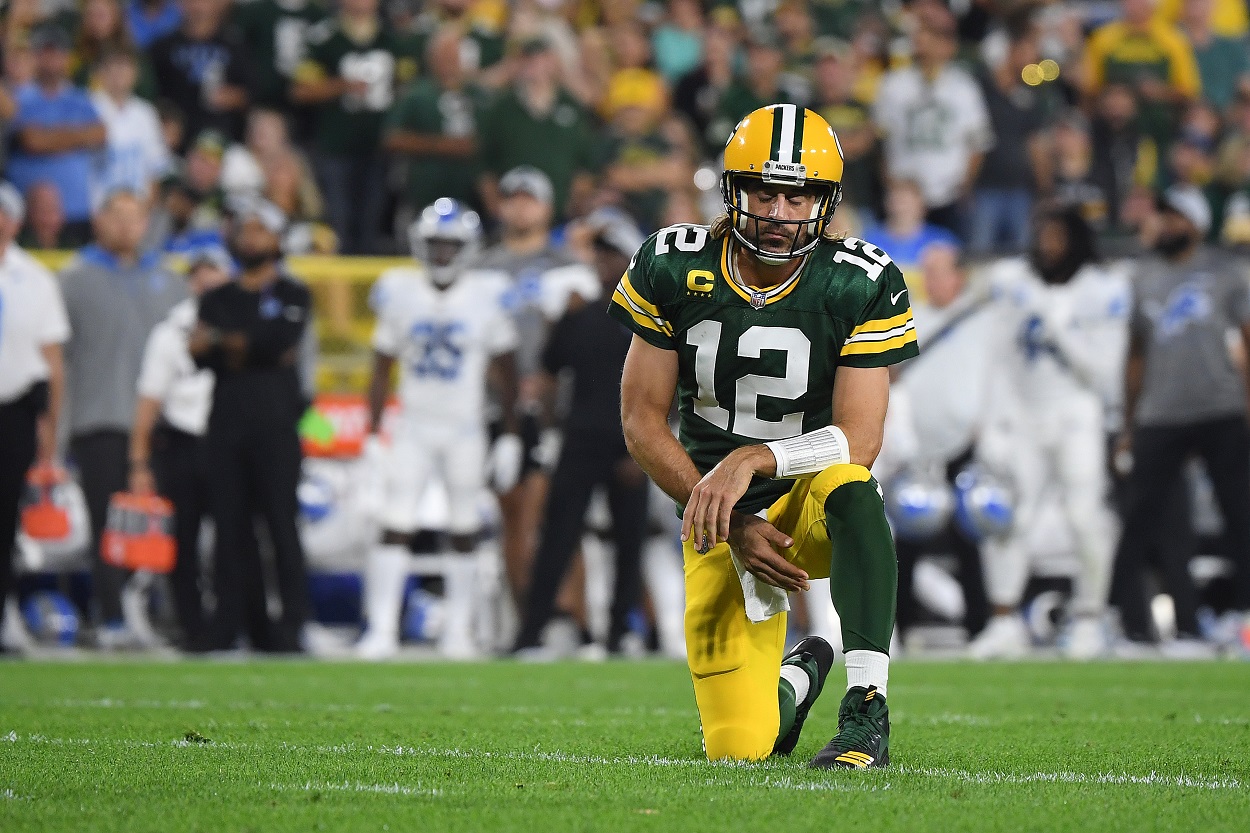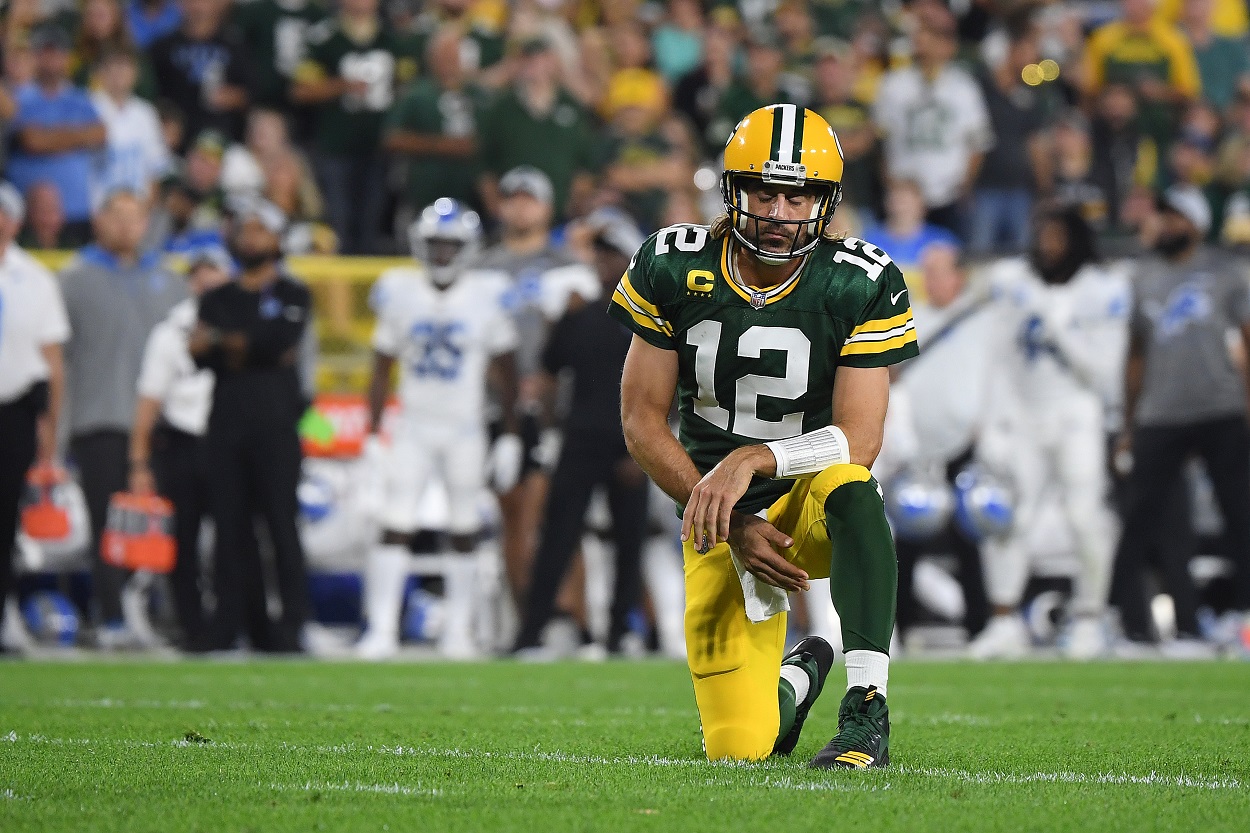 The problem with hot takes is they don't usually stand up to the cold water of evaluation.
In this case, though Bayless may ultimately be right about Rodgers' leadership, his argument makes no sense from a football perspective.
It's a straw man.
Saying that the game would have turned out differently with Rodgers instead of Love is just a cop-out. It's impossible to prove because it's not based on any actual substantive reality. It's no different than saying that if I were better looking and had more money, the Hollywood heartthrob of my choice would date me. It's an argument that's not based on fact. It's not different than a dream or premonition.
The reality is that Love played the game and went 19-of-34 for 190 yards, one touchdown, and one interception. He's a young and inexperienced quarterback, and it showed. Kansas City put pressure on him all afternoon, and Green Bay's offensive line did him no favors, nor did the playcalling. It was so bad that head coach Matt LaFleur put the blame squarely on his own shoulders.
Noteworthy is the fact that Green Bay has lost games with Rodgers at quarterback because of many of the same reasons.
Had Rodgers played the game, that same pressure could have been applied to him by Kansas City's defense. Green Bay's offensive line, which gave up a sack and seven quarterback hits, could have likely still struggled.
Rodgers could have sprouted wings and shot lasers out of his eyes.
That's the problem; all these things could have happened. None of them did. The reality is that Rodgers was at home, and it was Love who took the field for the Packers.
Green Bay lost to Kansas City for many reasons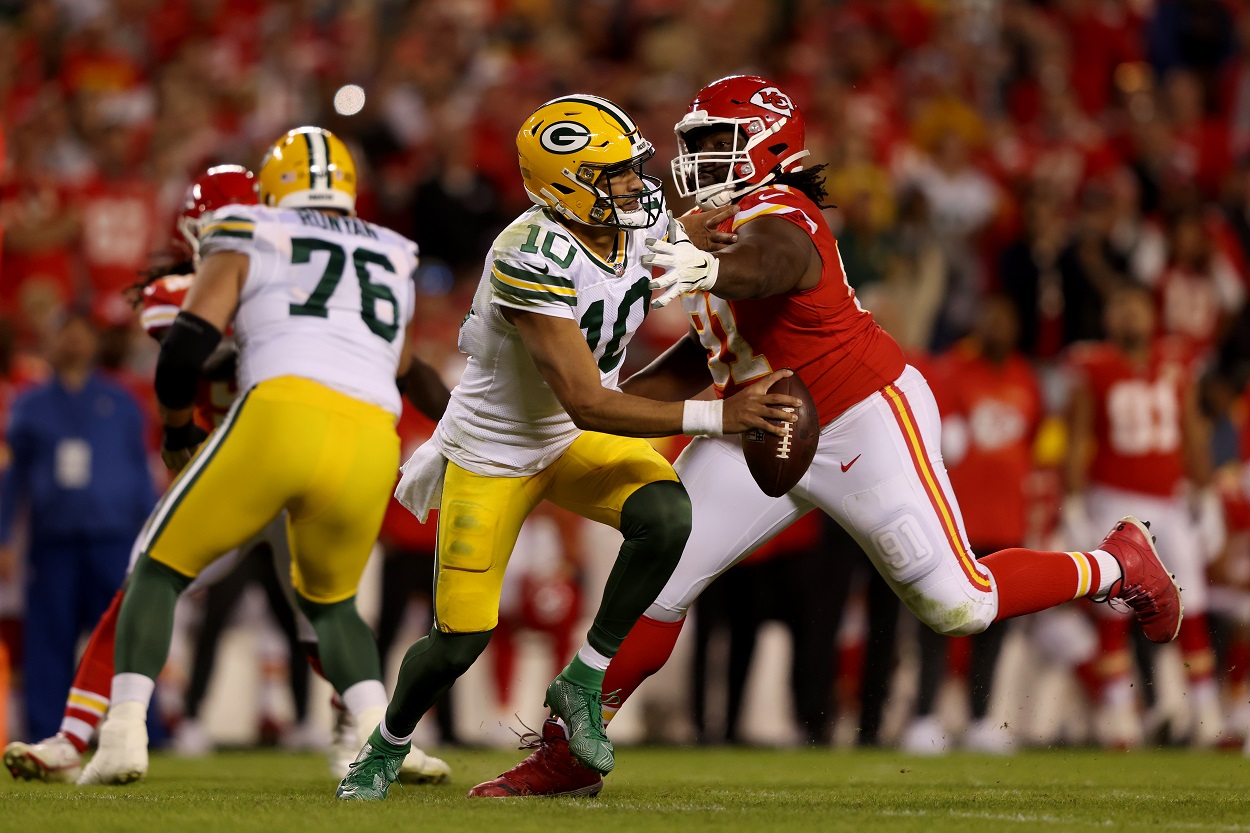 Love wasn't great; that much is undeniable. The flip side is that he also showed flashes of the potential that caused Green Bay to trade up and pick him in the first round of the 2020 NFL Draft. His mid-range throws were crisp and had incredible velocity, and it's easy to see the athleticism that made him appealing as a quarterback prospect.
Remember, he found out he was starting on Wednesday. His best offensive target, Davante Adams, was activated off the reserve/COVID-19 list on Friday. The two barely got to practice together, and it's not like Love has gotten many reps with the star wideout in practice.
Love targeted Adams 14 times against the Chiefs. The star wideout was only able to secure six catches for 42 yards.
There was no chemistry, and Love knew it.
"It's something that takes time being able to build that chemistry," Love said via ESPN. "Obviously, it's something him and Aaron have very well; they've been together for a while. So, the chemistry wasn't there yet, but it's something that I think it would progress as the game went on. We were talking through some things and just getting on the same page. I think it progressed as the game went on."
Green Bay's special teams was also terrible and arguably cost the Packers more than Love's inconsistent play did. Mason Crosby missed one field goal and had another blocked. Green Bay's punt unit muffed a punt near the end of the second quarter, which gave Kansas City three easy points going into the half.
Love put Green Bay in the position to squeeze six more points out of Kansas City's defense, but the special teams gave them away and gifted the Chiefs three more for good measure.
Ironically, the Packers lost by six points.
The Packers fell to 7-2 and had their seven-game win streak snapped by Kansas City. It wasn't a pretty game, and it wasn't the start to the Love-era that many were hoping for.
It was a tough loss. And yes, the criticisms surrounding Rodgers' leadership and selfishness are still valid, but it's not entirely accurate to pin this one on him.
Stats courtesy of ESPN and Pro Football Reference.
RELATED: It's Time To Show Some Respect to the Green Bay Packers' Most Important Offensive Weapon…and It's Not Aaron Rodgers