Skip Bayless Rightfully Calls out Green Bay Packers for Mindset on Aaron Rodgers: You're Being Held Hostage. You Have Been Imprisoned by This Back-to-Back MVP'
Aaron Rodgers is a back-to-back NFL MVP and four-time MVP throughout the course of his legendary career. On the surface, it would seem unconscionable for the Green Bay Packers to willingly move off him.
Resident FS1 hot-take artist Skip Bayless doesn't seem to think so, though. And you know what? He actually makes some sense.
Skip Bayless says Aaron Rodgers is holding the Green Bay Packers hostage
Bayless is known to oversensationalize at times, so it's worth pointing out that he is being a bit hyperbolical while describing Rodgers' current situation with the Packers.
"Packer Nation, you're being held hostage. Yes, you have been imprisoned by this back-to-back MVP, and he's going to win again because I believe he's going nowhere," Bayless said on Undisputed (transcribed by sportskeeda).
Bayless is referencing the decision that Rodgers has said he'll have to make this offseason. As mentioned, he's coming off his second-straight MVP award and he doesn't appear to be slowing down much at 38-years-old. Rodgers has been open about considering retirement, though. Demanding a trade out of Green Bay is also a possibility on the table, though it seems that the quarterback's relationship with the organization has improved as of late.
"I believe he's going to be your Packer quarterback for the next three years or if he decides to retire. He will never leave town until he decides to leave football completely," Bayless said.
Bayless thinks Rodgers is trying to create a distraction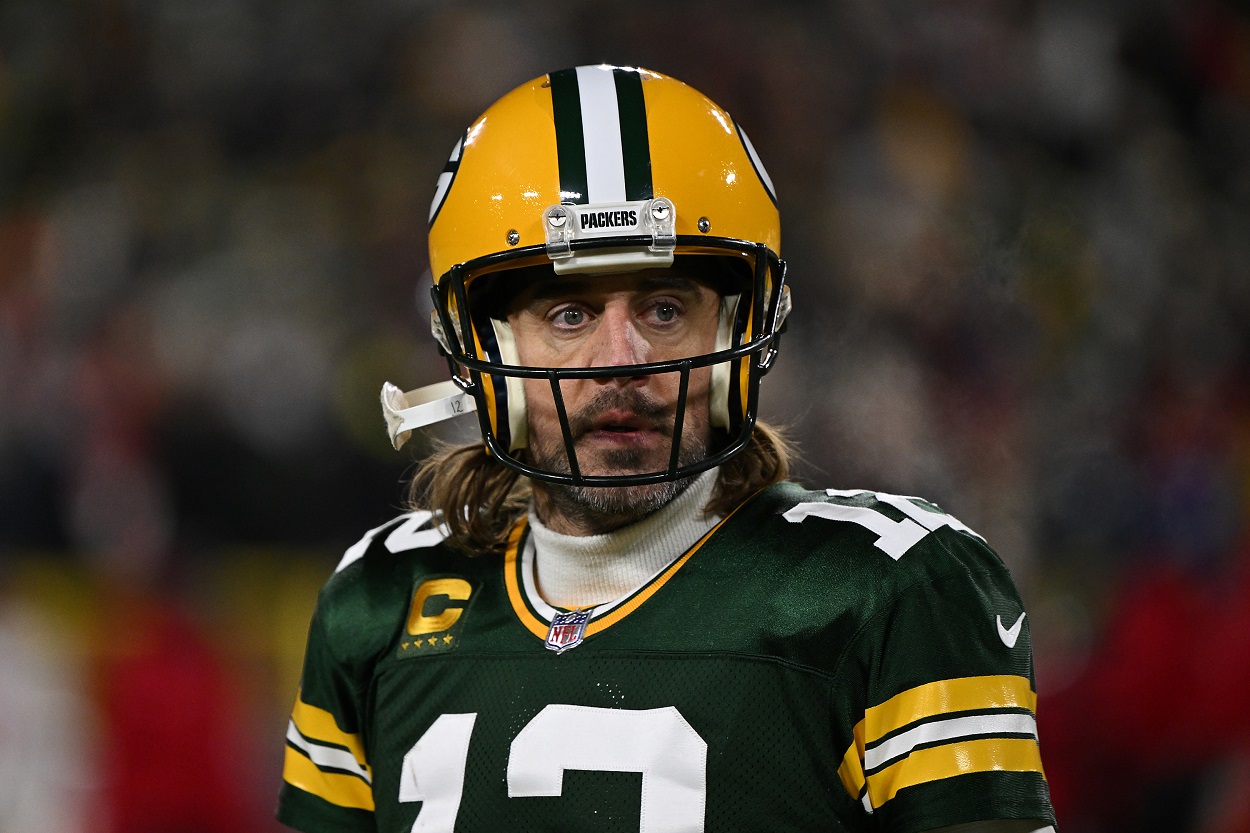 Having Rodgers back for the next few seasons sounds like a great thing on the surface, doesn't it? After all, we're talking about one of the greatest quarterbacks not just in today's NFL, but of all time.
Why wouldn't Green Bay want Rodgers back? In fact, it's been reported that getting him back into the fold for 2022 and beyond is the front office's top priority.
For his part, Bayless thinks the hemming and hawing from Rodgers is all part of a ruse, though, and he may not be wrong.
"It's all about recreating sympathy. It's about taking everybody's mind off what didn't happen in the fourth quarter of yet another home playoff game in which you were the number one seed in the NFC after you went 13-4 in the regular season, and he won the MVP," Bayless said. "You lost at home in your weather. Packer weather. Cold weather. Low wind chill weather."
Bayless brought up the fact that when the Packers really needed some juice on offense in the fourth quarter of the game, Rodgers and the Pack went 3-and-out in the shadow of their own goalpost, which set up a blocked punt that the San Francisco 49ers returned for a touchdown. On Green Bay's very next possession, Rodgers orchestrated a three-play drive that went backward six yards.
"In your last two-possessions of a home, No. 1 seed playoff game, your back-to-back MVP went 1-of-4 for a grand total of four yards," Bayless said. "It's just good enough. It's been his M.O. for a long time."
Rodgers has a history of coming up short in the playoffs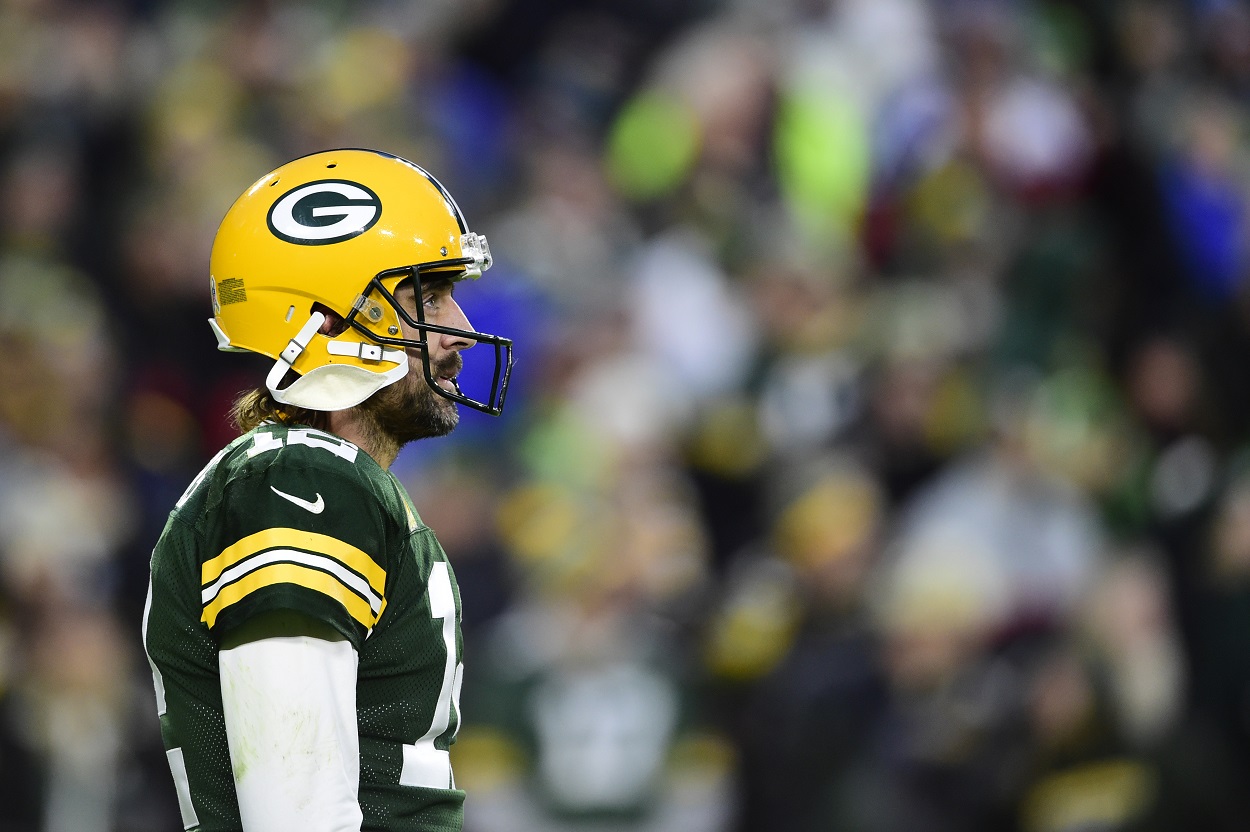 If the quarterback gets all the praise when the team wins then it's only fair that he shoulders a brunt of the responsibility for losses, especially in the playoffs. That hasn't generally been the case in Green Bay, though, where Rodgers has remained almost criticism-free due to the fact that Green Bay's defense has seemingly let him down time after time.
That doesn't change the fact that Rodgers is 0-4 in NFC Championship Games since winning the Super Bowl, though. He also doesn't have the built-in excuse of a poor defense to hide behind this time around. Green Bay had one of the best defenses in the league this past season and the unit gave up only six points to San Francisco's offense.
The Packers lost to San Francisco because of a special teams meltdown, but again, it's just excuse after excuse.
"He's now 7-9 since he last went on that Super Bowl run 11 years ago, in a galaxy far, far away," Bayless said.
That's a tough dose of reality.
Green Bay is reportedly willing to mortgage its future to keep Rodgers around but the Packers would be wise to look at the point that Bayless has brought up.
Sure, Rodgers is a four-time MVP, but the Packers only have one Super Bowl win to show for it. He's consistently failed to lead his team over the hump in the playoffs, and isn't that what MVP quarterbacks are supposed to do?
Perhaps he's not holding the Packers hostage, as Bayless put it, but Green Bay needs to at least look at a trade scenario for Rodgers. They have a young quarterback waiting in the wings for better or worse in Jordan Love, and they're facing a salary-cap crunch that could cripple them if they don't play their cards right. Green Bay is $51.2 million over the salary cap heading into the 2022 league year. Rodgers currently accounts for $46.4 million of cap room.
Trading Rodgers would give the Packers an opportunity to both create cap space and gain valuable assets in return.
It's a risky move to trade away a back-to-back MVP quarterback, but doesn't the concept of "buy low, sell high" apply here? Rodgers will never be more valuable as a trade chip, and he'll likely never be this good again.
Bayless is correct; the problem in Green Bay is that this good has not been good enough. 
Stats courtesy of ESPN and Pro Football Reference. Contract information via Spotrac
RELATED: Former All-Pro LB Shawne Merriman Thinks John Elway or Peyton Manning Could Lure Aaron Rodgers to the Denver Broncos