Skip Bayless is Flat-Out Wrong to Believe in 'Modern-Day Tim Tebow' Jalen Hurts and the Eagles More Than Dak Prescott and the Cowboys
Skip Bayless has made a career out of taking bold stances. Whether they are right or wrong, he probably doesn't care. His job is to get people talking, and he's certainly going to cause a stir with his latest take on the Dallas Cowboys (4-1) and Philadelphia Eagles (2-4).
Inciting emotion within this bitter NFC East rivalry isn't hard, but Bayless is sure to touch a few nerves with his recent thoughts on Jalen Hurts and his potential talent, especially as it relates to the Cowboys.
Throw in a Tim Tebow reference and we've got ourselves a hot take bingo.
Skip Bayless Thinks Jalen Hurts is 2021's equivalent of Tim Tebow
The strange thing about this Bayless take is that he likely thinks comparing Hurts to Tebow is a major compliment. This is the same quarterback who threw nine interceptions compared to just 17 touchdowns in his short career. Tebow undoubtedly had star power as a Heisman Trophy winner and National Champion at Florida, but he never even came close to living up to expectations as a first-round pick.
In fact, Tebow was out of the league as a full-time player within just three seasons. Ever since then he's been as a sideshow. He was most recently cut by the Jacksonville Jaguars in training camp.
Tebow is not the player any legitimate quarterback wants to be compared to. Still, Bayless was happy to compare the Eagles quarterback to him.
"You can laugh at this, you can ridicule this. I told you he is a play-maker. He is Tebow-esque. He is the current day Tim Tebow," Bayless said on Undisputed. "Not exactly the same, but in playmaking with just average passing skills that can become way about average when it's time."
Again, that really doesn't seem like much of a compliment.
Hurts may be able to run the ball, but that doesn't mean much without a consistent arm in the NFL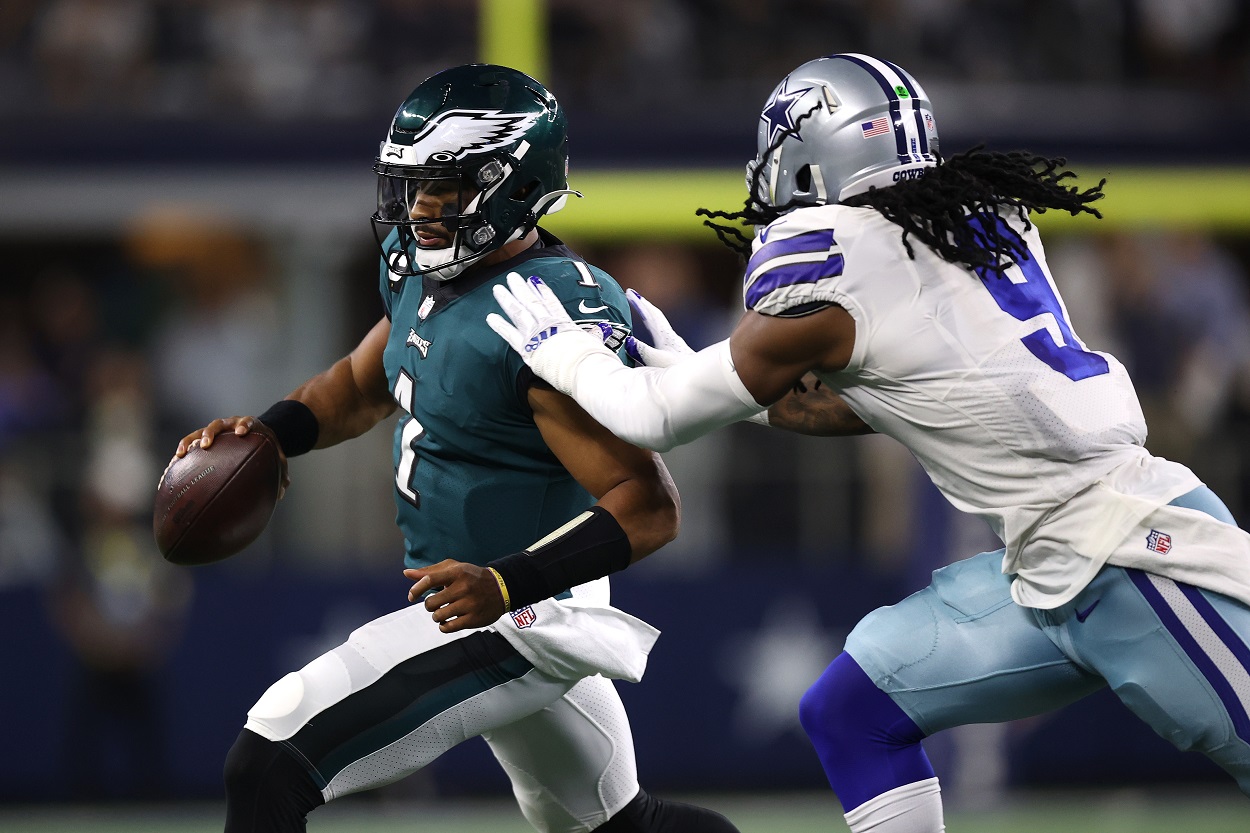 What Bayless seems to be missing in his analysis of Hurts is that he's not really all that good of a quarterback. Yes, he's a great athlete, but that was also Tebow's problem in the NFL.
It's okay to be an elite athlete as a college quarterback with questionable throwing ability because your talent at that level is really unmatched by most opposing defenders. The NFL is a completely different story, though. Even the big defensive linemen are elite athletes, which largely nullifies a run-first quarterback.
Some might argue that Lamar Jackson or Kyler Murray prove that wrong, but that's not considering the fact that both players can absolutely sling the football downfield with accuracy. For his part, Hurts does have a decent arm, but he just can't place the football with the same effectiveness as the aforementioned superstars.
That's a big difference, and Bayless seemed to admit that Hurts was only able to be effective against the Tampa Bay Buccaneers (5-1) in their recent Thursday Night Football contest because of his legs.
"It's not going to translate into any kind of stats, but he's getting a lot of credit for what he did with his legs," Bayless said. "The only time he gashed them is mostly with his legs."
It's worth noting that the Eagles lost that TNF matchup, 28-22. Hurts completed just 12-of-26 passes for 115 yards, a touchdown, and an interception. It wasn't enough to keep up with Tom Brady and the Bucs.
For some reason, Bayless believes in Hurts and the Eagles more than the Cowboys.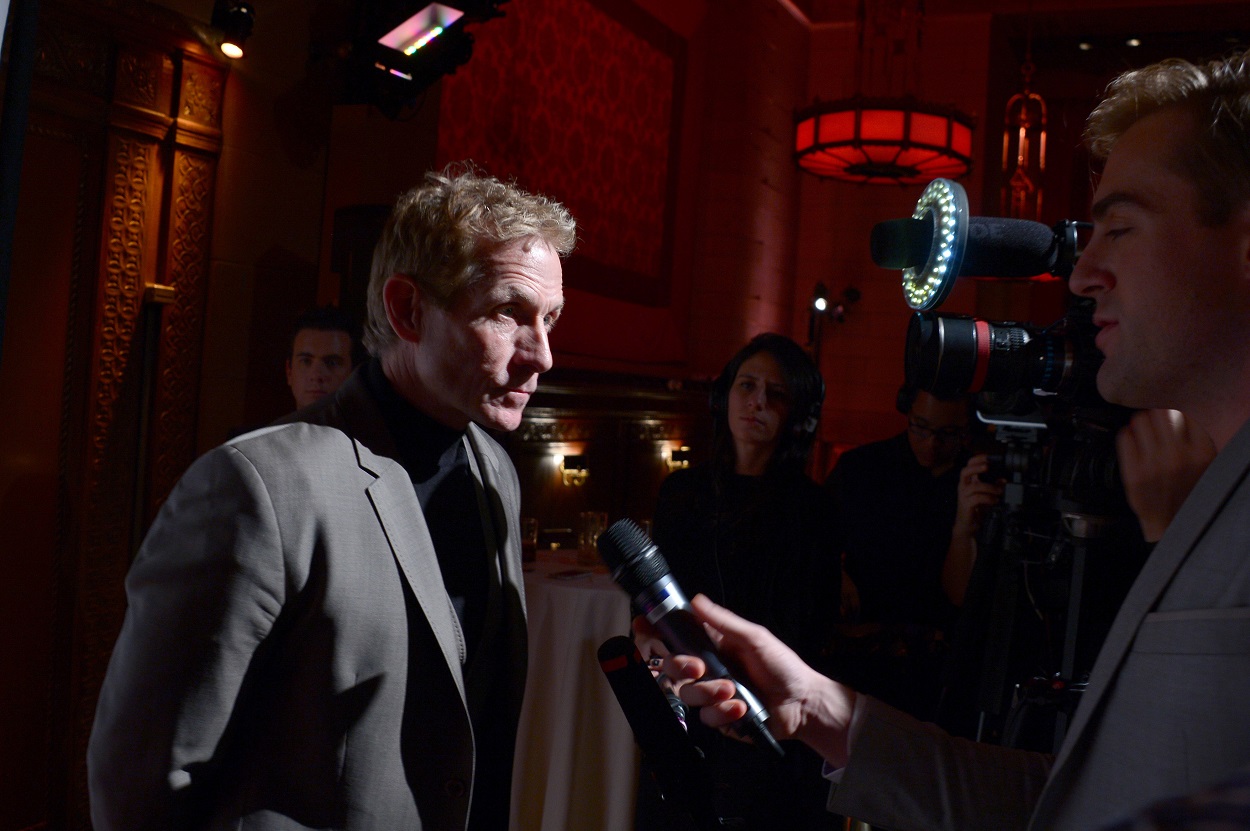 The Cowboys currently sit on top of the NFC East and boast one of the NFL's best offenses led by Dak Prescott and Ezekiel Elliott. They are on a four-game winning streak and score 34 points per game under head coach Mike McCarthy. The Eagles, on the other hand, have lost four of their last five games and score only 22.8 points per game under unproven first-time head coach Nick Sirianni.
Hurts may have thrown or more yards than Prescott so far this season (1,480 to Prescott's 1,368), but Prescott is tied for third in the NFL with Justin Herbert for touchdown passes thrown with 13. Hurts has thrown only eight.
Prescott is also second in the league with a completion percentage of 73.9%. Hurts is 26th out of 32 eligible quarterbacks in completion percentage with just 62.5% of his passes completed.
One of these things is not like the other, so it makes no sense that for some reason, Bayless thinks Hurts and the Eagles can be a threat to the Cowboys.
"I still say Philly is the most dangerous team to the Dallas Cowboys in the NFC East," Bayless said. "I don't care what you say, because they have firepower".
Philadelphia may have a handful of playmakers like rookie wideout DeVonta Smith or second-year receiver Jalen Reagor, but the Eagles just don't have the right quarterback to get those playmakers the ball on a consistent basis.
Frankly, there is no real threat to the Cowboys in the NFC East this season. Pretending Hurts is something he's not is not going to change that.
Stats courtesy of ESPN.com
RELATED: Zach Ertz Can Help the Cardinals Accomplish a Feat They Somehow Haven't Achieved Since Their Head Coach Was in Elementary School